Iowa water quality strategy on track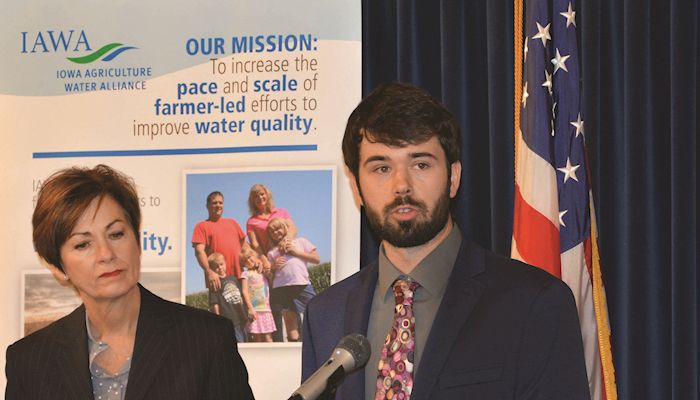 Iowa's water quality initiative, which focuses on priority watersheds and encourages collaboration among farmers, government agencies and agribusinesses, is building momentum and is successfully addressing challenges to advance con­­servation and water quality, state officials said last week.
"It's the right approach for improving water quality. It's identifying best practices, and it's improving accountability," Iowa Gov. Kim Reynolds said during her weekly press briefing at the Capitol. "I see first-hand the great work being done to improve water quality both in rural and urban areas."
Iowa Agriculture Secretary Bill Northey said collaboration has allowed the water quality initiative, officially called the Iowa Nutrient Reduction Strategy, to scale up faster and get conservation practices on more acres in priority watersheds. "It helps us stretch our resources and be able to be in the places we need to be," he said.
During the press conference, Reynolds and Northey highlighted the work being done through a $10 million grant from the U.S. Department of Agriculture (USDA) through the Regional Conservation Partnership Program (RCPP) to target water quality in Iowa. The Iowa Department of the Agriculture and Land Stewardship (IDALS) and the Iowa Agriculture Water Alliance (IAWA) have been able to leverage the federal funds with an additional $38 million in non-federal funding.
Priority watersheds
The project, which is directed toward five priority watersheds, has reached nearly 12,000 farmers and landowners through some 80 field days, 24 webinars and 200 workshops.
The Miller Creek Watershed project in Black Hawk County has benefited from the collaboration efforts through two RCPP projects, according to project coordinator Shane Wulf.
"I'm happy to report that farmers in the Miller Creek Watershed are implementing water quality and conservation practices so quickly that their efforts are outgrowing the amount of local, state and national funds that are available for cost share," Wulf said. The Miller Creek project has launched a challenge grant program to raise money for additional cost share, he said.
The project's original goal was to have 2,000 acres of cover crops planted in the Miller Creek Watershed. But in the fall of 2017, some 6,500 acres were planted with cost share, and many farmers planted cover crops without cost share, Wulf said.
"We estimate that nearly 20 percent of all row-crop acres in the watershed were in cover crops, and our new goal is to get that to half," Wulf said.
In addition, several farmers in the watershed have installed bioreactors or saturated buffers and more are planned, Wulf said.
Gains in other areas
Sean McMahon, IAWA executive director, said there has also been impressive gains in conservation and water quality practices in other priority watersheds.
In the Elk Run Watershed in Carroll County, the number of acres in cover crops has increased five-fold from the fall of 2016 to the fall of 2017, McMahon said. In the Crooked Creek Watershed in Washington County, cover crops have been planted on about 15 percent of all row crop acres, he said.
Farmers' ongoing work in soil conservation has already significantly reduced phosphorus losses, and now there is also more emphasis on nitrogen losses, McMahon said. Research has shown that conservation practices, such as cover crops, bioreactors and saturated buffers, are effective at reducing nitrogen losses, he said.
Northey added that state and federal agencies, along with private groups, have dramatically increased the amount of water quality testing, especially in the priority watersheds, to measure progress.
"We have been able to determine that these conservation practices are making improvements in reducing nitrogen loss," he said.
Want more news on this topic? Farm Bureau members may subscribe for a free email news service, featuring the farm and rural topics that interest them most!