Iowa teen raises a good steer for a great cause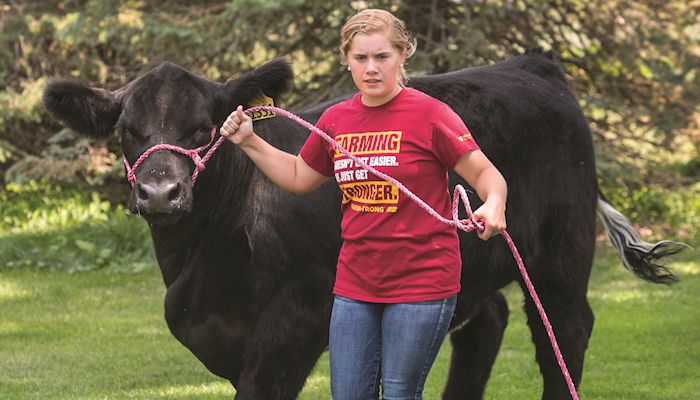 Morning and afternoon chores at the Feldpausch farm near Beaman take a little longer these days. In addition to the normal chores required to care for her cattle, 15-year-old Abby takes one steer in particular on long walks around the farm and provides regular baths and grooming, complete with country music, his favorite.
The extra attention Abby and her brothers, Will and Nick, pay to that steer, Jabril, is all to get him used to long walks in the show ring and the extra attention he'll be receiving at the Iowa State Fair this year. Feldpausch's steer will be the Iowa Farm Bureau-sponsored entry in this year's Governor's Charity Steer Show at the Iowa State Fair.
Since 1983, the Governor's Charity Steer Show and auction has generated more than $2.9 million for the Ronald McDonald Houses of Iowa, which has housed more than 44,237 families from all 50 states and 60 foreign countries. The Iowa Farm Bureau has been involved in the show since the very beginning.
A great cause
Abby's parents, Brian and Jen, say they're honored to be raising the steer for the show, and especially for this cause.
"Jen's family spent many weeks and months at a time at a hospital hundreds of miles from home when her sister was younger," Brian said. "The families staying at Ronald McDonald Houses are going through similar things, and I'm glad that these families don't need to worry about housing and can focus on the needs of their kids. So we're excited to help raise funds for this great cause."
Not only that, but the family has a long tradition of attending and enjoying the Iowa State Fair, so to be a part of it in this capacity is an honor, Brian said.
"I don't think I have missed a fair since 1982, and our family enjoys all of the activities and events. We really consider it an honor to be asked to raise a steer for the Governor's Charity Steer Show since it's one of the premier events," he said.
The Feldpausch family, Grundy County Farm Bureau members, purchased Jabril from Hornung Show Cattle in Hubbard last September.
They visited him on the farm, then purchased him through Hornung's online cattle auction. He had just been weaned, and the family thought he would make a good addition to their farm and a good steer for Abby to show at the Grundy County Fair.
And he was. Jabril was named the champion steer and the overall re­­serve champion market animal at the 2017 Grundy County Fair in July.
Abby has been showing bucket-bottle calves for about 10 years and has been showing cattle as a 4-H member at the county fair for about five years.
"I like seeing how they (cattle) grow and progress. I like having the connection with them that not everyone has," Abby said. She also enjoys the friends she makes in and out of the showring.
The Feldpausch family was contacted in June about if they would be willing to raise Jabril for the Governor's Charity Steer Show.
Abby said it's been fun to watch her steer grow.
"Seeing him from a little calf when we first got him to how he is now, that's cool. He's used to me more than other people, so I think that's kind of fun, too," she said.
This is the first year that Abby will be showing cattle at the Iowa State Fair.
"I'm super excited to show him at this year's state fair," she said.
FarmHer connection
Alongside Abby in the showring will be Marji Guyler-Alaniz, founder and president of FarmHer. FarmHer was founded in 2013 to create and promote a community of women in agriculture through an online community, television show and other events.
Guyler-Alaniz will be the celebrity showperson for Jabril, whose name will be Big FellHer in the showring.
Abby is excited to show with Guyler-Alaniz because she's al­­ready active in FFA and 4-H, and is looking forward to a career in agriculture.
In addition to raising cattle, the family also raises hogs. Abby and her siblings are the sixth generation on Jen's family's farm, the Miller farm.
The family will receive the Heritage Farm designation at this year's Iowa State Fair. The farm has been in the family for 150 years or more.
This year, the Governor's Charity Steer Show is celebrating its 35th anniversary.
The event will be held Aug. 12 at 4 p.m. in the Pioneer Livestock Pavilion.
Want more news on this topic? Farm Bureau members may subscribe for a free email news service, featuring the farm and rural topics that interest them most!