Iowa start-up helps keep high-tech equipment on the go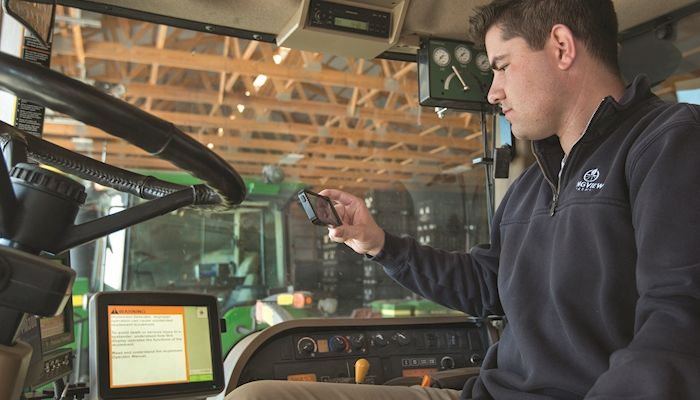 The planter is greased and loaded with seed, the sun is out and soil conditions are fit. But, there's a problem — a monitor in the cab is flashing an error about an incorrect setting, turning the promise of a productive day into a frustrating series of phone calls, text messages, user-manual searches and, potentially, a long wait for a service call.
It's a scenario that's becoming more common as farmers are inundated with technology, says Casey Niemann, president and founder of AgriSync, a mobile application that connects farmers to advisors in a live video session to more efficiently resolve those kinds of problems.
"We've surrounded the farmer with a lot of technology, but nobody wanted to talk about what happens when something breaks," says Niemann, who drew on his experiences growing up on a Kansas farm and working for Microsoft in developing AgriSync. "Our goal is to reduce downtime and get farmers help faster. If we can save farmers some downtime, that's a good thing."
AgriSync, based in Dallas Center, recently launched its mobile app commercially after a couple years in development. The service was one of four finalists in the American Farm Bureau's Rural Entrepreneurship Challenge in January. The company also worked with Iowa Farm Bureau's Renew Rural Iowa program and the Iowa State University Entrepreneurship Center, which Niemann says provided invaluable help in mentoring and providing feedback for his business.
"If you could go and develop an ag start-up, you should do it in central Iowa," he says. "We've got a great start-up community in central Iowa."
Many uses
While troubleshooting in-cab technology issues has been the most common use this spring, Niemann says farmers are also using AgriSync to consult with their crop scouts, veterinarians and other key advisors all year long.
Scott Henry of LongView Farms in Story County says the AgriSync app helped him resolve a problem this spring by connecting with technicians at Van Wall Implement. He anticipates using it to verify activation codes or fix other software problems, which in the past typically have involved on-farm service calls.
"As the equipment and technology becomes more sophisticated where we can't fix it ourselves, that's where AgriSync has value," said Henry, the go-to guy for precision equipment and technology at LongView Farms. "If you can cut down on three service visits a year, it makes sense."
He's also planning to use the app to consult with crop advisors, helping him identify and treat crop concerns or weed issues more promptly.
The ability to share live video means a crop scout might be able to diagnose a problem while cutting down on hours spent on the road, points out Mark Johnson, an Iowa State University Extension field agronomist who worked with AgriSync to test the app in its development stages.
"If I get a call from Carroll and I can handle it with this, it can save me four or five hours," says Johnson, who is based in Ames but covers nine counties in central Iowa. The ability to talk with farmers while seeing live video of their fields is a huge advantage over sending pictures back and forth over text message or e-mail, he says.
"I can tell them how to move the camera or ask them to pan it around the field. If you don't get that perspective, you might miss something," explains Johnson.
Creating a ticket
AgriSync allows farmers to request a meeting with an advisor at the push of a button on their phone or tablet, essentially creating a ticket for service assistance. The advisor receives a text alert about the request and can schedule a time for the call. That's helpful for advisors during busy times like planting, when they might receive several calls every hour. Johnson says the chances a farmer catching him when he's free to talk at that time of year is "at best 50-50."
"In peak seasons, there's more demand than they can get around to," Niemann notes. "Our goal is to make that trusted connection improve. (Advisors) want happy farmers, and they want to be cost effective and efficient in what they're doing."
When the two sides connect, the advisor can view a live video feed or pictures from the farmers' phone to diagnose problems and talk them through a solution.
"Typically, if something takes 20 minutes to solve via phone, we can solve it in five minutes," says Niemann.
At the end of the call, the farmer can rate the quality of the service. AgriSync also tracks the history of completed service requests, which helps farm dealerships or companies make sure nothing gets lost in the shuffle during busy times like planting and harvest. The record-keeping aspect sets AgriSync apart from social media channels that enable video chats, Niemann points out.
"The value is the ability not just to see it, but to track it and measure it," he says. "The tickets and record-keeping are all in one place."
The AgriSync app is free for farmers to download and use on either iPhone or Android devices. Advisors are eligible for a free trial. Subscription fees are available on either a monthly or annual basis for individual advisors or company-wide teams.
Neimann reports AgriSync has more than 45 companies and advisors across the U.S. in Canada in its system and has plans to grow internationally. The company is also developing other features to make the app more useful.
Want more news on this topic? Farm Bureau members may subscribe for a free email news service, featuring the farm and rural topics that interest them most!