Iowa hog farmers expected to see profits for most of 2016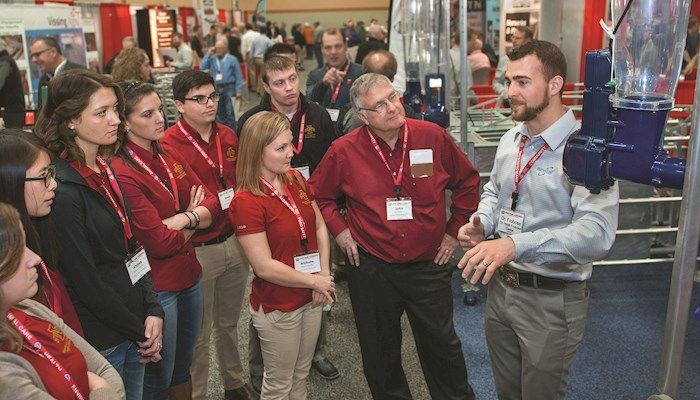 Iowa hog farmers should see profitable opportunities for most of 2016, economist Steve Meyer said last week at the Iowa Pork Congress in Des Moines.
"This is not going to be a bad year," said Meyer, vice president for pork analysis at EMI Analytics. "You have an opportunity to lock in some profits. The tough call is going to be the fourth quarter."
Hog prices sank sharply at the end of 2015 as farmers expanded hog herds, but 2016 futures prices have rebounded while costs remain relatively low, Meyer said.
Lower corn and soybean prices will reduce the average cost of production to around $67 per hundredweight this year, the lowest in nearly a decade, he predicts.
"We're back into a lower cost environment that I think we're going to be in for a while," he said. "We've got corn in the $3.50 to $3.90 range for the next two years (on futures markets)."
Meyer forecasts hog profits this year at $9 per hundredweight, with the best producers doing even better than that. His quarterly market price projections are $61 to $65 in the first quarter, $72 to $76 in the second quarter, $74 to $78 in the third quarter and $59 to $61 in the fourth quarter. Meyer is encouraging farmers to lock in profitable margins using CME futures, which are currently offering prices at or above his projections.
"You've got some pricing op­­portunities that are reasonable," said Meyer. "The fourth quarter is more than reasonable."
Plant capacity concerns Packing plant capacity is ex­­pected to be extremely tight in the fourth quarter due to a seasonal increase in hogs marketed, with as many as eight weeks where supplies will exceed slaughter capacity, Meyer said. That will put pressure on prices.
"We think capacity is going to be very tight this fall," he said. "It's important to be current (with hog marketings) come Sept. 1 or Oct. 1, because we're going to be very full and you won't be able to catch up."
Al Wulfekuhle, president of the Iowa Pork Producers Association (IPPA), said farmers are skittish about pork supplies overwhelming packer capacity.
"We're really pushing up ag­­ainst packing plant capacity. The last time we had that issue was in 1998," he said. "Most producers remember the pain that those markets caused for our industry, so we're hoping not to do that again. We hope when we come into this fall that everybody will stay current and not let weights get too heavy and try to stay ahead of it, but it's going to be a concern."
It would take exceptional circumstances to trigger a repeat of 1998, Meyer said, noting the plunge in hog prices that year was partially caused by the unexpected closure of a packing plant.
"I don't think (this year) has the potential to be what that was," he said. "We're going to be tight on slaughter capacity and we're going to have large supplies, but I don't see anything quite that bad."
New pork packing plants in Sioux City and Michigan won't be ready to start processing hogs until 2017.
"If you bring those two plants on line in 2017, there will be a bump in price, until we raise more hogs," Meyer said. "That could help our markets in 2017, but I'm still concerned that we have a lot of supply."
The brighter outlook for 2016 has put Iowa hog farmers in a cautiously optimistic mood, said Wulfekuhle, who raises hogs on his farm near Quasqueton.
"There's still some people looking to expand a little bit, but they're cautious about it," he said. "Right now, the (price) of hogs is below the cost of production. Hog futures are showing that we should have a profitable spring and summer, and maybe worry about things next fall and winter again."
TPP is a priority
Some of the IPPA's key efforts this year will be to open new markets and increase pork demand, including securing passage of the Trans-Pacific Partnership, he said.
Domestic and export demand for pork is expected to be steady after three years of strong growth, Meyer said. A stronger U.S. dollar has made pork more costly to other countries, causing a slowdown in exports.
"When you come off three years like we had, you almost have to have a slowdown," he said. "The question is can we hang on to the gains we had. In my opinion, we probably can."
One of the biggest risks would be a political or animal disease event that disrupts exports, which consume more than one-quarter of the pork produced in the United States, Meyer said.
He also expects to see an increase in hogs imported from Canada following the repeal of the U.S. mandatory country-of-origin labeling law.
"It's not a big surge, but I think it's something we need to watch out for," Meyer said.
Want more news on this topic? Farm Bureau members may subscribe for a free email news service, featuring the farm and rural topics that interest them most!