Iowa foods on the go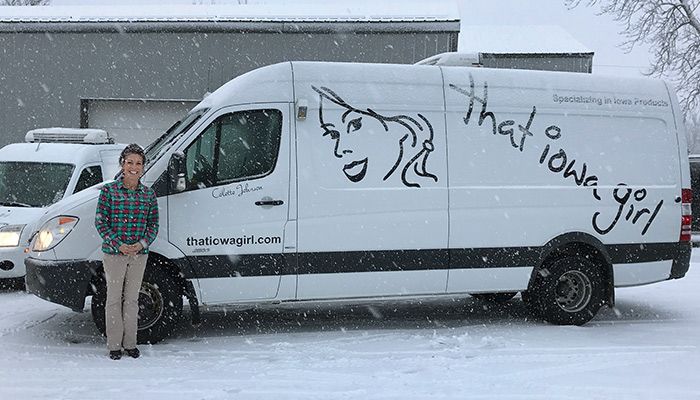 Eat Fresh, Buy Local. The slogan has moved beyond a promotional campaign to a way of life for people of all ages and walks of life.
"People care what they eat and where it comes from," says Colette Johnson, owner and operator of That Iowa Girl, a wholesale distributor of Iowa-made food products.
As the movement has grown, so have economic opportunities. Local growers have found a paying audience at farmers markets and a handful of small, local markets.
Now the next phase of the burgeoning industry is taking hold. Restaurants featuring Iowa-grown foods are becoming commonplace, and food processors are building an industry from readily available sources.
But once a product is created, getting it from plant to consumer can be a challenge. For nearly 30 Iowa food vendors, That Iowa Girl's three refrigerated vans are the solution.
Johnson grew up on a farm in north-central Iowa, graduated from Iowa State University with a degree in accounting and then moved to Clarion, where she settled into married life and motherhood.
Friends offered her a part-time job keeping books for Innovative Growers, and she began to learn how to market the company's soybean oil. In time, she asked for the opportunity to take on distribution clients, further learning the ropes.
In 2010, she struck out on her own and formed That Iowa Girl, named so because: "People may not remember my name, but they remember 'That Iowa Girl was here the other day.'"
That Iowa Girl now delivers Iowa-made products to more than 300 outlets ranging from small, local markets to area grocery chains like Brothers Market in eastern Iowa and Hy-Vee and Fareway stores throughout Iowa and surrounding states. One full-time and three part-time employees help Johnson and her family in the effort.
"I can't thank our employees and my family enough," says Johnson. "This business comes with a very tight profit margin, so we have to be efficient. They're the best at getting the job done."
Being a small, independent business is part of the appeal. "It's nice to not have to answer to someone further up the corporate ladder," says Johnson. And to be able to focus the business where her priorities lie. "We're not up against the big boys. We're here to represent the little guy."
Johnson is passionate about her company and proud of her accomplishments. Sales have increased annually since she began.
"I always tell product developers, 'You do what you do best, and leave the distribution to us'."
Some developers approach her looking for distribution. Some products she discovers on her travels. "That's the fun of it, finding something new," says Johnson, emphasizing That Iowa Girl only distributes finished product and does not create any of its own. "We don't make anything or change any labeling."
Beef, pork, brats and beef sticks along with bread and soup mixes and BBQ and Italian sauces make their way onto Iowa store shelves through That Iowa Girl. Pico de Gallo and guacamole accompany unique salsas, including a raspberry-lime variety. There are salad dressings and candy, and Johnson says an Iowa City-made humus is one of her most popular items.
Dairy products leave shelves quickly, with several dairies producing milk, ice cream, cheese and yogurt.
Products come from all over the state. There is even a popular Bloody Mary mix.
Johnson is constantly on the lookout not only for new products, but for new outlets. Some come as referrals from establishments in nearby towns, some she discovers as she crisscrosses the state.
Hy-Vee and Fareway food stores, both Iowa-owned chains, have been receptive to the wave of Iowa products. "I give them a great deal of credit for listening to their customers," says Johnson. "When people ask for a product, they try to provide it."
She is currently working with natural food outlets operating in Iowa and is finding a home there for Iowa's locally sourced foods. "Everyone cares about what they eat," she says. "They want food without preservatives and additives, and they like that they know where it's grown."
Johnson also operates her own on-site store, where she carries additional products beyond those she distributes. Though the store accounts for only around 10 percent of her business, she enjoys being able to serve her community's needs. "We have great support from the community. This is a progressive community, with a lot going on, and they appreciate what we offer."
Johnson expects to see the trend of demand for Iowa-produced products continue.
And That Iowa Girl can provide that. At least she intends to continue to do her part.
"I love to eat. I love food. And I love to share treasures," says Johnson. "I'm proud to be from Iowa and proud of what we grow and produce here. I just love it when someone asks, 'Aren't you That Iowa Girl?'"
Queck-Matzie is a freelance writer from Fontanelle.
Want more news on this topic? Farm Bureau members may subscribe for a free email news service, featuring the farm and rural topics that interest them most!