Iowa farmland values slump again in 2015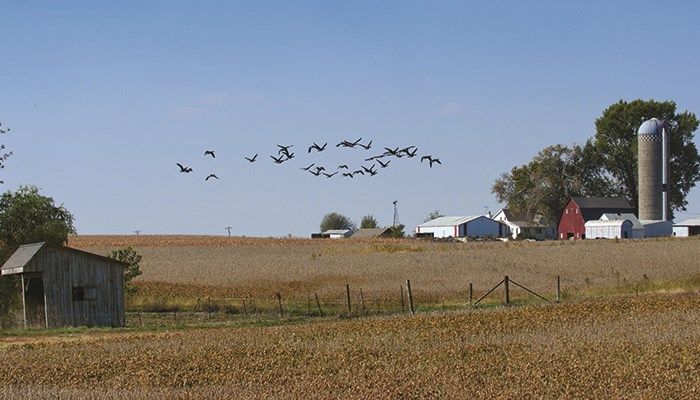 Iowa farmland values fell in back-to-back years for the first time this century as farmers adjust to declining farm incomes, according to the 2015 Iowa State University (ISU) Land Value Survey released last week.
The average value of an acre of Iowa farmland is now estimated to be $7,633 per acre, down 3.9 percent from last year, the annual survey found. Declining crop prices were cited as the top reason behind lower values, but a mix of favorable factors helped buffer the decline, said survey coordinator Wendong Zhang, an ISU assistant professor of economics.
"I think the decline was less than a lot of people expected," said Zhang, who replaced long-time land value survey coordinator Mike Duffy earlier this year. "I would argue this is not out of line. Farmers still have a lot of cash on hand, even with the farm income decline of 2014 and 2015. The average farm income is still higher than it was a decade ago."
Profitable livestock returns, strong demand for recreational land and less land available for sale also helped shore up land markets in certain areas, Zhang said.
Still, farmland values have fallen almost 13 percent since peaking in 2013 as declining commodity prices pressure farmland values. Net farm income will drop 36 percent this year, the U.S. Department of Agriculture said last month.
The last time Iowa farmland values fell in consecutive years was in 1998 and 1999. Values then soared sharply higher, more than quadrupling in value from $1,781 per acre in 1999 to a high of $8,716 per acre in 2013.
Land values are expected to continue drifting sideways to slightly lower, but Zhang dismissed worries about a "price bubble" that could suddenly burst.
"With the projected drop in farm income and potential increase in interest rates, the farmland values will likely continue to decline in the future," he said. "While this could cause some financial difficulties for some farmers, I think it will likely be an orderly adjustment as opposed to a sudden collapse."
The value of all qualities of farmland fell, with high-quality farmland losing 5 percent ($490 per acre) of its value, medium-quality land falling 3.2 percent ($232 per acre) and low-quality farmland falling 0.9 percent ($44 per acre). Statewide averages for high-, medium- and low-quality farmland are now $9,364, $7,127, and $4,834 per acre, respectively.
Still attractive parcels
Even with declining prices, Zhang said farmers are still willing to bid on parcels that are attractive to them, as evidenced by a recent sale in Sioux County that brought $17,900 per acre.
"Whenever they get the chance, people — especially farmers — want to buy high-quality land," Zhang said. Farmers accounted for about 76 percent of farmland purchases, while 20 percent of sales were to investors.
Northwest Iowa was the lone crop-reporting district to show an increase in farmland values, rising 0.7 percent from a year ago, which Zhang said can be partially attributed to the region's strong livestock sector. The district also has the highest overall farmland value at $9,685 per acre.
Clayton and Allamakee counties in northeast Iowa reported the largest percentage increases with a 2.9 percent gain.
For the third year in a row, Scott County reported the highest farmland value at $10,918 per acre, although that represents a 6 percent decline from last year. Decatur County reported the lowest value per acre of $3,514, a drop of about 2 percent from last year's report.
The largest district-wide decrease in farmland value was north-central Iowa, which reported a drop of 6.7 percent, bringing farmland values there down to $7,962 per acre. Mitchell and Floyd counties reported the largest percentage drops in value at 8.6 percent, and Black Hawk County reported the largest dollar decrease with a loss of $784 per acre.
Low interest rates and high yields were the most commonly cited positive factors for farmland values, and lower commodity prices were the most frequently cited negative factor. High input prices, an uncertain agricultural future and cash/credit availability were also cited as negative factors.
Last week's decision by the Federal Reserve to begin raising interest rates will also be slightly negative for land values, Zhang said.
"Although we expect there will be an increase in interest rates, there won't be a dramatic one. It will be slow," he said. "People may still view farmland as a good investment."
Trend likely to continue
More than 75 percent of re­­spondents thought land values in their territory would continue to decline next year, Zhang said.
The majority predicted the decline would be either less than 5 percent or between 5 and 10 percent. The magnitude of the predicted drop depends on the location — areas relying more heavily on corn and soybeans could see a bigger decrease, Zhang reported. However, crop insurance and farm safety net programs will help cushion price declines, Zhang said.
The 2015 Iowa Land Value Survey is based on 514 responses providing 708 county land values estimates from agricultural professionals knowledgeable of land market conditions such as appraisers, farm managers, agricultural lenders and actual sales.
The number of responses was boosted this year by making surveys available online for the first time, Zhang said. Tracking of actual land sales in a couple of selected counties indicates the opinion-based survey is providing valid estimates, he added.
A new web portal has been developed at www.card.iastate.edu/farmland/ to pool various sources of Iowa farmland values and offer visualization tools such as charts and interactive county maps.
Want more news on this topic? Farm Bureau members may subscribe for a free email news service, featuring the farm and rural topics that interest them most!