Iowa doctor to raise awareness of rural trauma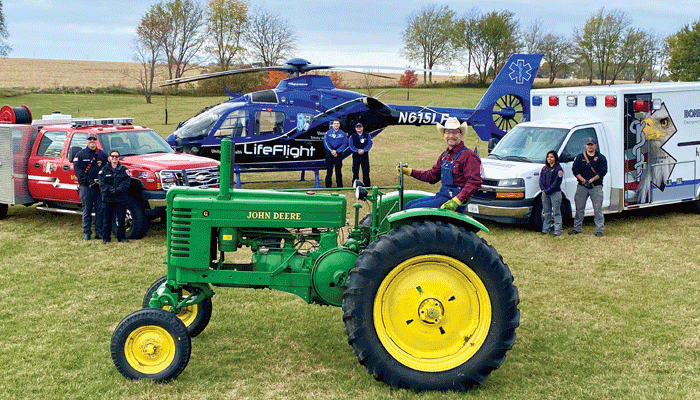 Before dawn on Nov. 18, Dr. Richard Sidwell plans to drive his vintage tractor — a 1950 John Deere Model G — from his home near Bondurant to Iowa Methodist Medical Center in the heart of downtown Des Moines. He's timing his 19-mile, 90-minute-plus journey to coincide with National Rural Health Day.
Sidwell, a trauma surgery specialist for The Iowa Clinic who practices at Methodist and Blank Children's Hospitals, hopes his early morning tractor ride will help raise awareness of the differences in injury trauma outcomes between rural and urban residents. That difference, he said, puts rural residents at far greater risk when they suffer an accident, especially accidents that cause bleeding.
"The simple fact is that the burden of injury is more heavily shouldered in rural areas," Sidwell said. "If you are injured in a rural area, you have 50% greater chance of not surviving that injury than a person with the same injury in an urban area."
There are many ways that farmers and rural residents, rural health care providers and urban trauma centers can work to address those discrepancies, Sidwell said. A great start, he said, is participating in Stop the Bleed, a community-based program that helps citizens to become trained, equipped and empowered to help in a bleeding emergency before professional help arrives.
"Some of the difference in outcome is inherent in the rural environment because you are typically a longer distance from medical care," he said. "But there are still many ways that we can work to improve trauma care in rural areas to help reduce that difference."
Sidwell, who became interested in rural trauma early in his medical career, says farmers and rural residents can work to prevent serious accidents that cause bleeding and trauma. That means taking a commonsense approach to safety and appreciating the risks inherent in farming. Every day, farmers find themselves in a range of situations, such as driving ATVs, working around PTOs and checking grain bins, that re­­quire taking commonsense safety measures, Sidwell said. 
When accidents do occur, it's essential for rural residents to obtain knowledge and training needed to help someone who is badly injured and bleeding until emergency medical technicians arrive. Stop the Bleed, a national initiative that is handled at the community level, is designed to do just that, Sidwell said.
"Having bystanders trained on basic things to stop bleeding is very important, especially in rural areas," Sidwell said. "We think of it as knowing CPR for injuries."
Information on Stop the Bleed Iowa can be found at https://idph.iowa.gov/bets/stop-the-bleed.
Along with training rural residents, it's important that rural health care providers and trauma centers coordinate to care for injured people, Sidwell said. "We need to build closer relationships between trauma centers and all of the rural providers, including hospitals, clinics and EMS," he said. "The bottom line is making sure injured people in rural areas can get the best health care possible."
FB offers medical scholarships
The Iowa Farm Bureau Foundation annually awards two $5,000 scholarships to encourage students and residents to pursue a medical career in rural Iowa communities. For more information, contact the Iowa Academy of Family Physicians Foundation at 800-283-9370 or click here.
Want more news on this topic? Farm Bureau members may subscribe for a free email news service, featuring the farm and rural topics that interest them most!