Iowa agriculture is not just corn and soybeans anymore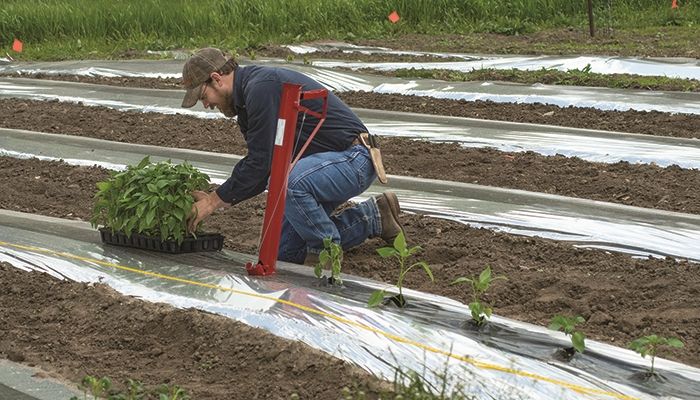 This Fourth of July weekend, my family will make our annual trek along Interstate 35 to my hometown of Northwood, more commonly known as the last Iowa town you pass through on the way to a Minnesota Twins game.
As hundreds of road trippers leave the city and drive along the interstate, we will all marvel at how tall the corn is this summer.
And then, after concluding that rural Iowa is pretty much one big cornfield, we will return to our smartphones to pass the time until we reach our destinations.
A few weeks back, I found the courage to get off the interstate at one of the "no services here" exits to meet with Farm Bureau member Josh Nelson, a young farmer from Belmond (pictured above planting peppers). And I discovered much more than corn and soybeans when driving the county blacktops.
Nelson's farm sits near a wetland, and I saw grassy buffer strips planted along the edges of fields to help protect water quality. Nelson also has adopted several conservation practices on his family's farm, including cover crops and precision ag technology.
In addition, I saw grapevines planted next to a cornfield and a herd of long-horn cattle on a pasture. Nelson says several local farmers are growing aronia berries, a native Iowa fruit, and his uncle is growing hops and barley, potentially to tap into the local craft beer scene.
Behind an old cattle barn on his parent's farm, Nelson planted a one-half-acre plot of vegetables. Nelson grows kale, peppers, tomatoes and more for North Iowa Fresh, a farmer-led cooperative that supplies locally grown produce to area restaurants, grocery stores and specialty retailers.
Nelson says he's seeing more interest among row-crop and livestock farmers like himself in expanding beyond commodity agriculture and adopting new conservation practices to protect water and soil.
Nelson notes that he got a lot of questions from his fellow commodity farmers when he participated in Iowa Farm Bureau's Ag Leaders Institute last year.
"You've got these guys who are conservative corn and soybean farmers, and they are skeptical of everything, but they are kind of getting into this (local foods) world," Nelson says. "Afterwards, they all came over and talked to me and said: How do you get into this? And if they are asking questions, I think they see there is something in it."
So next time you're taking a family vacation to the Twin Cities, make a detour off Interstate 35 to see the different conservation practices and specialty crops and livestock that Iowa farmers grow.
And if you can't put your phone down, then swing by the Belmond Drive-In for selfies with the award-winning best Iowa pork tenderloin, topped with tomatoes from Nelson's farm, and an aronia berry shake, made with locally grown berries.
Want more news on this topic? Farm Bureau members may subscribe for a free email news service, featuring the farm and rural topics that interest them most!