Iowa State Football tackles are feeding ISU students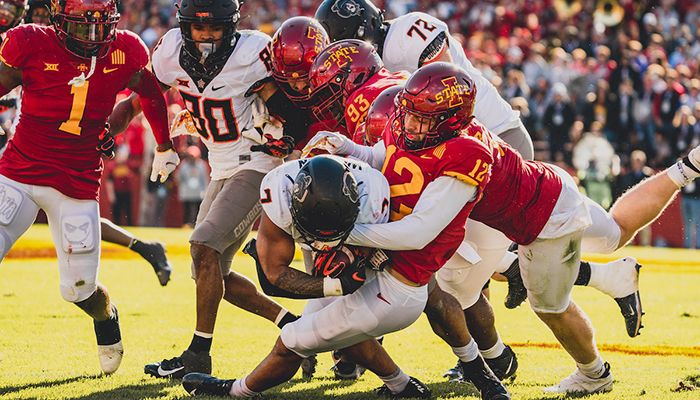 When I was a student at Iowa State University (ISU), my biggest worry was if I'd make it to Philosophy class on time with five minutes to walk the three-quarter mile distance from Lagomarcino to Howe Hall. (It was about 50-50 that semester.)
Missing CyRide, pulling an all-nighter, forgetting your power cord or having to carry the load in a group project are all stressors for college students. But what if you had to do all that on an empty stomach?
This is the reality for 25% of Iowa State University students who are food insecure. 
Take that in for a second: A quarter of young ISU adults trying to further their education do not know where their next meal may come from or don't have access to healthy foods. And it's a common problem across the nation. A survey from Chegg.org which researches issues facing today's students found:
35% of college students report hunger has impacted their ability to study
52% sometimes use off-campus food banks
24% say they've had to take out loans to cover food costs
And sadly, 34% of students know someone who has dropped out because of the inability to afford food 
It's easy to assume when you see students on campus, they have the means to be there. Tuition, books and housing aren't cheap. But when something has to give, forgoing food may seem like a solution.   
That's why Iowa Farm Bureau teamed up with Iowa State Athletics to sponsor the Farm Strong 'Tackle Tracker.' 
For every ISU tackle during the regular football season, Iowa Farm Bureau donated $25 (up to $15,000) to The S.H.O.P. (Students Helping Our Peers), an on-campus, student-run food pantry serving 60 to 110 Cyclones per month. The S.H.O.P. began in 2011 and has steadily increased in usage every year. Just in the month of June, they provided 17,000 pounds of food to 200 students.
And with Iowa State being ranked a top-10 defensive FBS team, your ISU Cyclones met the $15,000 donation. This Farm Strong grit shown on the football field can be seen across our state's farm fields as Iowa farmers remain committed to providing healthy, nutritious foods to Iowans in need, including those on college campuses.
Cyclones are loyal forever true (even in challenging years), we are proud of the Jack Trice legacy, we have a deep respect for our athletic program's "Five Star Culture" and when a fellow Cyclone needs help, we help 'em.
In the midst of the holiday season, I hope Cyclone Nation can tackle hunger together by donating to The S.H.O.P. and sharing their incredible initiative with your friends and family. Or check with your favorite university or college; they may have an on-campus food bank of their own.
Students have enough on their plate to worry about, and the lack of food on it shouldn't be one of them.