Iowa Farm Bureau welcomes new leaders to the 2020 Young Farmer Advisory Committee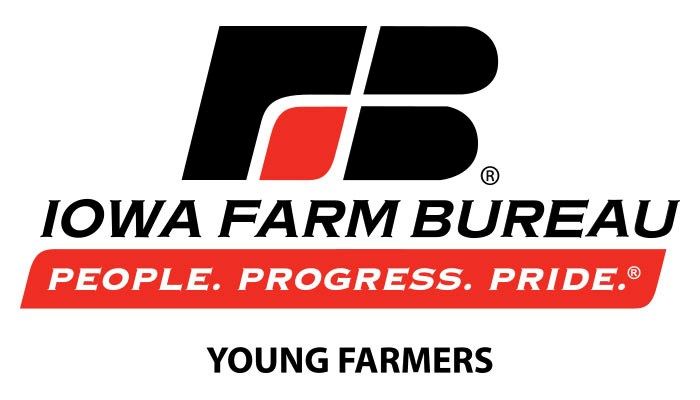 The Iowa Farm Bureau Federation (IFBF) Young Farmer Advisory Committee has elected new leaders for 2020. These officers and district representatives are committed to uniting young farmers, ages 18-35, throughout the state through engaging programs and events, including the annual IFBF Young Farmer Conference, which draws hundreds of young farmers and agribusiness leaders together to connect and share ideas. Elected to officer positions were:
Mary Ebert, Guthrie County, Chair
Shonda Hahn, Johnson County, Vice-Chair
Allison Kruger, Hancock County, Secretary
Kristin Plate, Mahaska County, Historian
Megan Hansen, Cass County, PR Chair
Mary Ebert and her husband, Adam, raise three kids on their grain, cattle and hog farm. The pair also farm with Mary's family and do custom manure hauling. The Eberts are both involved with their church and volunteer as EMTs. "As young farmers, we know there are many challenges that face agriculture today, but also many rewards," says Ebert. "That includes finding new ways to improve our family farms for the next generation and make contributions to our local communities. Iowa Farm Bureau's Young Farmer Program brings that all together; helping connect young farmers to improve their day-to-day operations on their family farms and build stronger rural communities."
Shonda Hahn and husband, Jeremie, raise corn, soybeans, hay and cattle. Hahn runs her own seed business, Eister Ag LCC, and is an independent seed advisor for LG Seeds. She is active with the Johnson County Women, Land and Legacy, enjoys Iowa Hawkeye wrestling and sells produce at the local farmers market.
Allison Kruger and her husband, Darrin, farm with his family growing corn, soybeans and hogs. She works at Hancock County Health System as a dietary director and inpatient dietician. The couple enjoy downhill skiing, water sports, biking, camping and volunteering at their church.
Megan Hansen along with husband, Dan, raise their three kids and own and manage Ag Decisions Services LCC, an ag consulting business focused on fertility management, seeding prescriptions and soil sampling for the Granular Agronomy, Pivot Bio and Soil Analytics brands. Hansen has also represented Iowa in the American Farm Bureau national discussion meet.
Kristin Plate returned to the farm in 2010 after living in five states and four countries, following her husband, Sherwin's, U.S. Army orders. They have three kids and raise grain and hogs. Plate also substitutes at her children's school and teaches bible studies to three- and four-year-olds.
"Not only does the Young Farmer Program work to promote new opportunities and innovative thinking for our state's youngest agriculturalists and emerging farmers, but you'll notice this year all of our officers are young women," says IFBF President Craig Hill. "Women continue to play vital roles on the farm and Iowa Farm Bureau is proud to have them representing the next generation of agricultural leaders."
Additional new district representatives added to the committee include Brandon and Dee Pickard of Marshall County, Keaton Keitzer and Keely Acheson of Des Moines County and Dan and Megan Hansen of Cass County. These new committee members will serve three-year terms as communicators for their districts.
The 2021 Young Farmer Conference will take place Jan. 29-30 at the Community Choice Credit Union Convention Center. For more information on the Young Farmer Program, visit https://www.iowafarmbureau.com/Farmer-Resources/Farm-Bureau-Leaders/Young-Farmer-Program.