Iowa Farm Bureau member Tim Smith wins Iowa Soil Conservation Farmer of the Year Award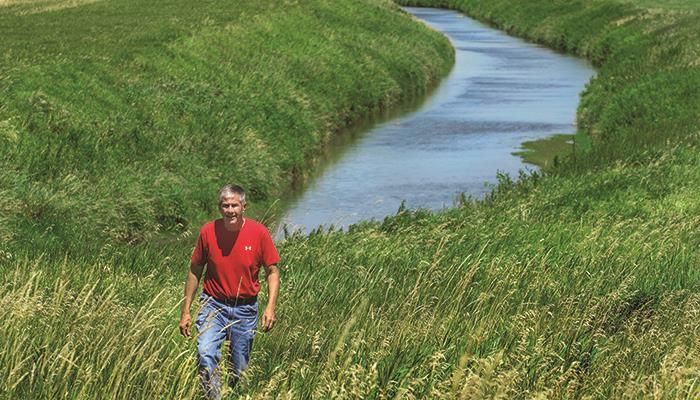 More and more every year, Iowa farmers like Farm Bureau member Tim Smith are proving they care about preserving Iowa's rich land by implementing new and innovative practices to prevent soil erosion and protect water quality. Smith is the 2015 recipient of the Iowa Soil Conservation Farmer of the Year Award, sponsored by the Iowa Farm Bureau Federation and the Iowa Department of Agriculture and Land Stewardship.
"I've always had a strong conservation ethic. My dad was one of the first farmers around here to stop moldboard plowing, and I've just carried that on," Smith said. "I always think we need to remember we are farming for the long term and we need to do everything we can to improve the land and water."
Smith's Wright county family farm uses many conservation practices to protect the environment and each brings its own set of measureable improvements and added benefits; strip-till and no-till planting and cover crops boost soil organic matter. Grassy waterways, field borders and a bioreactor serve to slow and filter rainfall. And prairie strips, planted with native grasses and forbs not only prevent runoff, they provide habitat for a variety of bird species. Smith also uses a nutrient management plan for all his fields.
The longtime family farmer is also an avid promoter of conservation practices, another criteria examined for the award. Smith is an active participant in field tours and demonstrations, and in addition to doing several media interviews on conservation, he has hosted conservation field tours for agricultural representatives from Great Britain, Spain, France, and Germany, modeling sustainable practices for the world. Other promotional activities include education, working with students ranging from urban Des Moines middle school science students to graduate students at Iowa State University.
"We all need to step up for conservation and water quality and start doing things like cover crops," Smith said. "It's a long-term process but the benefits are going to add up."
Smith will receive his award on Sept. 2nd at the Conservation Districts of Iowa annual meeting in Altoona. He will also get a set of keys to a John Deere utility tractor he will have free use of for up to 12 months or 200 hours. This is the second year the award winner has received the tractor use, which this year comes courtesy of John Deere dealer, KC Nielsen, a north central Iowa-based equipment dealer.
"The Van Wall Group is excited to recognize farmers like Smith who have proven their dedication to conservation," said Mark See, Van Wall Group territory manager. "Promoting responsible land stewardship is part of our company philosophy, and we want to recognize those who are doing the right things."
The Soil Conservation Farmer of the Year award began in 1952 as a way to recognize the work farmers are doing around the state implementing conservation practices. The nomination and judging process begins on a county level. This year's regional conservation award winners include: Region 1—Dallas and Ardis Huebner, Hawarden (Sioux); Region 3— Sponheim Family Farm, Nora Springs (Mitchell); Region 4— Don and Deb Bahe, Stanley (Fayette); Region 5— Thomas W. and Patricia Simons, Carroll (Carroll); Region 6— Timothy and Jane Minton, West Des Moines (Dallas); Region 7—Joe and Michele Armstrong, Montezuma (Poweshiek); Region 9— Gary Franklin Family, Keosauqua (Van Buren).
Want more news on this topic? Farm Bureau members may subscribe for a free email news service, featuring the farm and rural topics that interest them most!