Iowa Farm Bureau leaders drive policy development at 101st Annual American Farm Bureau Convention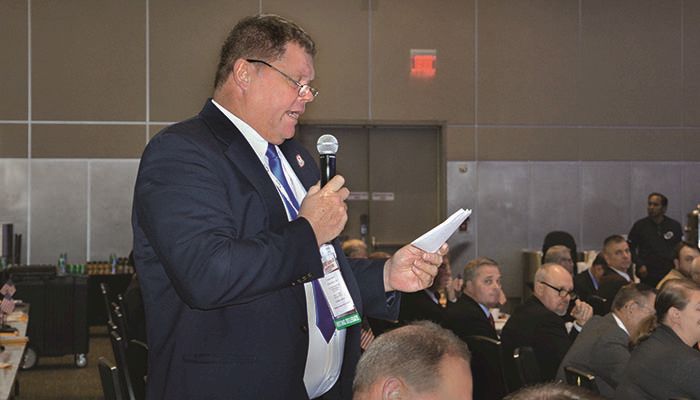 Iowa Farm Bureau Federation (IFBF) voting delegates joined delegates representing all 50 state Farm Bureaus this week in Austin during the 101 st American Farm Bureau Federation (AFBF) Annual Convention to approve resolutions that will guide the grassroots organization on national policy throughout 2020.
During the convention, IFBF delegates successfully advanced state-developed policy that was adopted into the AFBF national policy book, including a policy to better identify rural areas underserved by broadband access, and prioritize those areas in federal programs targeting the expansion of broadband reach and rural internet connectivity.
"It's so important for farmers and other rural residents to have access to high-speed internet and we still have many underserved areas in many parts of Iowa and around the country," said IFBF President Craig Hill.
AFBF delegates also backed an Iowa policy to require federal environmental agencies clarify definitions of wetlands. Farmers have long advocated for more clarity in definitions and regulations that can vary from time and location.
"The definition should be very concrete and precise, something you can rely on," Hill said. "Dealing with those unknowns is very difficult for farmers in Iowa and other parts of the country."
The nine Iowa delegates worked with other Midwestern states to remove language from the AFBF policy book calling for a continuation of the Market Facilitation Program (MFP), which paid farmers to offset the impact of tariff retaliation by China. However, the Midwestern states' effort was unsuccessful.
"I think it's in the best interest of Iowa farmers in the long term to move to a 'trade not aid' scenario," said Brent Lorimor of Fremont County. "That's why we felt it was important to remove that language." Other Iowa members shared the same desire to create free and fair trade opportunities over aid. "The MFP program is not something that we want to have every year," said Mike Kleitsch of Poweshiek County. "We want more trade, so prices can reach a point where we don't need the payments."
After a year-long review process on modernizing Federal Milk Marketing Orders, AFBF delegates voted to support the creation of a flexible farmer and industry-led milk management system. The new policy seeks reform efforts to better coordinate milk supply and demand in the U.S.
In addition to advocating for policy that will guide the nation's largest general farm organization with more than 6 million members, Iowa Farm Bureau received recognition during the national convention. IFBF received Awards of Excellence, an honor recognizing state Farm Bureaus that demonstrate outstanding achievements in: (Advocacy; Engagement & Outreach; Leadership and Business Development; Membership Value).
Jessica Tekippe, a farmer from Winneshiek County, represented Iowa in the AFBF Young Farmer and Rancher (YF&R) Discussion Meet and advanced to the Sweet 16 Round of the competition. Tekippe competed with participants from dozens of other state Farm Bureaus in the YF&R Discussion Meet, which is designed to simulate a committee meeting, in which participants are evaluated on their exchange of ideas and information on a predetermined topic.
A highlight of the convention was an address from President Donald Trump to Farm Bureau members, marking the third consecutive year President Trump has addressed the annual gathering of Farm Bureau members.
The AFBF voting delegates representing Iowa included: President Hill of Warren County; IFBF Vice President Joe Heinrich of Jackson County; District 7 Director Rick Plowman of Van Buren County; Dave Bolin of Butler County; Leo Stephas of Clay County; Darrick Hall of Jones County; and Karen Seipold of Mills County.
Farm Bureau members will gather next January in San Diego, California for the 2021 AFBF Annual Convention.
Want more news on this topic? Farm Bureau members may subscribe for a free email news service, featuring the farm and rural topics that interest them most!