Iowa Farm Bureau and Iowa Hawkeyes team up to provide "ANF Game Day On-Field Experience"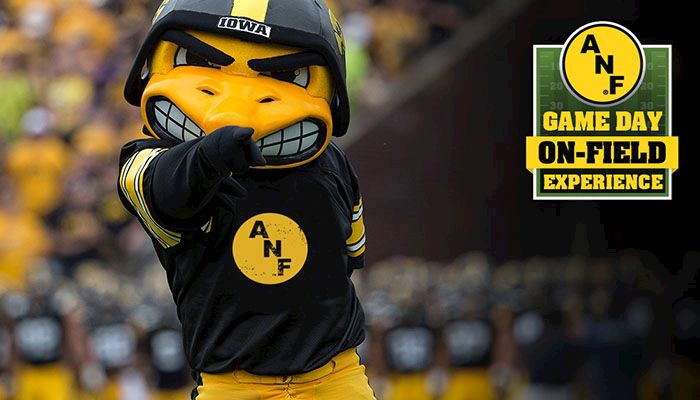 Hawkeye Fans Have Chance to Win Tickets, Prizes
On October 12, the Iowa Farm Bureau Federation (IFBF) and University of Iowa Hawkeyes will team up to celebrate Iowa's farmers during the 9th annual America Needs Farmers (ANF) Game Day. As the Hawks take on the Penn State Nittany Lions, one lucky fan will win the experience of a lifetime including four tickets to the ANF game, an on-field sideline visit and a football autographed by Coach Kirk Ferentz.
For a chance to win, go to www.AmericaNeedsFarmers.org and click the "Enter to Win" tab on the "ANF Game Day On-Field Experience" page to take a short, multiple-choice quiz to see how Iowa farmers are responsibly and sustainably raising livestock which provide our daily diets with high-quality proteins. The contest will run Aug. 21 through Oct. 2 with the winner announced shortly after.
"The rich history and tradition of the ANF program has proven to be a great way to reach new audiences. Legendary Hawkeye Coach Hayden Fry created ANF in 1985 during the Farm Crisis which affected thousands of Iowa family farms and why Hawkeye greats continue to support the 'America Needs Farmers' campaign today," said IFBF President Craig Hill. "We know Iowans love meat, and football tailgaters grilling up burgers, brats and chops are a testament to that. This contest, along with our farmer volunteers interacting with football fans at the game's ANF Legends Tent, helps bring light to the innovative ways farmers care for their animals, putting health and the environment at the forefront of everything they do."
During ANF Game Day, fans can stop by the ANF Legends Tent at Krause Family Plaza to meet the farmers who grow and raise their food and play games to win great prizes; they can also get autographs from former Hawkeye and NFL Greats. ANF merchandise will also be for sale in ANF Plaza with a portion of the proceeds benefitting the Iowa Food Bank Association. For more information, visit www.AmericaNeedsFarmers.org.