Iowa Farm Bankruptcy Trends
According to the U.S. Courts: Chapter 12 bankruptcy is designed for "family farmers" or "family fishermen" with "regular annual income." It enables financially distressed family farmers and fishermen to propose and carry out a plan to repay all or part of their debts. Under the Bankruptcy Code, "family farmers" and "family fishermen" fall into two categories: (1) an individual or individual and spouse and (2) a corporation or partnership.
From 2001-2017, Iowa averaged about eight Chapter 12 bankruptcy filings per year. In 2017, that number rose to a record high during this time frame of 18 filed. As you can see below, the U.S. and Iowa trends in Chapter 12 bankruptcy filings follow a very similar pattern, with both seeing spikes around 2003 and 2010. 2013 and 2014 bankruptcies were lower for both the U.S. and Iowa, however both have seen much higher bankruptcy filing numbers the past three years likely due to declining cash receipts for many commodities.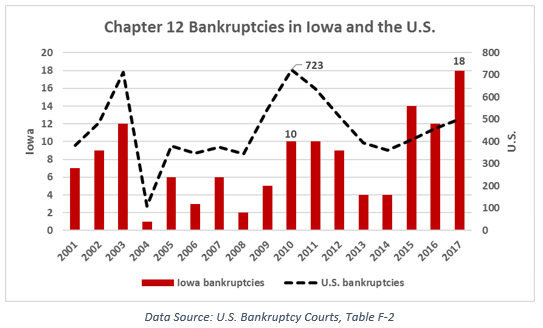 Declining net farm income indicates the financial stress many farmers have been battling the past few years and helps explain the increasing number of farm bankruptcies. From 2013 to 2016, the number of Iowa Chapter 12 bankruptcies filed increased 200%, while net farm income saw a 70% decline. The U.S. 2017 net farm income projection is expected to show a slight increase over 2016, however 2018 projections indicate net farm income could hit a new 12-year low.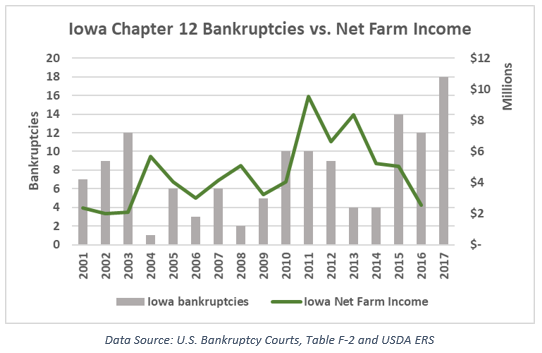 So far in 2018, Chapter 12 bankruptcy filings have increased compared to the first quarter of 2017 in large agricultural production areas as shown below. According to John Newton, Director of Market Intelligence at American Farm Bureau, "While there are a variety of ways to measure the health of the farm economy, Chapter 12 farm bankruptcies are one of the better indicators. These bankruptcies represent financially distressed family farmers who had to restructure financials to avoid a liquidation of assets or foreclosure. For many farmers, this is not the end of the line, but an opportunity to identify a path forward that involves a repayment plan of outstanding debt."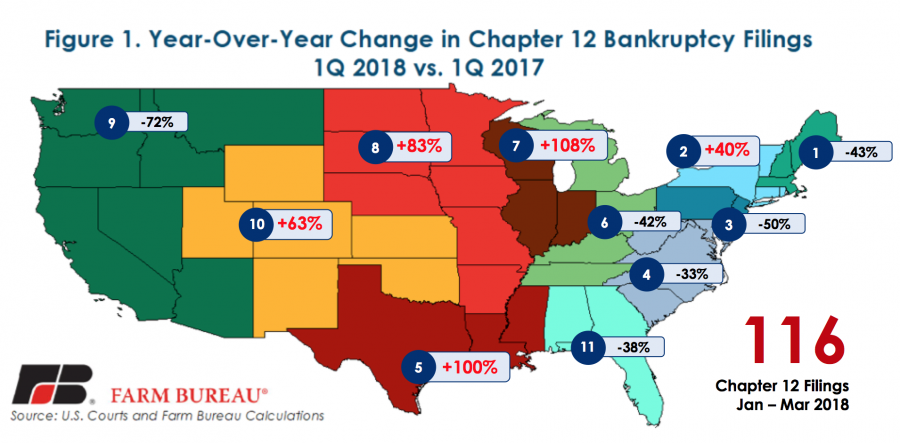 Michelle Mensing is a Research Analyst with Decision Innovation Solutions (DIS). DIS is an Iowa-Based economic research firm which provides regular farm economics research and analysis to the Iowa Farm Bureau staff and members.
Want more news on this topic? Farm Bureau members may subscribe for a free email news service, featuring the farm and rural topics that interest them most!