Iowa FB leaders see promise of new era at EPA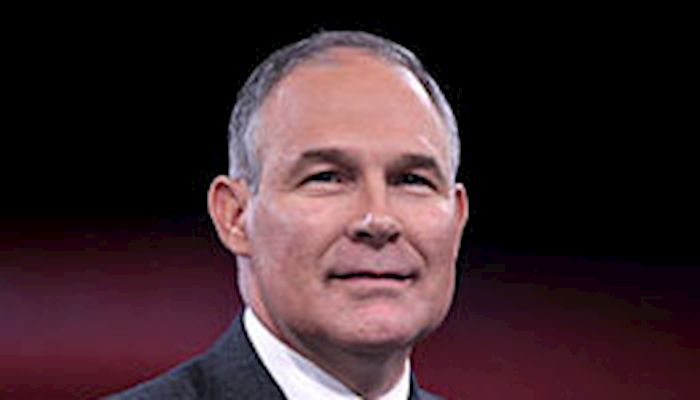 Scott Pruitt, the new administrator of the U.S. Environmental Protection Agency (EPA), promises to bring a new era of cooperation and collaboration with states and with agriculture, according to Iowa Farm Bureau leaders who attended a recent presentation in Washington, D.C. by the new administrator.
"It was a very positive message and certainly very different than things we've heard in the past," Chad Ingels, a Fayette County Farm Bureau member, said about Pruitt's remarks to the American Farm Bureau Federation Advocacy Conference. "There was much more openness in his remarks."
Dan Hanrahan, a Madison County Farm Bureau member, said he was encouraged by Pruitt's comments. "It seems like he has a clear vision of where he wants to take the EPA to a place where it's a collaborator with agriculture to help the environment," he said.
Brent Johnson, Iowa Farm Bureau Federation District 4 director, was also impressed by Pruitt's remarks. "He talked about how the EPA is going to follow the law, not interpret it," Johnson said. "That was a good thing to hear."
Pruitt told Farm Bureau members at the advocacy conference that the EPA will listen to the concerns of farmers and others affected by environmental regulations. "We have always been able to strike the balance between being a good steward of our natural resources, but also growing our jobs and our economy, and doing it in a responsible way," he said.
Pruitt, who was formerly the Attorney General of Oklahoma, was instrumental in the Trump administration's recent move to begin dismantling the Waters of the United States or WOTUS rule and revising it.
The WOTUS rule was imposed in 2015 by the Obama administration EPA, but implementation was held up by lawsuits in federal courts.
Pruitt called the drafting of WOTUS a clear overreach by the previous EPA to expand its power beyond the laws written by Congress. It would have created regulatory uncertainty for farmers and other business by making huge portions subject to the Clean Water Act regulations, he said.
Ingels, a member of the Iowa Environmental Protection Commission, said he was especially encouraged about Pruitt's pledge to work with states to protect air and water. "We all want to protect the environment, but he knows it makes more sense to collaborate with the states to accomplish that," Ingels said.
Keeping within the laws set by Congress will be a primary focus of the Trump administration's EPA, Pruitt said in an interview with AFBF's Newline podcast. "I think when you do rulemaking, whether it's in clean air or clean water, we have to keep something in mind, that we only have the authority that Congress has given this agency," he said.
Want more news on this topic? Farm Bureau members may subscribe for a free email news service, featuring the farm and rural topics that interest them most!