Innovative projects help Iowa towns reduce nutrient loss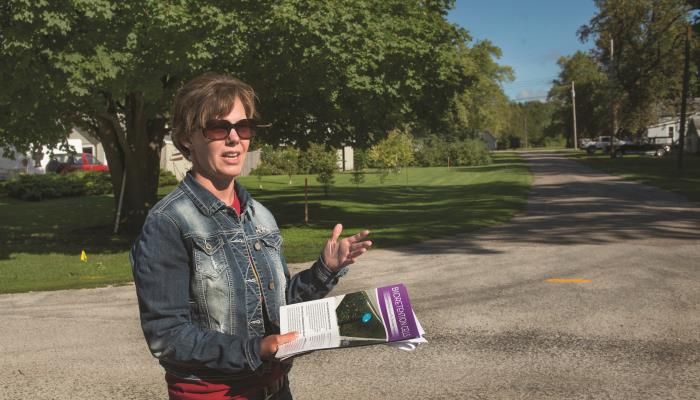 An innovative water quality project is un­­der construction this fall in northwest Iowa. But it's not in a large city, suburb or popular recreation destination.
Instead, you can find the new conservation project in an unexpected place: a quiet, two-block residential street in the rural town of Lohrville, population 368.
Lohrville is among dozens of communities, of all sizes, across the state that are installing new water quality improvement projects, such as permeable paving, rain gardens and other urban conservation strategies, to advance the state's nutrient reduction strategy goals.
The City of Lohrville, in partnership with the Calhoun County Soil and Water Conservation District, is installing four bioretention cells at the corner of 3rd and Lemon Streets.
Like many rural communities in Iowa, Lohrville doesn't have storm sewers in residential areas. So whenever it rains, the storm water collects at this low spot in town, then spills into a neighboring farm field and toward a drainage ditch.
Bioretention cells
The new bioretention cells will work like natural filters, collecting storm water so it can flow through layers of crushed stone, sand and amended soil to remove sediments and pollutants before flowing into the North Raccoon River Watershed.
Native plants, including deep-rooting prairie grasses and flowers, will grow on top of the bioretention cells to further soak up pollutants and beautify the streetscape.
"Most people who drive by it would maybe think it's a flower bed and not even know it's a conservation project," said Derek Nammany, an urban conservationist for the Iowa Department of Agriculture and Land Stewardship (IDALS) in northwest Iowa.
The Lohrville project received financial assistance from two sources: the Iowa Water Quality Initiative's urban conservation demonstration projects program, administered by IDALS, and the State Revolving Fund sponsored projects program.
Lohrville is one of 38 communities across Iowa that have either completed or are constructing new water quality projects with assistance from the State Revolving Fund sponsored projects program. And Iowans can expect to see more of these urban water quality projects in coming years, said Patti Cale-Finnegan, State Revolving Fund coordinator with the Iowa Department of Natural Resources (DNR).
"It's snowballing," Cale-Fin­negan said. "In our first year, we allocated $15 million (for sponsored projects), but we got applications worth $30 million."
In 2009, the Iowa Legislature changed state law to allow cities to use customer revenues not only to fund wastewater and sewer upgrades, but also to fund water resource restoration projects.
The State Revolving Fund sponsored projects program allows cities to complete a wastewater project and a watershed project for less by lowering the overall interest payment, Cale-Finnegan explained.
For example, if a city wants to borrow $1 million from the State Revolving Fund for a sewer upgrade, the city would typically have to pay back about $1.2 million with interest and fees.
However, a city can now borrow an additional 10 percent (or in this case, $100,000 for a total loan of $1.1 million) to complete a water quality sponsored project, but at a reduced interest rate. So the city only pays back the original $1.2 million. "They've got two projects done for the same cost," Cale-Finnegan explained.
Partnering with farmers
Because the sponsored projects aren't required to be within city limits, several cities are choosing to partner with local farmers.
For example, the City of Fort Dodge is using its sponsored project funds to address storm water issues in town but also to work with landowners on an erosion project along the popular Badger Lake.
"One of the goals was to create a greater understanding of … who they can make partnerships with to improve water quality. And we are starting to see that happen. And that's really exciting," Cale-Finnegan said.
In addition to the sponsored project assistance, Lohrville partnered with the Calhoun County Soil and Water Conservation District (SWCD) to successfully apply for additional funding through the Iowa Water Quality Initiative's urban conservation demonstration program.
The $89,743 in initiative funding is also going toward a second urban conservation project at Twin Lakes near Rockwell City. The Twin Lakes demonstration will include new bioretention cells and native prairie plantings along the shore.
Terry Finley, Calhoun County SWCD commissioner, said the Iowa Water Quality Initiative funding gave the county SWCD an opportunity to work with local communities, not just rural landowners.
"We've never had that opportunity before," Finley said. "But that's the whole deal: Everybody has to be involved in this, not just the farmers. Cities need to be involved in water quality too."
A range of projects
Bioretention cells are just one type of urban conservation project that cities are adopting across the state. This fall, the City of Kingsley in northwest Iowa installed permeable paving in an alleyway that was an erosion trouble spot. (You can watch the YouTube video of the construction at https://youtu.be/DekYNjP_BqA.)
The permeable paving, essentially concrete pavers with gaps in between, allows storm water to filter through the pavers instead of running straight to the sewer line and into nearby rivers or streams.
Nammany says the IDALS urban conservationists and the DNR are reaching out to communities before they start planning major wastewater or street projects to let them know that there is financial assistance available to integrate water quality improvements.
"The glory of (the state funding) is that a lot of these towns would never have had the opportunity to have hundreds of thousands of dollars available to do conservation (projects). So it's been cool to see it click with these small communities. And once they get it, they become big proponents of it and run with it from there," Nammany said.
For more information about the State Revolving Fund sponsored projects, visit http://www.iowasrf.com/about_srf/sponsored_projects_home_page.cfm. And for more information about IDALS' urban conservation program, visit http://www.iowaagriculture.gov/FieldServices/urbanConservation.asp.
Want more news on this topic? Farm Bureau members may subscribe for a free email news service, featuring the farm and rural topics that interest them most!