Illinois farmers impressed with Iowa's water quality effort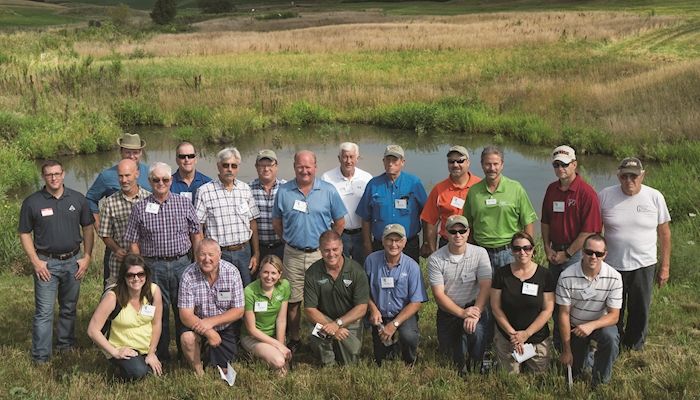 Farm Bureau members from Illinois, who traveled west to Iowa last week to assess their neighboring state's work in water quality, came away thoroughly impressed.
The Illinois farmers, who visited with farmers, ag groups, state officials and city leaders, lauded Iowa's keen focus on improving water quality through the research-based Iowa Nutrient Reduction Strategy. They commended Iowa farmers' progress at installing practices and structures, such as bioreactors, cover crops and saturated buffers, to improve water quality. And they especially applauded the widespread collaboration among Iowa farmers, ag retailers, farm organizations and government agencies to accomplish water quality and conservation goals.
"I think the biggest thing that has impressed me is the overall focus on water quality here," said Michael Ganschow, a farmer from Bureau County in north central Illinois. "There really seems to be more awareness of the issue here than we have back home in Illinois."
Stephen Anderson, a farmer from Effingham County in south central Illinois, noted that farmers and others involved in Iowa agriculture are addressing the issues of water quality and working together to solve them.
Taking the challenge
"People here aren't running away from the problems, but facing up to them and figuring out what they can do," Anderson said. "I think that's pretty rare in most places these days."
"It's really something that farmers are really taking ownership of this issue and they are working to get something done," added Dean Campbell, a farmer from Randolph County in southern Illinois.
The Illinois Farm Bureau organized the bus trip to get a first-hand view of Iowa water quality efforts, said Richard Guebert Jr., president of Illinois Farm Bureau. "We've seen that you over here have been in the water quality atmosphere for a few years more than we have. So we wanted to come over and see what's happening," he said.
Illinois recently developed a long-term strategy to improve water quality using many ideas gleaned from the Iowa Nutrient Reduction Strategy, said Lauren Lurkins, Illinois Farm Bureau's director for natural and environmental resources. "We are probably about two years behind Iowa on water quality issues, and we really thought we could learn a lot by coming over here," she said.
Iowa was happy to host the Illinois farmers to share information and offer insights on collaborative efforts to improve water quality through the three-year-old water quality initiative, said Rick Robinson, IFBF environmental policy advisor.
"Water quality is a critical issue for farmers and throughout the Corn Belt. So it's important to pass along some things that we have learned to farmers in our neighboring states. And there's always things we can learn from farmers in other states, too," he said.
During the three-day visit, the Illinois farmers met with state agency leaders coordinating the state's water quality initiative, including Iowa Agriculture Secretary Bill Northey and Chuck Gipp, director of the Iowa Department of Natural Resources. They also visited with John Lawrence, director for Agriculture and Natural Resources Extension and Outreach for Iowa State University, which provided the research foundation for the Iowa water quality initiative.
The Illinois farmers also learned about wetlands and other conservation structures at the Iowa Land Improvement Contractors demonstration farm in Marshall County. They viewed the saturated buffer and prairie strips installed by Benton County Farm Bureau member Al Schafbuch at his farm near Dysart. They also met with Cedar Rapids officials about the city's collaboration with farmers in the Middle Cedar Partnership Project. That project is working to reduce nutrient loss and decrease the potential for flooding in the watershed upriver from Cedar Rapids.
In addition, Iowa Gov. Terry Branstad visited with the Illinois farmers about water quality during an Iowa Cubs game in Des Moines.
Collaboration impressive
The amount of collaboration in Iowa on water quality by farmers, state government, ISU and agribusiness was an eye opener, said Jeff O'Connor, a farmer from Kankakee County just south of Chicago. "There seems to be a very unified support for the plan to reduce nutrient loss," he said. "That's not really something we see in Illinois, where state agencies all seem to have different agendas."
The willingness of Iowa to invest in water quality today and to work for long-term funding was a key takeaway point for Chad Bell, a farmer from Mercer County just south of Davenport. In Illinois, he said, continuing budget issues have made added investment in water quality funding nearly impossible. In Iowa, there was at least a $122 million state, federal and private investment in the strategy's implementation last year, according to state officials, and that's not counting farmers' costs.
"That's really impressive that you have been able to secure funding for cost share and other programs," Bell said. "It really speaks to the value of a collaborative approach."
Guebert, the Illinois Farm Bureau president, said he was also impressed by the passion that so many Iowa farmers have today about improving water quality. "We have seen a lot of farmers here who are true advocates of water quality. That's something we need to take back with us to Illinois."
Want more news on this topic? Farm Bureau members may subscribe for a free email news service, featuring the farm and rural topics that interest them most!