ISU student-athletes earn "Farm Strong" title away from the spotlight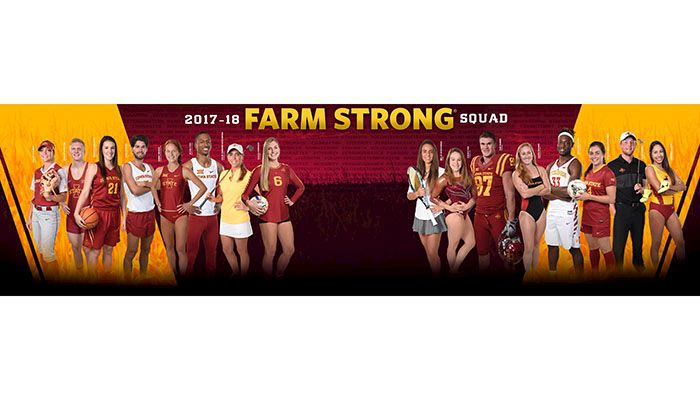 This week, the Iowa State Cyclones and Iowa Farm Bureau announced the 2017-18 Farm Strong Squad, a group of ISU student-athletes who exemplify the strength, perseverance, work ethic and character of Iowa's farmers.
Some names you'll recognize. Others, you won't.
Some squad members boast standout stats and accolades. Others are credited with compliments like "steady competitor," "tough blocking ability," "great asset," and "outstanding leader."
This isn't your typical All-Conference or All-America team. It's a mixed group of top performers, walk-ons, and grinders who share one thing in common – they truly shine when no one is watching.
It's a squad that Iowa's farm families can appreciate.
Like these athletes, farmers dedicate long hours to jobs that go largely unnoticed – all in the name of preparation, working toward a larger goal.
Just as every mile run, rep completed, or hour spent in the film room inches an athlete closer to victory, every early-morning chore and every hour of late-night field work contributes to a farmer's success: feeding and fueling a growing world, raising a family, and (eventually) leaving a legacy for the next generation.
No, this squad isn't an All-America team, but it's just as exclusive.
You're either willing to put in the work, or you're not. You're determined to fight through challenges and setbacks and succeed, or not. You're willing to sacrifice your time, energy, blood, sweat and tears for a greater cause, or you're not.
You're either Farm Strong, or you're not.
By Zach Bader. Zach is Iowa Farm Bureau's Digital Marketing Manager.