IFBF urges EPA to rescind and quickly replace WOTUS rule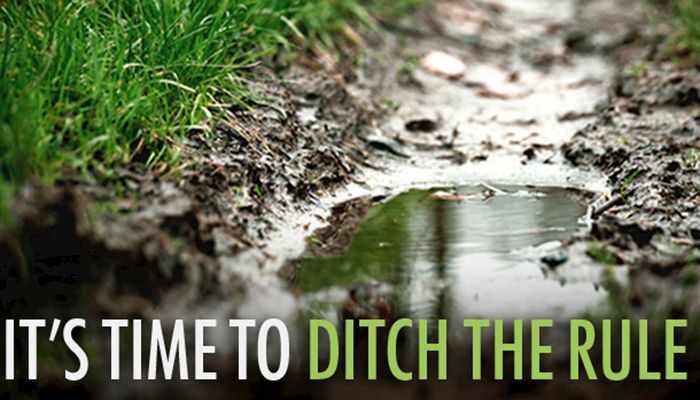 Calling the 2015 Waters of the United States (WOTUS) rule "misguided" and a "federal overreach," the Iowa Farm Bureau Federation (IFBF) last week applauded the Environmental Protection Agency's (EPA) plan to ditch and replace the current rule.
"We also recommend that the agencies move quickly to re-issue a new WOTUS definition that is supported by and is consistent with the text of the Clean Water Act (CWA), Supreme Court precedent, constitutional limits and the balance of federal and state rights and responsibilities that Congress intended," Craig Hill, a Warren County farmer and IFBF president, said in comments to the EPA.
The IFBF also signed on to comments on WOTUS with the American Farm Bureau Federation (AFBF), which also recommended that the EPA and the U.S. Army Corps of Engineers rescind and replace the current WOTUS rule.
The EPA requested comments, which were due Sept. 27, as part of its plan to replace WOTUS law that was imposed by the Obama administration in 2015. The WOTUS rule, designed to clarify what bodies of water should be regulated under the Clean Water Act, has been strongly opposed by farmers, home builders, and others.
The rule was stayed by a federal district court and a federal court of appeals after Iowa, along with the number of other states and entities, sued to stop it, so the rule never really took effect.
On a fast track
EPA Administrator Scott Pruitt, during an August visit to IFBF, said he hopes to have the current rule rescinded and a new rule in place by the first quarter of 2018.
"We are focused on this like a laser," Pruitt said during a round table discussion at IFBF that was hosted by Iowa Gov. Kim Reynolds. "We want to get rid of this bad rule and replace it with something much better," he said.
"We are to going to make sure that puddles, dry creek beds, ephemeral drainage ditches, man-made tile lines and irrigation ponds are not considered a water of the United States," Pruitt said during the round table discussion. "And this notion that we cannot be about environmental stewardship and economic growth is simply a false narrative," Pruitt said.
During his visit to Iowa, Pruitt also emphasized that getting rid of WOTUS was also a priority of President Donald Trump.
In IFBF's comments to the EPA, Hill said that the 2015 WOTUS rule, as it was written, would have the farthest reaching and most negative ramifications for farmers than any policy, rule or regulation coming from the federal government. Farmers realize this, and have worked hard to ditch the current version, he said.
Strong opposition
"It is evident that Iowa farmers are opposed to this federal overreach from the massive response the EPA and Corps received on the 2015 WOTUS rule," Hill wrote. He noted that the WOTUS rule, and the plan to rescind and replace it, have generated thousands of responses from members who oppose the rule.
Most Iowa lawmakers, including Iowa U.S. Sens. Charles Grassley and Joni Ernst, Gov. Reynolds and Iowa Agriculture Secretary Bill Northey, also support ditching and replacing the WOTUS rule.
In its comments, AFBF contends that the 2015 WOTUS rule is illegal because it violates the CWA language of confining regulation to navigable waters. "The rule improperly asserts jurisdiction over non-navigable features, such as isolated wetlands, ephemeral drainages, and isolated ponds, essentially reading the term navigable out of the CWA," AFBF said.
In addition, AFBF asserts that in writing the WOTUS rule the EPA did not follow the correct administrative processes and did not undertake the required economic and environmental analyses.
The AFBF said that the rule was more about land use than water and would have greatly expanded the federal government's ability to regulate vast swaths of privately-owned land. That would have created a huge regulatory burden for farmers, raised farmers' costs and would have created widespread confusion and uncertainty.
"In particular, the so-called Clean Water Rule provided none of the clarity and certainty it promised," AFBF wrote. "Instead, it created confusion and risk by providing the agencies with almost unlimited authority to regulate, at their discretion, any low spot where rainwater collects, including common farm ditches, ephemeral drainages, agricultural ponds and isolated wetlands found in and near farms and ranches across the nation."
A new WOTUS
Like the Iowa Farm Bureau, AFBF also supports the EPA's plan to undertake a substantive rulemaking to create a new WOTUS rule.
"There are many flaws with the pre-2015 regulations and guidance documents that should be addressed through a new rulemaking. We will continue to support a rulemaking to clearly articulate the extent of federal CWA authority," AFBF said.
Want more news on this topic? Farm Bureau members may subscribe for a free email news service, featuring the farm and rural topics that interest them most!