ICE Manufacturing earns Iowa Farm Bureau's Renew Rural Iowa Entrepreneur Award for community leadership and providing opportunity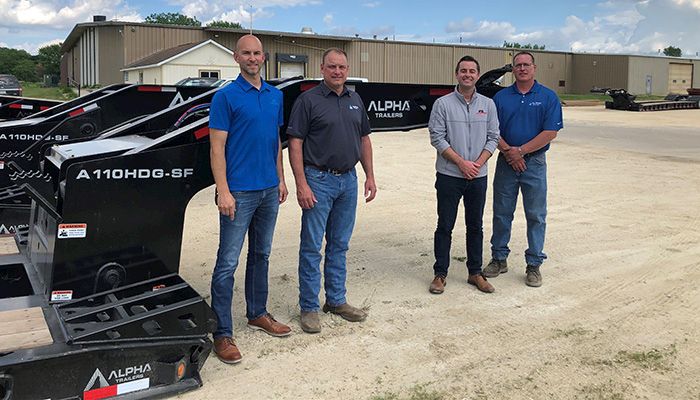 Despite a pandemic, the rural Iowa town of Oelwein, located in Fayette County, saw the rise of a new business, ICE Manufacturing, maker of Alpha HD Trailers. Headed by Jeff Ingels, along with business partner Rodney Crim, the enterprise created a robust workforce and added opportunity at a local community college, earning the duo Iowa Farm Bureau's Renew Rural Iowa (RRI) Entrepreneur Award.
Marked by a triangle with a lone wolf howling in the center, Alpha HD Trailers haul commercial, construction and ag equipment and are described as the "most durable, specialized, open deck semi-trailer on the road." Growing up in the area and having been in the manufacturing business for 20 years, Ingels and Crim decided it was time to begin their own venture in Oelwein. However, getting started in 2020 offered a variety of challenges from material shortages to travel restrictions from interested buyers.
"One benefit [of the pandemic] was my family was close by, so my son in college was actually back home and my kids in school were available. So, they got to help put together the very first trailer just in time to show it to our first customer," says Ingels.
Since that sale, ICE Manufacturing has experienced rapid business growth going from three employees to 28 full-time and eight part-time positions. Their Alpha HD Trailers have been purchased across the United States with dealers located in both western and eastern parts of the country. Ingels hopes to grow their business by 50 percent in the next couple of years.
"ICE Manufacturing is going to add tremendous jobs and benefits and good employment which will keep this town growing," says Jane Burroughs with the Entrepreneur Development Center in Cedar Rapids.
Ingels acknowledges getting raw materials at an affordable price still presents a challenge and welding is a much-needed skillset. To help address labor needs and provide well-paying jobs for the next generation of skilled workers, Ingels partnered with Northeast Iowa Community College to train employees in welding. He was also instrumental in getting the institution's welding program running again by lining up an instructor. "We have a good product and know how to take care of our customers, so they reward us with a lot of orders. We're sold out for quite some extended time, and if we can increase the capacity, they'll keep buying," he says.
Samantha Wagner, Iowa Farm Bureau regional manager in northeastern Iowa, applauds the role Ingels and Crim play in building not just their business but the 6,400-person community at large. "The best thing about this company is they grew here in rural Iowa. They have roots here and want to stay here," she says. "We love to see businesses that support our economy, help employ a lot of people and make a positive impact by strengthening our rural communities."
RRI is an Iowa Farm Bureau initiative that supports new and existing businesses through education, mentoring and financial resources. Since its inception, RRI has helped create more than $125M in economic impact for rural communities. For more information about RRI and upcoming business seminars, visit http://programs.iowafarmbureau.com/RRI.   
Want more news on this topic? Farm Bureau members may subscribe for a free email news service, featuring the farm and rural topics that interest them most!