How does coronavirus impact your food?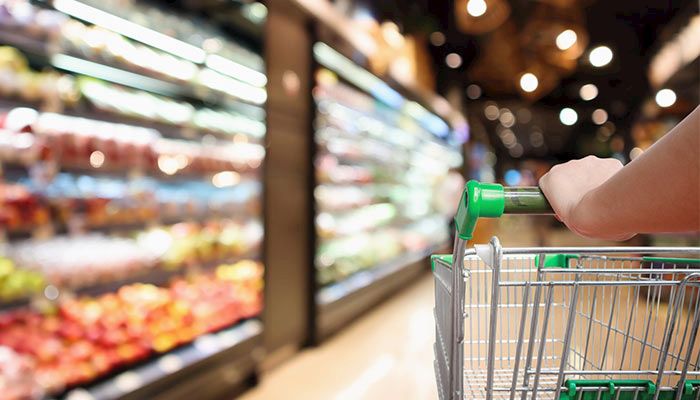 No question, our lives and routines have changed within the span of a few weeks, and perhaps nowhere is this more evident than how we choose to fill our grocery carts, fridges and pantries.
According to the Center for Food Integrity, COVID-19 has indeed shifted consumer buying behavior.
After years of focusing on what's on the perimeter of the store – fresh produce, in particular – consumers are now turning to shelf-stable foods like canned vegetables, frozen entrees, beans, and pasta.
Consumers are also buying more indulgent foods, such as chocolate, baking mixes and comfort-food ingredients, to help cope with the stress of the unknown and being in self-isolation.

Yet with so much uncertainty, we're also exposed to a lot of rumors and false information swirling around in the media and online.
Here is what we do know about coronavirus and its impact on food safety and the U.S. food supply:
COVID-19 is a respiratory illness, not a food-borne illness. Currently, there is no evidence of food or food packaging being associated with transmission of COVID-19, according to the U.S. Centers for Disease Control.
Like other viruses, it is possible that the virus that causes COVID-19 can survive on surfaces or objects, the CDC says. However, because of poor survivability of coronaviruses on surfaces, the risk from food products or packaging is very low, the CDC says.

Experts recommend practicing good food safety habits at home, including washing hands before and after handling food, keeping perishable foods refrigerated, and cooking meat, poultry and eggs to food-safe temperatures.
Everyone should have access to safe, nutritious food.
Many Iowans are now struggling with food insecurity. Working parents may face sudden unemployment, and seniors and people with compromised immune systems, who are at highest risk from COVID-19 complications, are discouraged from leaving their homes.
Plus, when schools close, children don't eat school breakfast or lunch, which could be their only nutritious meal of the day.
The U.S. Department of Agriculture and local school districts are trying to come up with creative solutions, such as drive-up bagged lunches, to provide school meals to students.
Iowans are also encouraged to donate to their local food pantry to help ease the increased need for food assistance.

The Iowa Farm Bureau, the state's largest, grassroots farm organization, has donated $100,000 to the Iowa Food Bank Association (IFBA) to help feed the need for Iowans across the state who are impacted during this unprecedented time. County Farm Bureaus are also stepping up to help those in need. An offer by the state Farm Bureau to match county Farm Bureau donations up to $500 produced a total of 203 donations to food pantries across the state, with county Farm Bureaus contributing more than $60,000.
With the combination of state and county Farm Bureau donations, more than one million meals were provided to Iowans in need.
Iowans in need can visit the Iowa Department of Human Services' COVID-19 Food Security website for more information on government food assistance programs.

Iowa farmers remain committed to providing safe, nutritious food.
Livestock farmers implement strict biosecurity practices – such as showering in and showering out before entering barns, restricting visitors from farms, disinfecting equipment, practicing social distancing, and getting a yearly flu shot – to keep their employees, their animals, and themselves healthy.
And Iowa farmers will continue to give back to their communities and neighbors however they can – as volunteer firefighters and EMTs, as school board members, or working second jobs in nursing, senior centers, or child care.
Local farmers and small businesses need our support.
Many Iowa farmers markets are switching to online or curbside sales; Iowa fruit and vegetable growers depend on these sales – and our business.
You can also reach out to your favorite farmers market vendors on their Facebook or Instagram pages, and see if you can buy directly from the farms. Many direct-to-customer local meat producers also offer online purchases and shipping within state lines.

In addition, several Farm Bureau members in Iowa also own and operate small businesses that may be closed because of COVID-19.
So do what you can to support them: Order drive-up meals from your favorite café or coffee shop, buy a gift certificate to a local store or give an extra large tip to anyone working in a service business.
And when Iowa's small businesses reopen, let's make sure the lines outside their doors are as long as the lines to buy toilet paper.