Honoring livestock farmers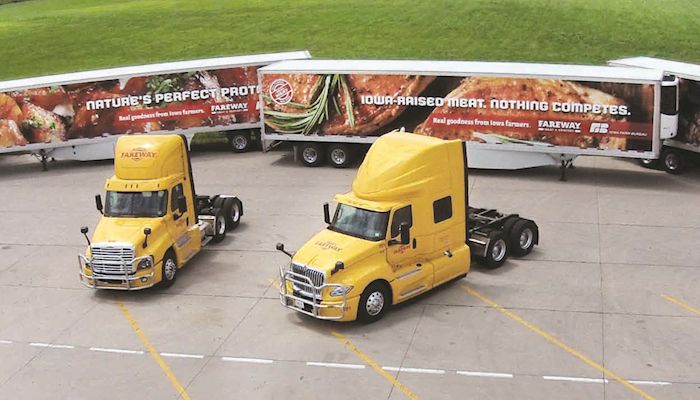 As part of the Iowa Farm Bureau Federation's (IFBF) on­going effort to help celebrate and elevate the value of animal protein, while building trust and understanding of today's farming practices, the organization is excited to launch a special 'Real Farmers. Real Food. Real Meat' campaign in partnership with Fareway Stores.

The campaign will feature a variety of different elements, including a special month-long "Fill Your Freezer" contest beginning Aug. 30. The contest will feature a meat bundle, valued at $200, given away at each participating Iowa Fareway store.
"Our livestock farmers are the envy of the world, and we certainly know Iowans like what our farmers produce. Showcasing that support is important, especially at a time when shoppers face so many choices to put on the family table," said Craig Hill, a Warren County livestock farmer and IFBF president. "We work hard to ensure all our livestock receives compassionate care. Our focus remains steadfast, in protecting the health of the animal and the integrity of the food that comes from that animal, which is served to your family and mine. This campaign will help increase awareness of those efforts and the overall value of animal protein."
Real meat stands out

Experts agree that real meat stands above the rest as the best option for health and weight maintenance.
"Iowans have several options for protein in their diets today including vegetarian sources, but animal protein continues to be important because it is a high-quality or 'complete' protein containing all the essential amino acids," according to Ruth MacDonald, Iowa State University professor and chair of the Department of Food Science and Human Nutrition.
Meat is central to nutrition for Iowans. The 2019 Iowa Farm Bureau Food and Farm Index showed 96% of Iowa grocery shoppers eat meat at least weekly and 97% have cheese or dairy products at least once a week.
Iowans prefer real meat

The Food and Farm Index also showed that Iowans prefer to have their burgers and other meats come from a farm, instead of a lab. It showed that only 21% of grocery shoppers in Iowa would be likely to purchase lab-grown imitation meat, even if it were readily available to them. Two-thirds of Iowans surveyed believe lab-grown imitation meat shouldn't even be allowed to use "meat" on its label.
"The popularity of meat and the integrity of animal agriculture brought Iowa Farm Bureau and Fareway together," Fareway CEO Reynolds Cramer said. "It's why we're proud to be a part of Farm Bureau's 'Real Farmers. Real Food. Real Meat.' campaign, to serve up support for our many hard-working farmers who put food on our family table."
Iowans who want a chance to fill their freezers with $200 in free meat should look for the 'Real Farmers, Real Food, Real Meat' logo at their local Fareway store and go online at www.iowafarmbureau.com/FillYourFreezer. The contest will go live on Aug. 30.
To enter for a chance to win, Iowans will play an online game to learn more about livestock farming.
Highlighting farmers

As part of the official kick-off for the contest, Fareway trucks featuring real Iowa livestock farm families are rolling across Iowa roads. The trucks will feature different Farm Bureau family members from Greene, Calhoun, Wapello, Union and Dallas counties.
These families were also featured on "Real Farmers. Real Food. Real Meat." signage in Farm Bureau Park at the Iowa State Fair, along with special promotions focusing on the nutritional benefits of animal protein, sustainability and animal care.
On Aug. 30, one of those "Real Farmers, Real Food, Real Meat" trucks and the family portrayed on it will be on hand at the Fareway store in Jefferson as farmers and Fareway leaders serve up an Iowa-raised barbeque from 4 to 7 p.m.
All proceeds raised from the Aug. 30 event in Jefferson will go to a local food bank.

Want more news on this topic? Farm Bureau members may subscribe for a free email news service, featuring the farm and rural topics that interest them most!