Hard work pays off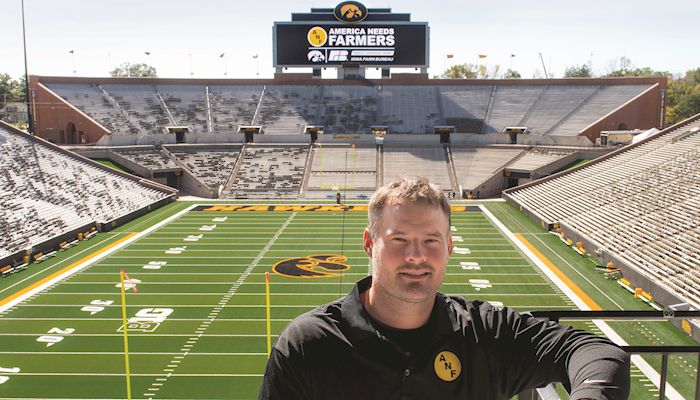 Matt Kroul says the mantra that propelled him to success on the football field still applies to his daily life now that he's shucking sweet corn instead of offensive linemen and sacking potatoes instead of quarterbacks.
Overcome. Adapt. Succeed.
"We're in some leaner times as a farming community," said Kroul, who was a four-year starter for the Iowa Hawkeyes football team. "But I know as a farming community, we'll continue to work day in and day out, just like we did here in this program."
Kroul was honored last weekend at the annual America Needs Farmers (ANF) game as the eighth player enshrined on the ANF Wall of Honor, which salutes former University of Iowa football players who exemplify the tenacity, work ethic and character of Iowa farmers.
"Every recipient has been so worthy, and Matt certainly is right there with all those guys. It's a great, great honor and one he's very deserving of," said Iowa football coach Kirk Ferentz, who coached Kroul from 2005-2008.
During those years, the Hawkeyes played in three bowl games and Kroul was named team captain and second-team All-Big Ten defensive lineman in 2008.
Previous ANF Wall of Honor recipients include Casey Wiegmann (2012), Jared DeVries (2013), Bruce Nelson (2014), Robert Gallery (2015), Dallas Clark (2016), Chad Greenway (2017) and Aaron Kampman (2018).
Back to the farm
After spending three seasons with the NFL's New York Jets, Kroul returned to his family's farm on the banks of the Cedar River near Mount Vernon.
He balances his time between raising cattle and traditional Iowa row crops with a diverse mix of specialty crops including eggs, pumpkins, tomatoes, firewood and flowering plants, among others. In addition to selling directly to consumers on the farm and at farmers markets, Kroul Farms has a Community Supported Agriculture (CSA) program that delivers produce to 90 customers throughout the growing season.
Kroul says the farm's diversification into specialty crop production was borne out of the 1980s Farm Crisis that also prompted former Iowa football coach Hayden Fry to launch the ANF program in 1985.
"We jumped into pumpkins, sweet corn, tomatoes," says Kroul. "We diversified in a way and didn't beat our head against the door with corn and soybeans. They are still a valuable part of what we do, but we use these other options to maximize our acres."
Different challenges
The challenges facing farmers today are different in many ways than they were in the 1980s, but ANF remains as relevant as ever, says the 33-year-old Kroul, who also works as a seed dealer for Beck's Hybrids. He and his wife, Nicole, have two daughters (Leighton, age 4, and Jacie, 1) and a son (Brady, 3).
"Any time you can draw some attention to something that people take for granted, it's good," he says.
Farmers are eager to connect with consumers who have questions about how their food is grown or raised, says Steve Swenka, a fourth-generation grain and cattle farmer from Tiffin and Johnson County Farm Bureau member.
"Nowadays, people are so many generations removed from the farm. There's a real disconnect from the American consumer about how the food actually gets put on their table," he says.
More than 30 young farmers worked to bridge that disconnect on ANF Game Day, including Iowa Farm Bureau Young Farmer Advisory Committee members Jeremie and Shonda Hahn who spent the afternoon visiting with football fans leading up to Saturday's game against Penn State.
Taking pride in farming
"Farmers take great pride in what we do and what we produce," says Shonda Hahn, who owns an independent seed business in addition to raising crops and a 20-head cow-calf herd on her family's farm near Tiffin. "If you have any questions about farming, this is your time to ask the question. Farmers are more than happy to answer questions and share our story."
The ANF program also creates a sense of pride for farmers, adds Swenka, whose farm is only about five miles from Kinnick Stadium.
"When they have a night game, you can see the glow of the stadium right out our living room window," he says. "So for the Hawkeyes and the University of Iowa to recognize the importance of providing food and fuel to this country in such a prominent way, it's very gratifying."
Want more news on this topic? Farm Bureau members may subscribe for a free email news service, featuring the farm and rural topics that interest them most!