Guide helps consumers make informed decisions on solar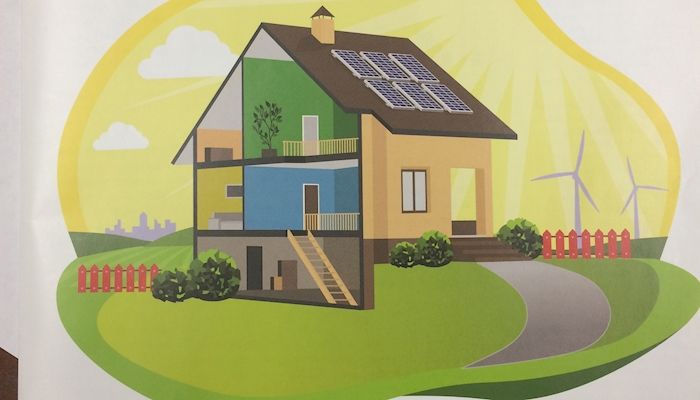 If you're considering adding a solar photovoltaic (PV) energy system to your home or farm to generate electricity, a new guide helps provide information and resources to help make an informed decision, whether you choose a turnkey system, a do-it-yourself approach or a combination of both.
The information is presented in a series of steps that will help you reach a well-informed conclusion if you decide to pursue making an investment in your own solar energy system.
The new solar PV energy guide, developed by the Iowa Energy Center, is the first in its series of five to focus exclusively on solar energy. It provides neutral and accurate information, so an educated consumer can make better decisions when it comes to solar power.
"The guide helps consumers ask the difficult questions and understand what the answer should be," said Bill Haman, renewable energy program manager at the Iowa Energy Center. "It helps to have this information available before investing in a system."
On the farm, aside from feed, energy is the highest cost a farmer sees, Haman said. "With uncertain prices, one way to help that uncertainty is to fix it at today's cost. It's a management tool to get a handle on operating costs over 15-25 years."
The guide was created as interest has grown in solar energy, Haman said. "In 2011, the price of solar dropped rapidly, and by 2013, it was half the cost. Costs have continued to decline, making it more affordable."
Finding a contractor
If you're interested in solar energy, set goals first. "Do you want to offset your personal energy consumption? Do you want to provide a backup power source? These questions help determine what kind of solar energy design and construction," said Haman.
Next, work with a professional to determine site assessment. "Do you have a south-facing location free from shade? Do you have a rooftop with southern exposure? These are places to start, and a contractor will typically perform a free site assessment to determine feasibility of solar," Haman said.
Solar arrays can be mounted to a building's roof or on the ground. Ground-mounted systems are typically near the building or point of consumption. With both roof-mounted and ground-mounted arrays, the system may be stationary, designed to have a fixed tilt, or have tracking capabilities to follow the sun as it moves across the sky.
Contractors specializing in the PV solar site assessment, design and construction services should have adequate credentials that demonstrate completion of a minimum level of training. Contractors who have earned the North American Board of Certified Energy Practitioners (NABCEP) certification have passed a rigorous exam and have demonstrated a high level of training and experience. NABCEP certified professionals can be located with complete contact information at nabcep.org.
Use the checklist in the guide to ask a qualified contractor or solar vendor the important questions before you get started, such as adding more panels later and length of installation.
Working with power company
Next, work with your utility company, which will become your partner.
"Solar is not for everyone and every site," Haman said. "Before you open up your pocketbook, ask your utility company if extra energy produced will be 'banked' or bought back. For example, the company could buy back energy at 5 cents per kilowatt hour in the summer, but still charge 13 cents per kilowatt hour in the winter when less energy is produced from solar."
Financial assistance
In addition, the incentives such as rebates and tax credits make solar energy more attractive.
Along with incentives, which can be found at DSIREUSA.org, funding is available upfront. The Iowa Energy Center offers a revolving line of credit at zero percent financing at up to 50 percent of the cost of the project, with the other 50 percent from a lender.
The guide can be found at http://www.iowaenergycenter.org/.
Kort is a freelance writer in Ankeny.
Want more news on this topic? Farm Bureau members may subscribe for a free email news service, featuring the farm and rural topics that interest them most!