Growing holiday memories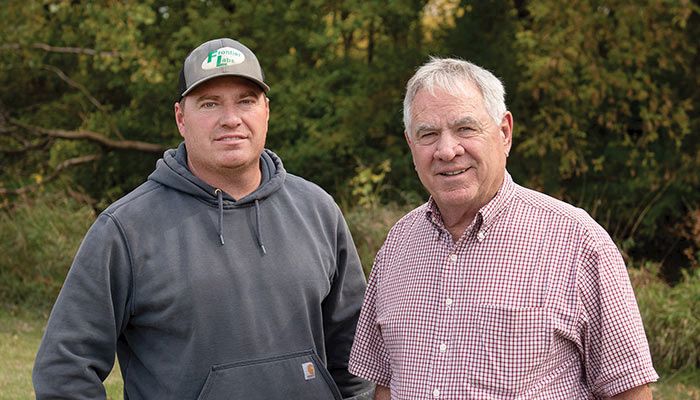 For some people, it's not Christmas without the smell of fresh-cut pine.
"One of the best parts to our business is watching families spend time together selecting the perfect Christmas tree," says Mark Fisher, owner of Fisher Trees near Clear Lake. "It's something they remember for years."
Located on the edge of Pilot Knob State Park, Fisher's 10 acres of trees take full advantage of the wooded, hilly terrain.
Around 4 acres are devoted to Christmas tree favorites Fraser Fir, Cannan Fir and Scotch Pine. The remainder of trees are sold to landscape nurseries for farm windbreaks.
Fisher has seen demand for live Christmas trees grow significantly over the past decade as young people, in particular, recognize the environmental and economic benefits of live trees over artificial.
"It wasn't that long ago educating people on the advantages of live trees was one of our greatest challenges," says Fisher. "That's changing now."
Fisher Tree Farm offers two buying options for the centerpiece of family holidays. Customers can "pick their own tree" at the farm the weekend before Thanksgiving, the weekend of Thanksgiving and the next weekend after that. Or they can buy a pre-cut tree from a "self-serve" lot on the west edge of Clear Lake.
"We have the trees available 24/7, with a barrel to place the money in," explains Fisher. "And most do." He says the instances of being stiffed are few and far between. Just like folks making good on an IOU. "We don't take credit cards, only checks and cash, so every once in awhile someone has to run back home for their checkbook. We let them take the tree and come back later, and they always do."
They keep customers informed about happenings on the farm and special events through social media, a move that Fisher says has made a significant difference in sales and traffic.
Fisher Tree Farm also offers a selection of hand-made wreaths, the creation of Vice President of Sales and Manufacturing of Wreaths, 14-year-old Ethan Shields. The eighth grader at West Fork Middle School joined his dad working at Fisher's three years ago and began channeling his creativity into the farm's hand-made holiday wreaths. "There's a long process to making a good quality wreath," says Ethan. "It's like making art. To make it look good, you have to work slow and be careful with what you are doing."
Ethan enjoys the artistic outlet and helping the customers. Fisher says Ethan is always first with a helping hand to meet customers' needs. "I like selling Christmas trees and wreaths because I think they are an important part of people's Christmas traditions," says Ethan.
Growing trees to keep Christmas and landscape customers supplied requires planting 1,000 to 2,000 trees each years, and that requires a small army working over a few days. Aside from Fisher's family, the crew includes regulars who come each year for the operation, high school football players, and a few parents who want their kids to "get their hands dirty and know the thrill of growing something of value."
"It's hard work," says Fisher. "It's down on your hands and knees in the mud kind of work."
Christmas trees begin their lives as seeds in nurseries, where they grow for four or five years. Then they are transplanted, a move that strengthens their root ball as well as giving them more room, until transplanted again at about a foot of growth.
Once transplanted on the Fisher farm, the trees are mulched every year or two for moisture and weed control. Those destined for the Christmas tree market are pruned and shaped every three to four years. It takes seven to 10 years to produce a tree 7 to 8 feet tall. Some of Fisher's trees reach 15 feet for a special market. Around 500 Christmas trees leave the farm each year.
Trees are fertilized with phosphorous and potassium, as well as nitrogen. Ammonia sulfate helps lower pH levels. Some chemical weed control supplements the natural use of mulch, with most of the mulch coming from wood chips obtained from the local landfill – chips made from discarded Christmas trees.
"It all has to be done by hand, one tree at a time," says Fisher. "Nothing about this operation is automated. I have people come and ask where the tractor is. I tell them they're looking at it."
"It's just like any other crop," adds Fisher, "except the crop cycle is 8 to 10 years. The trees hold the soil in place, sequester carbon and use up the available nitrates in the ground. And they provide wildlife habitat."
Sometimes they provide a little too much habitat. Fisher lists deer as one of his biggest challenges. They "apply as much hunting pressure as the law allows" and shut down the tree-selling operation by mid-December to concentrate on deer hunting.
"The last couple years haven't been so bad," says Fisher, "but we have had years were the deer ate most of the seedlings."
Fisher advises anyone wanting to enter the Christmas tree game to attend a meeting of the Iowa Christmas Tree Growers Association. "We have a strong association in Iowa, 70 to 90 members, and they are all willing to share," says Fisher. The group meets each July at a tree farm, and Fisher adds with a laugh, "You will quickly learn each grower is an absolute expert. Their way is the only way to do it, and they don't want to change. But they are fun to talk to and really are willing to share all their expertise."
The work and worry is worth it for Fisher, who relishes in meeting the customers and helping them make their Christmas dreams come true.
"It's fun for me," he says. "I enjoy it, and it seems like they do too."
Queck-Matzie is a freelance writer from Greenfield.
Want more news on this topic? Farm Bureau members may subscribe for a free email news service, featuring the farm and rural topics that interest them most!