Growing food and giving back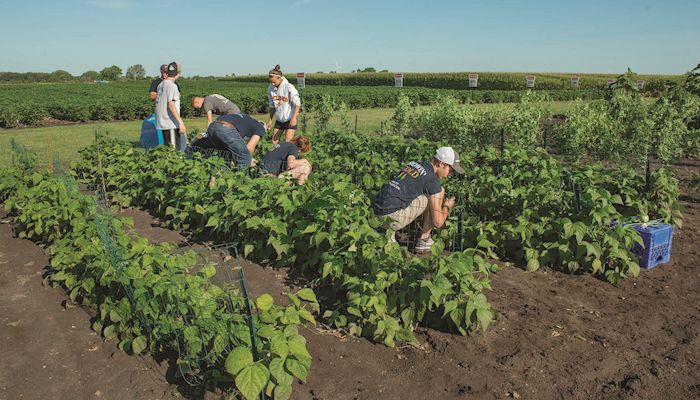 When members of the Roland-Story FFA chapter participated in World Food Prize events in Des Moines a few years ago, they learned that hunger and food insecurity is a local issue too. They were encouraged to make a difference in the lives of hungry people locally.
Their solution was to get growing. The chapter established a garden to grow and provide fruits and vegetables for those in need.
In its fourth season, the FFA chapter and its chapter members have donated thousands of pounds of produce to three local food pantries.
They started working with Land O'Lakes, which provided a site near Story City to raise their garden. The garden is located near WinField, which is Land O' Lakes' agronomy site. Land O' Lakes provided the land and a grant to buy seeds and plants for the chapter's garden.
The school's horticulture students are involved in caring for the 12,500-square-foot garden. An additional 2.5 acres is set aside to grow sweet corn. The FFA members plant the seeds and plants to grow the fruit and vegetables that are solely donated to the food pantries. Student members are weeding and harvesting the fruits and vegetables, even during the summer months when school is out. On a recent Thursday, FFA members picked produce to donate to local food pantries.
"It's a good way to give back to our community," says Jackson Sterle, an incoming sophomore and the chapter's sentinel.
It's also a good bonding experience for Sterle and his friends.
"We turn on music, harvest, hang out with our friends out here and make a day out of it. At the end of the day, we're giving back to the community, and it feels really good," Sterle said.
The FFA has donated more than 3,000 pounds to an Ames program, Food at First, just this year.
Food is appreciated
Food at First utilizes the fruits and vegetables grown in the chapter's garden as part of the daily meals it serves and in its perishable food pantry. Fresh fruit and vegetables from the chapter's garden are appreciated, says Patty Yoder, director and coordinator of Food at First.
"Our folks have really enjoyed it here to have all that fresh, good food," Yoder says.
Food at First serves a fresh meal 365 days a year — they served 25,000 meals last year — and donations like these helps continue those efforts. "We had 43,000 people go through our pantry last year, so there's definitely a need," Yoder said.
The chapter's delivery of the fresh produce to the three pantries puts a face to hunger, says Roland-Story FFA Advisor Brad Taylor.
"It's pretty humbling when you go deliver foods to these food pantries and there are people waiting (for food). All of the sudden, it puts a face to who is hungry," Taylor said.
Peas to pumpkins
This year, the FFA members are growing 17 different fruits and vegetables — everything from peas to pumpkins and cantaloupes to sweet corn — and it's all donated.
Not only are students learning about soil and soil health by planting the garden, they are also learning about food insecurity in their local communities.
"It's good for people who receive the products," says Sam Skaar, an incoming sophomore. "It gives them an opportunity to put food on the table. It's nice to be able to give that to them."
By working with the pantries, it provides another learning op­­portunity, Taylor said.
"One of the core values of our school is to humbly serve others, and I think the garden, with our members who help with that, certainly represents that," Taylor said.
It's a valuable and important lesson, Yoder says.
"It's so important to teach young people about growing (food) but also about donating and helping those less fortunate. They leave here (the pantry) with a different outlook on life," she says.
Giving back
And one that's not forgotten, says Nathan Faga, an incoming sophomore and the chapter's reporter. "It feels good to give back to the community," he said "I enjoy going out to the garden … with friends and pick and give back to the community."
Want more news on this topic? Farm Bureau members may subscribe for a free email news service, featuring the farm and rural topics that interest them most!