Growing a tasty treat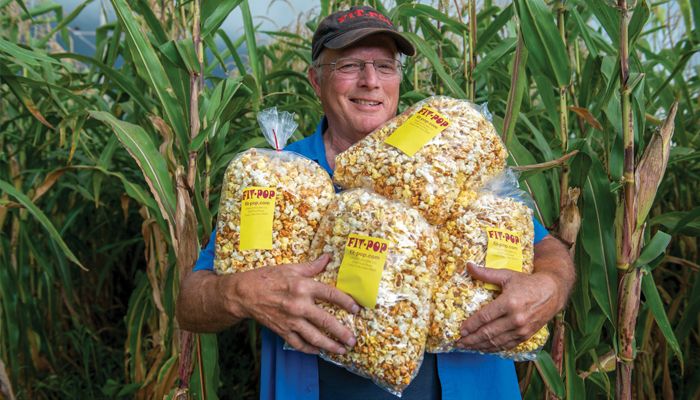 Like most Iowa farmers, Jim Fitkin is gearing up to harvest his 2021 corn and soybean crops. But Fitkin, who farms near Cedar Falls, also has another harvest on his mind: his 15 or so acres of popcorn.

The Black Hawk County Farm Bureau leader has been raising popcorn for decades, cleaning and bagging the crop at his farm and selling it under his Fit-Pop brand. For Fitkin, popcorn has been a passion that grew into a hobby and eventually became a business.

"I've always liked growing popcorn, and I've been doing it all my life," Fitkin said. "We had gardens as kids, and I always wanted to raise popcorn in mine."

After a few years of giving popcorn as Christmas gifts for family and friends, Fitkin decided to try his hand at selling some. In 1986, Fitkin's local Hy-Vee supermarket agreed to stock bags of his home-grown white and yellow popcorn, and Fitkin Popcorn Co. was born.

Over the years, with consumers asking for locally grown foods, Fitkin grew his popcorn distribution network. 

"When I started, local food wasn't all that big of a thing for consumers, but it sure is now. That's really helped my sales when people see that my popcorn is raised locally," he said.

Throughout the year, he delivers 2-pound bags of unpopped popcorn to Hy-Vee supermarkets around eastern and central Iowa from Cedar Falls to Iowa City to Ankeny. He also sells it at local food outlets, like Hansen's Farm Fresh Dairy in Cedar Falls and Waterloo and to some area movie theaters.

Changing to meet demand
Over the years, Fitkin has adjusted his popcorn packaging to meet changing consumer demand. He's worked with a western Iowa company to develop a line of Fit-Pop microwave popcorn. 

Fitkin also sells kits with popcorn that's still on the cob and a paper bag, which can be microwaved and eaten right out of the bag it was popped in.

The Black Hawk County farmer has also taken advantage of the growing demand for popped popcorn. He's found a good market for popcorn at farmers markets and other local outlets. 

"When I go to a farmers market, I have to pop a lot ahead of time to keep up with the demand," Fitkin said. "But you always want to pop some there because the smell is what sells it."

Selling online
Fitkin also sells popcorn from his website. "I get orders from all over the country, but a lot of the demand is from snowbirds who have gone south for the winter and still want a taste of Iowa," he said.

Popcorn growing, Fitkin notes, used to be a bigger thing all over Iowa. While Iowa farmers still raise popcorn, especially those in the northwestern counties, the crop isn't planted on as many acres as it once was. 

But Fitkin knows there's still a demand for popcorn raised on good Iowa soils.

Growing popcorn
Raising popcorn, Fitkin said, is similar to raising field corn. With some careful cleaning and adjustments, he can use his corn planter in the spring and his combine at harvest. 

The biggest difference with raising popcorn, Fitkin said, is there are few herbicides approved for use on the crop. 

"It's just not that big of a crop, so there is not as much technology in it as you see in commercial corn hybrids," he said.

When the crop matures, Fitkin tries to let the popcorn dry down in the field until it reaches 14% to 15% moisture. Once there, he harvests the crop and stores it. 

He works with his dad, Wayne and others, to clean it, sort it and get it ready to be bagged for hungry popcorn lovers in eastern Iowa, and now nearly everywhere.

Find out more about Fit-Pop at www.ia-popcorn.com.
Want more news on this topic? Farm Bureau members may subscribe for a free email news service, featuring the farm and rural topics that interest them most!