From soybeans to coffee beans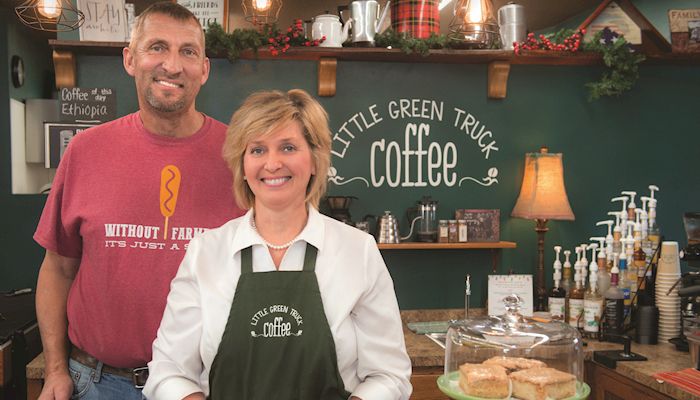 In the fall, Ellen Frank sits behind the wheel of a combine, harvesting soybeans. But the rest of the year, Ellen works behind the counter of her family's coffee shop in western Iowa, roasting coffee beans sourced from farmers around the world.
"Everybody has their one thing they love to do. All I love to do is roast," says Ellen, who farms with her husband, Jeff, near Auburn. "It's fun. You get into the zone."
Sac County Farm Bureau members Jeff and Ellen Frank say that when they're inside a tractor cab, they always have a mug of their own fresh-roasted coffee close at hand.
The Franks opened Little Green Truck Coffee Co. in Auburn, population 300, in June 2017 to share their love of high-quality coffee with friends and neighbors.
Since then, the Franks have greeted guests from across the country looking for a java fix on their way north to Okoboji or Highway 20.
"We are in a coffee desert here. There was just no good coffee to be had. But the beans that (Ellen) sells, people really appreciate," Jeff says.
From hobby to business
The Franks started roasting coffee about three years ago as a hobby. Jeff, a self-proclaimed "coffee nut" who carries a thermos of coffee wherever he goes, said he and his wife decided to buy their own roaster because they were fascinated by the art and science behind good coffee.
The Franks often stop at coffee shops when visiting their son, who works in Seattle, the home of Starbucks.
"I was a Folgers drinker for forever. It was just all we ever had," Jeff says with a laugh. "But once you drink good coffee, you don't go back."
After a lot of research, the Franks ended up buying a coffee roaster from Mill City Roasters in Minneapolis. Mill City introduced them to the folks at Café Import, also in Minneapolis.
Café Import buys coffee beans from farmers around the world. "They know the farmers, they know (the farmers') children's names, they have a very personal relationship. So there is a lot of trust there," Jeff explains.
Once a month or more, Jeff drives to Minneapolis to buy several burlap bags of green coffee beans, sourced from places like Ethiopia, Costa Rica and Indonesia.
"The beans sail across the waters to Minneapolis to Auburn to your cup very fresh," Jeff says.
Fresh-roasted coffee
At first, the Franks set up their coffee roaster in a barn on their farm. Ellen sold some of her roasted coffee beans at the nearby Lake City farmers market last summer. "That's when we discovered there are people in the area who want good coffee," Ellen says.
A few months later, the Franks were offered an opportunity to buy a building that once housed a gun shop in Auburn on Highway 71. They realized it was the perfect location for their coffee shop.
The Franks remodeled the building, using materials from their farm. Windows from a chicken house create a cozy nook for customers who want to plug in their laptops while they enjoy a cup of coffee.
The Franks' roaster sits in the back corner of their coffee shop.Nearly all Ellen's roasts are light to medium, which her small-town customers prefer, she says.
"But we make anything. If somebody comes in and says I want your very darkest, I can make them a cup of that," Ellen says.
All the coffee at Little Green Truck is single origin, free trade and organic, when available, Ellen explains. Each origin of coffee has its own distinct flavor.
"It's fun to discover the different flavors. Some are more citrusy, some are chocolatey or nutty," Ellen says.
Ellen says she serves her coffee within a week or two weeks after roasting. Indeed, many of their first-time customers have never tasted fresh-roasted coffee before.
"If they drink (the coffee) just black, sometimes people will say, 'Wow!'," Ellen says.
Burgers and more
Jeff, who loves to cook when he isn't farming, created a breakfast and lunch menu for the coffee shop. The menu includes bacon, egg and cheese sandwiches made with Iowa-sourced Milton Creamery cheese; the Auburger, a cheeseburger named after the town of Auburn; and artisan pizzas with a homemade crust.
The Franks also host monthly supper clubs, with Jeff cooking up gourmet dishes. The supper clubs always sell out, he says.
"We have no restaurant experience at all, but the community doesn't have a restaurant. So we thought, you know, they need a place to gather here, too," Jeff says.
And if you're wondering, the Little Green Truck Coffee Co. is named after the Franks' bright-green 1961 Chevy truck. The pick-up is usually parked out front, but this winter, it's in the shop.
Want more news on this topic? Farm Bureau members may subscribe for a free email news service, featuring the farm and rural topics that interest them most!