From snack food to rural entrepreneur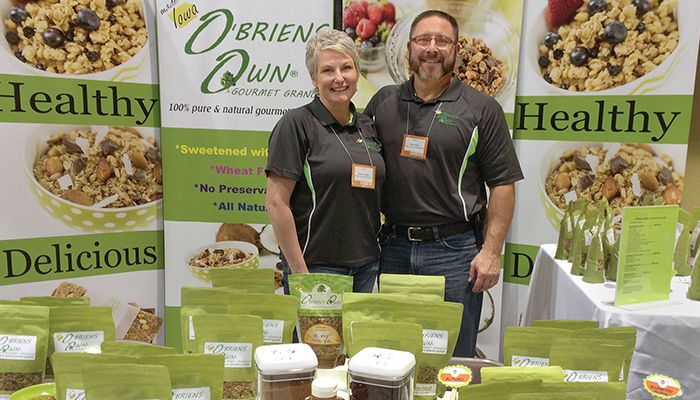 Some people plan for years to start their own business. Others know how to seize a once-in-a-lifetime opportunity.
Rick and Belinda O'Brien fall into the latter category. O'Brien's Own Granola has hit the health food and snack markets with gourmet-style granola and energy bars — in 15 different flavors — and has made a significant impact on the economy of Center Point in East Central Iowa.
And it all started with a snack during a Texas vacation.
"We were there visiting friends, and we tasted some wonderful granola," says Belinda O'Brien. "When we returned home, we tried to buy some here, but couldn't find it." So O'Brien put her passion for baking to work trying to make a facsimile.
"Rick told me to leave it to the professionals," laughs O'Brien, "but telling me I can't do something is not a good idea." She easily mastered the basic baking process and developed her own recipe. "We both thought it was better than the original."
But they wanted a second opinion. Rick, a manager at Rockwell-Collins at the time, took samples to work. His co-workers were impressed enough to inquire as to where they could buy some. Still unconvinced they were on the right path, they shared samples with their friends in Texas, who were also impressed. "They told us they thought we really had something."
Belinda tweaked her recipe, developed packaging and debuted O'Brien's Own at a local craft fair. "It went over well," she says. That was October 2010. By January 2011, they were in their first Hy-Vee store. "Things just snowballed after that," says O'Brien.
When they took the granola to the Cedar Rapids Farmers Market, folks lined up around the corner to get some.
"We certainly didn't plan for that," says O'Brien. "But then, we didn't really plan any of it. It all just happened."
O'Brien's Own Granola can now be found in Hy-Vee and Fareway stores across Iowa and in surrounding states, as well as a number of mom-and-pop shops. The O'Briens are regulars at the Cedar Rapids and Des Moines farmers markets, and online sales are booming through the O'Brien website and Amazon.com. A new contract will bring the treat to "a local athletic venue and university athletic department."
For the past three years, both Rick and Belinda have made the enterprise their full-time occupation.
What's good for the O'Briens has also been good for Center Point.
Belinda's recipe produces a soft type of granola, made from oats grown near Center Point and sweetened with Iowa honey (also a natural preservative). The first batches were made in her home kitchen oven.
When it became clear they needed a certified commercial kitchen, they built one in their basement. "We financed each step ourselves, so we have never really needed to tap any of the available small business programs," says O'Brien.
They outgrew the home-based kitchen in a year and a half, so they purchased the local empty Casey's building. "We knew it was larger than we needed, but it was a good price and gave us room to grow."
At the same time, people in town were asking for a community gathering place. Some wanted a coffee shop. Others were partial to ice cream. "It was like one on each shoulder talking in my ear," says O'Brien. "Ice Cream…coffee…" They settled on both and turned the front of the Casey's building into O'Brien's Java House & Goodies. Along with the other treats, the shop, of course, sells granola.
The rear of the building continued as the granola factory until the need for space once again took over.
Land was purchased near the Interstate for a new manufacturing plant, but once again the O'Briens' ability to think on their feet drove the day. Instead, they decided to give the coffee and ice cream shop better exposure and provide a needed strip mall for the area.
"So we built (a strip mall) with eight store fronts," says O'Brien, "and expanded the granola plant in the old building." The mall now houses a physical therapist, a fitness center and a realtor in addition to O'Brien's Java House & Goodies. The old building still houses the manufacturing plant, with an additional building on site ready for growth.
The O'Briens employ 12 people in Center Point, who fluctuate between the two job sites. Belinda and Rick manage the business and tackle supply procurement and product distribution.
"It takes both of us to keep purchasing under control," says O'Brien. "It can be a challenge to find the right ingredients at the right price." The honey and oats come from Iowa, but the O'Briens seek out the best of other ingredients in their natural regions. Blueberries come from Michigan. Cranberries from Wisconsin. Apples from Wisconsin and Washington. "I'm from Washington, so I think those are the best," says O'Brien.
They also handle their own distribution. They've tried various approaches and found that is the best way to maintain product quality and marketing.
O'Brien's Own Granola comes with a personal touch. "I hand sign the invoice for each on-line order with 'Thank you. Enjoy,'" says O'Brien. They maintain personal connections with distribution sources and know their farmers market regulars. "When someone doesn't show up on Saturday, we worry about them."
O'Brien's Own Granola comes in 15 flavors including Grandma's Oatmeal Raisin, Dark Chocolate Brownie, Blueberry Muffin and Apple Pie. Chocolate Peanut Butter is the top seller, followed by O'Brien's Joy, a coconut and almond laced concoction based on a popular candy bar. "Chocolate Chip Cookie Dough is another crowd pleaser," says O'Brien.
O'Brien says there is no way to predict what comes next: "Maybe 'Shark Tank'? Who knows? It's been quite a ride so far. We'll just keep making the best granola we can and see where it leads us."
Queck-Matzie is a freelance writer from Fontanelle.
Where to find
To order O'Brien's Own Granola online or to find a retail location near you, visit
www.obriensowngranola.com
. Or stop by O'Brien's Java House & Goodies at 4215 Lewis Access Rd., Suite 800, Center Point.
Want more news on this topic? Farm Bureau members may subscribe for a free email news service, featuring the farm and rural topics that interest them most!