From Iowa farm girl to astronaut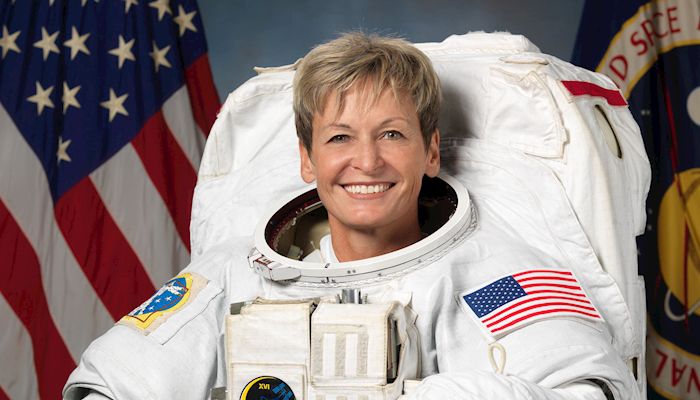 Prepare to be inspired to reach for the stars when Iowan and former U.S. astronaut Dr. Peggy Whitson tells the thrilling story of her record-breaking accomplishments at the Iowa Farm Bureau's 100th annual meeting Dec. 5 in Des Moines.
Dr. Whitson, a biochemist and NASA astronaut, is the keynote speaker at the Dec. 5 morning general session of the Iowa Farm Bureau annual meeting. The general session will begin at 8 a.m. in the Community Choice Credit Union Convention Center at the Iowa Events Center in downtown Des Moines.
Dr. Whitson will share her story, titled "Dreams are Possible: Farm Girl to Space." She is also expected to discuss the importance of STEM (science, technology, engineering and math) education for the future of agriculture.
"Dr. Whitson's remarkable life story is an incredible and inspiring example for others to follow," says Iowa Farm Bureau President Craig Hill. "From humble beginnings on a Ringgold County family farm to daring stories from space flight and crash landings in the fields of Kazakhstan, her stories of adventure, perseverance and achievement are a fitting way to round out IFBF's centennial celebration."
Dr. Whitson, who grew up on a farm in Beaconsfield, completed her third and final space mission in September 2017. She is the first woman to command the International Space Station twice. She achieved the most space walks of any female astronaut and has spent more time in space, at a total of 665 days, than any other American.
While she was breaking records, Dr. Whitson was also conducting ground-breaking re­­search on a wide breadth of subjects with enormous implications for the future of humanity — robotics and artificial intelligence, medicine, agriculture, logistics, engineering and beyond.
Dr. Whitson was named one of Time magazine's Most Influential People in 2018, was featured on the cover of National Geographic Magazine, and was one of eight astronauts who appeared in the National Geographic series "One Strange Rock."
The Iowa Farm Bureau will celebrate its 100th anniversary at the annual meeting Dec. 3-5. Farm Bureau members will focus on continuing the grassroots farm organization's mission to create a vibrant future for agriculture, farm families and their communities.