Fresh from the dairy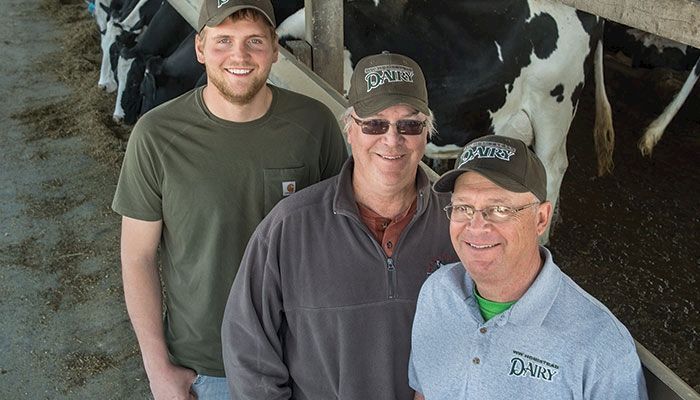 It would be hard to imagine life without milk, or any dairy product for that matter. Milk, cheese, ice cream — these dairy products (and others) have become regular staples in the diets of people from all walks of life, including Iowans.
Though it regularly tops different agricultural rankings in terms of production, Iowa is only the 12th largest milk-producing state in the United States with about 1,370 licensed dairy herds. Annually, Iowa's herds produce around 540 million gallons of milk, worth approximately $944 million in sales, so there is a significant dairy industry presence statewide.
However, dairy farmers of all sizes continue to face a number of challenges, especially when it comes to market fluctuations in milk prices. This is why many producers are becoming more proactive in forging new relationships and new lines of business in an effort to garner more control and stability in an up-and-down marketplace. A great example of this here in Iowa is WW Homestead Dairy (
www.wwhomesteaddairy.com
).
Located among the rolling hills of northeast Iowa, WW Homestead Dairy is a successful collaboration between two families with strong dairy backgrounds. The business features a retail store/ice cream parlor and a processing facility in Waukon, as well as two separate farms (located between Waukon and Lansing) which are home to their milking herd, which currently consists of about 250 cows that are milked twice daily. The dairy is truly a family affair, as brothers, wives, sons and daughters are all involved with this growing operation, which is co-owned by Tom Walleser and brothers Paul and Tom Weighner.
"The desire for greater stability in an unstable, on-farm milk price market caused us to discuss and look into other options," explains Paul Weighner. "We took possession of the building and began remodeling in January 2011, made our first vat of cheese curds in June of that year and then had a product ready for sale in July. So we're fast approaching our five-year anniversary of being in business."
Today, WW Homestead Dairy has moved well beyond its first batch of cheese curds. For example, Tom Weighner says they currently process about 50,000 pounds of milk per week, but also produce around 17,000 pounds of cheese curds per month and will make anywhere from 400 to 500 gallons of ice cream (in 40 different flavors) per week during the summer.
"We'd like to sell more milk, but it's still growing. Cheese curds, though, are huge for us, and our block cheddars have really taken-off . . . and we also sell lots of ice cream," says Tom. "Overall, it's a good combination of products for us, so I'm glad we didn't just stick with one in the beginning."
Not only does the dairy have a successful mix of products, they have also amassed an impressive list of customers. In fact, WW Homestead Dairy products can be found on store shelves in more than 56 communities, mostly in the Iowa, Wisconsin and Minnesota tri-state area, but there are also outlets in the Iowa City, Cedar Rapids and Des Moines areas where their products can be found. Tom and Paul say they have shipped their popular cheese curds all over the country, including to both coasts and even up to Alaska.
"We also sell a lot of milk, and even some ice cream, to local schools and colleges. Luther College, the University of Dubuque, Cornell College and Central College are all good customers that are big into supporting locally grown products," explains Tom.
Being the purveyor of locally produced foods is certainly a benefit in many markets these days, but Paul says both the quality, and variety of products they offer are also important factors in their overall success.
"Cheese, cheese curds, ice cream and butter are all value-added products; and with these products, we use more of our milk and have better margins than just bottling and selling milk," says Paul, who admits one of the biggest challenges has been marketing and getting people to try their products. "Because we're not big enough to compete price-wise with bigger milk bottlers, we need to rely on quality and taste to get people to pay a little more for our product. That's one reason we went with the non-homogenized milk . . . it's not overprocessed, and it's milk in its more natural state."
Producing tasty dairy pro­ducts is clearly important to the Weighner brothers, but so is educating others about dairy farming and all the work that goes into creating quality dairy foods. This includes offering tours of the processing facility and farms so visitors can see the inner-workings of their operation.
"A lot of people think dairy cows are not happy or comfortable if they are not out in the grass. We pasture our cows when weather allows, but our herd spends a lot of time indoors with fans and sprinklers and sand-covered stalls, where they can lay down comfortably," explains Tom. "It's usually cooler in the summer and much more comfortable in winter, so we take really good care of our cows."
The dairy has also had success entering products in various competitions. For example, their jalapeno ranch cheese curds won "Best-in-Class" for hard cheeses at last year's Iowa State Fair, where they also received awards for their sharp cheddar cheese and white cheddar cheese curds. Despite these accolades, though, Paul and Tom seem to approach everything with an understanding that a lot more work needs to be done, which should lead to even bigger things (and more growth) in the future.
"You have to be optimistic to be a dairy farmer, but there are so many variables out of your control. Our goal is still to process all of our milk. We want to get to that point, so that is what continues to drive us forward," says Tom.
Mark Yontz is a freelancer from Urbandale.
Want more news on this topic? Farm Bureau members may subscribe for a free email news service, featuring the farm and rural topics that interest them most!