Fighting to end hunger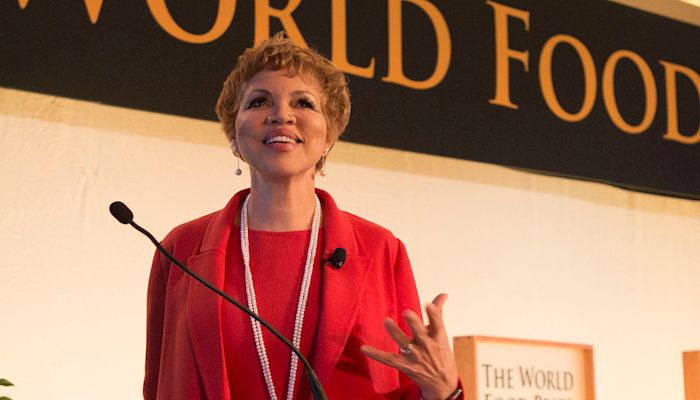 Today, we are closer than ever to ending food insecurity on a global and local scale, said hunger-relief leaders at the annual Iowa Hunger Summit last week in Des Moines.
Yet it will take a continued push to provide food to our most vulnerable populations, including children, seniors and families struggling to meet their basic needs and medical costs.
"I fundamentally believe that there is an answer to the question, 'Can there be a future without hunger?' The answer is absolutely there can (be) … We can do it together," said Claire Babineaux-Fontenot, chief executive officer of Feeding America, the largest network of food banks in the United States.
More than 500 hunger fighters from across the state gathered at the Iowa Hunger Summit, sponsored by the Iowa Farm Bureau and FBL Financial. The summit kicked off the 2019 World Food Prize ceremonies last week in Des Moines.
Babineaux-Fontenot, a former Wal-Mart executive who gave up her corporate career to lead Feeding America, said we are seeing progress in ending food insecurity in the United States.
The U.S. Department of Agriculture, in its most recent data released this fall, said the number of Americans who are considered food insecure has declined to 37 million people, down from 41 million in 2018. It's the first time that the food-insecure population has dropped below pre-2008 recession levels.
"This is something to celebrate. But surely, we can all agree that 37 million is still too many," Babineaux-Fontenot said.
She noted that food insecurity impacts about 11 million children and 5 million seniors in the United States. In Iowa, it is estimated about 341,890 people are struggling with hunger, including 111,520 children.
An invisible problem
Food insecurity remains an invisible problem, particularly in rural areas, explained Linda Scheid, executive director of the Food Bank of Siouxland, which serves communities in northwest Iowa.
People facing food insecurity don't look like you expect, Scheid said. They may own their homes or go to work every day.
"But you are not opening up their cupboard door. You're not opening up their refrigerator," Scheid said. "You have no idea that they have what we call 'more month than money.' They are struggling to provide enough for themselves and their families to eat."
Last winter's federal government shutdown showed that anyone is vulnerable to food insecurity, even working families. Babineaux-Fontenot said the average American is only $400 away from a financial crisis.
Natural disasters, including the historic spring flooding in Nebraska and Iowa, can also create a sudden need for food assistance.
Brian Barks, president and CEO of the Omaha-based Food Bank for the Heartland, noted that a food pantry in the southwest Iowa town of Hamburg, which flooded last spring, went from providing 70 meals per month to 700 meals per month to residents in need after the floods.
Innovative programs
People who struggle with food insecurity often don't want to admit they need help, especially in rural areas, Scheid said.
"They don't want to go to that (local) food pantry because they know that person who is going to hand them the food. Maybe they've known them their whole lives …," Scheid said. "They are afraid of the stigma and judgment of: 'Why are they hungry? Why don't they manage their money better? Why don't they make better choices?'"
Iowa food banks are launching innovative programs to make it more convenient for people in need to receive food assistance. These programs include food pantries set up in local schools, summer nutrition programs to provide free lunches to kids when school is out and meal delivery services to homebound seniors, Iowa food bank leaders said.
"No matter who you are, if you are hungry, we want to help you," Scheid said.
Federal help
Rev. David Beckmann, president of the global food-relief organization Bread for the World, encouraged Iowans to take advantage of their first-in-the-nation caucus status to question presidential candidates about food insecurity.
Iowa food bank leaders said any cuts in federal food assistance programs would increase the number of people who must visit a local food pantry to fill the gap.
For every one meal distributed by local food banks, another 12 meals are provided through federal food assistance programs, Barks noted. "It's impossible for food banks to do it all," he said.
"We've made amazing progress in reducing hunger, but we're kind of stuck right now," Beckmann added.
"We still have (37 million) people who are hungry in the greatest country in the world. We have the ability to eliminate this, but we haven't created the political will to end this. And we can end this."
Want more news on this topic? Farm Bureau members may subscribe for a free email news service, featuring the farm and rural topics that interest them most!