Farmers share conservation stories to build water quality momentum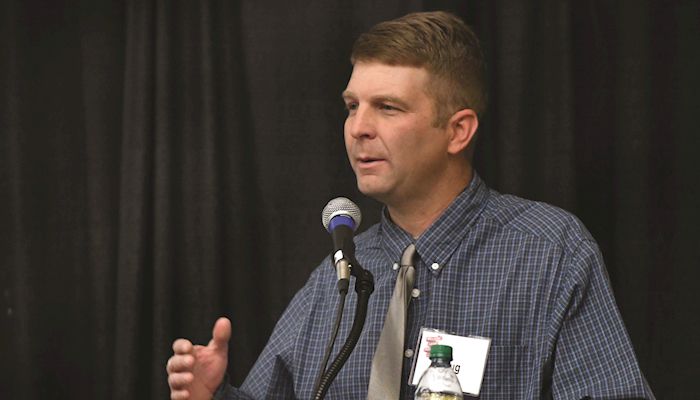 There's a new set of discussion topics these days at farm meetings around Iowa.
More and more farmers are sharing stories about practices to improve water quality and conserve soil. They are sharing what practices worked best last season on their farms and for their landscapes.
And they are hoping to share ideas for the coming growing season.
That was the case last week at the Iowa Farm Bureau's 98th annual meeting held in Des Moines, where two Iowa farmers shared their experiences with cover crops, strip-cropping and other practices.
Doug Adams, a Humboldt County Farm Bureau member, planted his first cover crop, cereal rye, after soybean harvest in 2012, thus beginning years of experimenting and researching what would work best on his farm. "I wanted to see what a cover crop could offer," he said.
He's been happy with the results. Cover crops, Adams said, have improved his farm's soil health, which means that it's less likely to erode and become compacted. It's also more efficient in utilizing nutrients, he said.
By collecting and analyzing data, Adams said he's able to make adjustments in his plan from one year to the next.
Continuing to learn
He says his experience hasn't been perfect, but he's learning and he encourages other farmers to try something too.
"If you try it one time and it didn't work, don't just throw in the towel. Keep trying," he said.
Adams now has seeded 510 acres of his 660 acres to cover crops.
Mitchell County Farm Bureau member Dean Sponheim didn't implement practices like strip tilling, strip cropping and cover crops because it was necessarily right for conservation, he said.
He did it because those practices showed some hope for his fields, which contained large amounts of clay and fields that crusted.
After learning more about strip-tilling from farmers in other states, Sponheim tried it on his farm.
"Once I saw progress and growth, I was hooked," he said.
It wasn't until later that strip-tilling was recognized as a conservation practice. In fact, he calls himself an "accidental conservationist" because he implemented the practices and then realized the benefits of conservation after he started.
"I started seeding cover crops because I wanted to recoup nitrogen that wasn't being used during the growing season," he said.
However, the practices that he's implemented on his farm since 1999 have shown yield benefits while reducing his need for nitrogen and plowing.
Building organic matter
He says building organic matter is important and he's seen the benefits of the organisms that feed on the soil. He said earthworm activity in his fields has been "unbelievable."
"The longer we have living organisms in our fields, the better it is," he said.
Sponheim started his custom strip-tilling business in 2004 and now has 35 customers and 8,000 custom strip-tilling acres in his portfolio. Willing to help others learn more about the practice, he's helped six of his customers start their own strip-tilling businesses.
He started seeding cover crops in 2012 and started his own cover crop seed business in 2014.
Adams and Sponheim encouraged farmers to try at least one practice on their farm.
"If you're already doing cover crops, try a different species," Adams said. "To meet the goals of the Iowa Nutrient Reduction Strategy, everybody needs to make a change."
Want more news on this topic? Farm Bureau members may subscribe for a free email news service, featuring the farm and rural topics that interest them most!