Farmers see gains from cover crops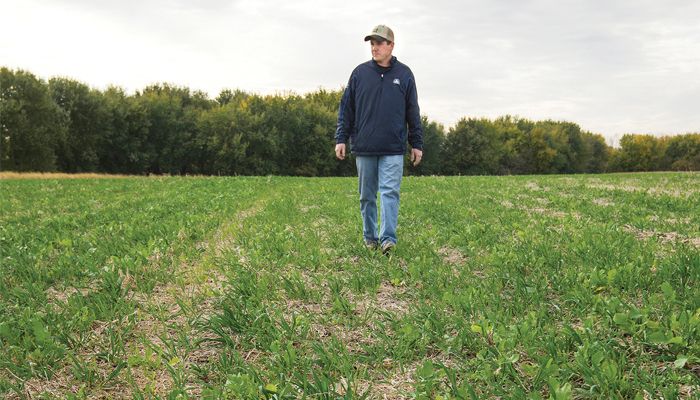 Planting cover crops has helped to reduce erosion, improve weed control, boost overall soil health and provide grazing for livestock, according to Poweshiek County farmers who spoke recently at a field day in Grinnell. Those improvements, they said, are translating into better margins on their farms.
"I started planting cover crops to control erosion. But I've learned that my cover crop program is really a platform to help me increase yields," said Grinnell farmer Roger Van Donselaar, during the field day sponsored by Iowa State University 's (ISU) Iowa Learning Farms and the Poweshiek County Soil and Water Conservation District. 
Mike Phillips of Montezuma, who also spoke at the field day, agreed that agronomic gains from cover crops are helping his farm's bottom line. "Cover crops are helping the soil structure and the infiltration after some of our big rains," he said. "And we've seen it help weed suppression, especially on waterhemp."
Acreage gaining
Van Donselaar and Phillips, both Poweshiek County Farm Bureau members, are part of a growing number of Iowa farmers who see agronomic, environmental and economic benefits from planting cover crops in the fall. The practice, one of the keys of the Iowa Nutrient Reduction Strategy, continues to gain momentum across the state.
The Iowa Nutrient Research and Education Council (INREC), which tracks progress farmers are making on a wide range of conservation practices, is currently tracking ag retailer sales data for progress on cover crop planting and other conservation practices.
In its most recent report, INREC found that in 2019 Iowa farmers planted cover crops on 2.18 million acres, up 8% from the acreage planted in 2018 and a 36% gain from the acres planted in 2017. The survey also showed that the percentage of Iowa crop acreage planted to cover crops rose to 9.5% in 2019, compared to only 6.9% in 2017.
The Iowa Department of Agriculture and Land Stewardship (IDALS), ISU, Practical Farmers of Iowa (PFI) and other groups are hoping to boost that acreage further by encouraging more Iowa farmers to plant cover crops this fall and beyond. (Read about the incentives in sidebar article below.)
Start with bean ground
A good way for farmers to get going on cover crops is to plant cereal rye on acres rotating from corn to soybeans, Phillips said. "That's really the easiest way to get started," he said. 
Van Donselaar and Phillips said it was important for farmers to stick with cover crops, even in a year like this one, when dry conditions could prevent the crop from getting much growth in the fall.
"It's not about what you see in the fall that's important," Van Donselaar said. "It's the roots under the surface that will help you get growth in the spring."
Phillips, who drills his cover crop seed after harvesting corn and soybeans, noted that farmers often worry about getting the timing just right in the fall to get cover planted after cash crops are harvested. 
"You don't have to do a perfect job of planting every time. The important thing is getting the seed out there so it has a good chance to grow," he said.
Want more news on this topic? Farm Bureau members may subscribe for a free email news service, featuring the farm and rural topics that interest them most!