Farm carves out an organic niche in Iowa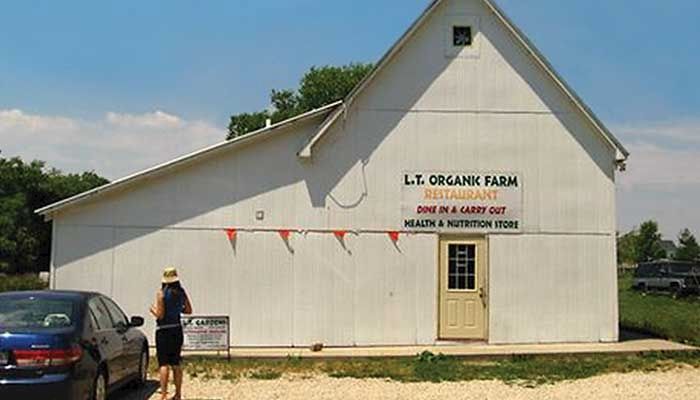 Twenty years ago, a couple armed with medical backgrounds decided to make a difference in others' lives by starting a small produce farm outside Waukee. They not only offered membership in a CSA (community-supported agriculture) system with produce they grew, but also offered cooking classes using the produce, nutritional guidance and meals served at an on-farm restaurant with their produce.

Called L.T. Organic Farm, the three-acre site is owned and cared for by Ahilia and L.T. Bhramdat. Ahilia Bhramdat worked as a registered nurse for years, while L.T. Bhramdat was a cardiopulmonary specialist. Their goal when starting the farm and CSA was to help people learn what they eat can help reverse and prevent chronic and degenerative diseases and dysfunctions.

"You are what you eat. We learned that when you buy vegetables elsewhere, you're losing those valuable nutrients. You should eat fruits or vegetables freshly harvested. The produce that are vine ripened just taste differently than those you buy in the store. That additional taste and flavor equals additional nutrients," Ahilia Bhramdat said.

While the produce the Bhramdats plant and pack in the CSA boxes varies slightly from year to year, it often includes zucchini, turnips, beets, kale, collards, pole beans, eggplant, melons and different types of squashes. "This year, we're doing an Italian squash. We'll also have okra," Ahilia Bhramdat said.

The CSA members are thrilled when they pick up their weekly CSA package full of produce. Bhramdat said she'll accept new members until the end of May, but once produce becomes fruitful, she'll stop. Current members hail from all across central Iowa. They tend to be families with children, middle-aged couples and seniors, all who are seeking to eat organic produce.

Some CSA members are clueless when it comes to cooking some of the produce, so Bhramdat provides quick cooking tutorials and sessions for them.

"The cooking classes are very well attended, because they learn how we love to cook the produce and prepare it, so it tastes the best. Our goal is for them to access the nutrients from the produce. You don't have to spend hours in the kitchen to have healthy, tasty food."

Not only do CSA members enjoy the produce, but so does the general public.

The Bhramdats designed a restaurant in a corn crib that seats 40 and utilizes all the produce they grow on the farm. The menu changes regularly depending upon what's been harvested. The dishes are a flavorful array of Caribbean and Mediterranean foods.

The Waukee restaurant will open May 7 this year and will close at the end of October or first part of November, depending on the weather and the fall growing season. "We fix what we ate growing up and what I'm used to cooking," Ahilia Bhramdat said.

People are usually fascinated with the various techniques the Bhramdats use to raise the produce. They rely on jungle gardening, post gardening, square foot gardening, vertical multi-layered gardening, trench gardening and cinder block gardening. Ahilia Bhramdat said each of these methods are suitable for growing certain plants. They also conserve water and save time on wedding.

"We plant differently than the ordinary farmer. We use PVC pipes, cinder blocks and with jungle gardening, we plant a lot of produce that's compatible in one small area," she said. "People are usually surprised and very interested in our gardening approaches."

Danley-Griener is a freelance writer from Runnells.
Want more news on this topic? Farm Bureau members may subscribe for a free email news service, featuring the farm and rural topics that interest them most!