FBFS shines in derecho response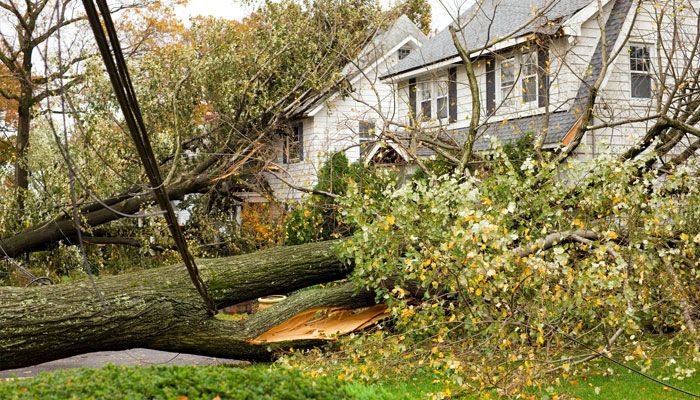 When he emerged from his basement after the Aug. 10 derecho, James Ford could hardly believe the damage to his farm. The storm's winds, which topped out at 140 miles per hour in eastern Iowa and lasted for some 40 minutes, badly damaged the roof of his home, destroyed outbuildings and toppled the farm's trees.
"Debris was scattered for half a mile, I bet. It was everywhere, just all over the place," the Linn County Farm Bureau member said.
But soon, like hundreds of other Farm Bureau Financial Ser­vices (FBFS) client/members in Iowa whose homes, businesses and vehicles were damaged by the derecho, Ford quickly discovered the real value of having Farm Bureau insurance.
Randy Strnad, Ford's Farm Bur­­eau Financial Services agent, quickly contacted his client, even though the storm had knocked out power and communications throughout the area. Strnad, working closely with the FBFS home office, made sure adjusters were at Ford's farm within days of the storm and that the farmer soon had a check in hand to begin the rebuilding process.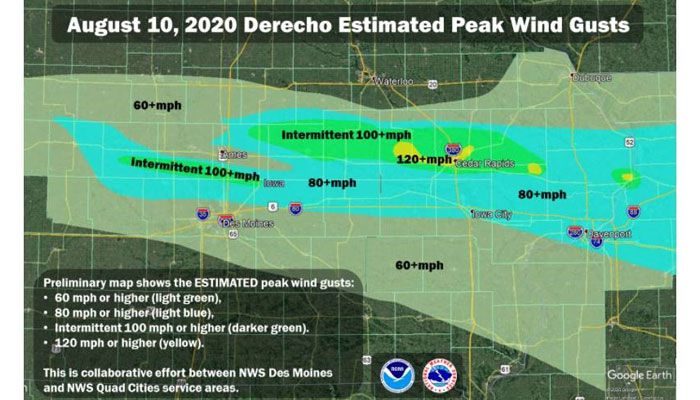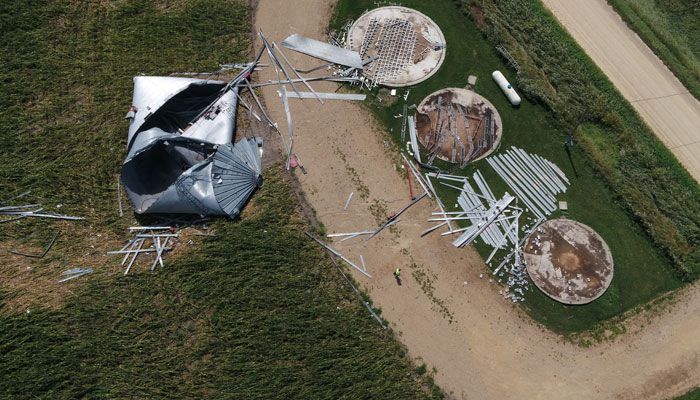 (Photos above: The Aug. 10 derecho carved a devastating path across a large swath of Iowa, severely damaging farms, homes and vehicles. Farm Bureau Financial Services agents, backed by a concerted response from the entire company, moved quickly to help client/members get questions answered, get repairs on track and get their lives back to normal. GRAPHIC / NATIONAL WEATHER SERVICE; PHOTO / GARY FANDEL)
A deserving high five
"You can give Farm Bureau a high-five for me," Ford said. "I'm very happy with the company and my agent's response to the storm. It was outstanding."
It was the same for other Farm Bureau insurance clients over the wide swath of Iowa hit by the August storm, said Craig Hill, president of the Iowa Farm Bureau Federation.
"From the country, I heard noth­­ing but compliments and praise for the company after the derecho," he said. "I'm just so very proud of the people at Farm Bureau Financial Services with their response to this terrible storm."
In all, Farm Bureau Financial Services processed 44,000 claims impacting more than 12,000 clients who suffered property damage from the derecho, according to Jay Seiboldt, chief operating officer of FBFS property casualty companies. To date, FBFS has paid out some $235 million in damages, with some claims still open as clients await repairs.
A company-wide response
Response to the derecho was all hands, and all paws, on deck. The company had, during the peak of the derecho response, more than 340 company and independent adjusters working with clients to assess the damage.
Those adjusters were backed by teams of employees from all over the eight-state footprint of FBFS, who were assigned to help clients affected by the August storm. FBFS also hired dozens of temporary employees to speed processing of payments to clients.
In addition, FBFS brought three crisis therapy dogs to the area to support people devastated by the storm.
"This was really our chance to shine and show our dedication to our client/members by protecting livelihoods and futures. We excelled at it," Seiboldt said.
The key to outstanding performance after such a severe weather disaster was the team of local FBFS agents and their strong relationships with clients, Hill said. "Those relationships really mean everything during a difficult time," he said.
It was critical to be there for clients during a very uncertain time after the storm, said Jared Tebockhorst, a Farm Bureau agent in Fairfax, just southwest of Cedar Rapids. "There's no manual for dealing with a storm like this, but we knew that communicating with client/members and answering their questions was going to be very important," he said.
Immediately after the derecho, agents knew there was no time to waste in responding to client's needs, said Larry Horbach, a Farm Bureau agent in Toledo. That meant finding a place to stay for those with damaged homes, coordinating emergency repairs and starting the claims process right away, he said.
"When everything they have worked for all their lives is just laying out there on the ground unprotected, we knew we needed to move quickly," Horbach said.
Assistance from a local agent, and someone who understood the severity of the storm, was critical, said Brian Berg, a Farm Bureau agent in Hiawatha. "Our clients/members needed to physically speak to someone on the phone to help them determine what they needed," he said. "That's why having a local agent is so important."
Marion FBFS agent Chris Oberbroeckling said that the whole process of dealing with such a severe disaster was new to most clients. Because of that, it made all the difference to have a Farm Bureau agent help them find ways to protect their homes and farms from further damage, open claims and link them with reputable contractors to get the repair process started, he said.
"People knew exactly where to find us, because we've always been right there for them," Oberbroeckling said.
Clients also realized the value of having insurance offered through Farm Bureau Financial Services because of the speed the company was able to assess the damage, process claims and get money to clients, Strnad said. "It was very rewarding to be able actually deliver checks to people when their neighbors with other companies hadn't even seen an adjuster at their place," Strnad said.
FBFS' responsiveness, along with her agent's thoroughness and attention to detail impressed Loretta Mitvalsky of Cedar Rapids. The chimney on her family's home was severely damaged during the derecho. But the extent of the damage didn't show until the heating season when they discovered that the furnace didn't vent correctly.
"We didn't know we needed more work until later, but Farm Bureau stayed right with us to make sure things were done right," Mitvalsky said. "That really says a lot to me about the quality of the company."
Please go to: www.fbfs.com/insurance/storm-support to view a video highlighting the derecho by Farm Bureau Financial Services.
Want more news on this topic? Farm Bureau members may subscribe for a free email news service, featuring the farm and rural topics that interest them most!