East Pott Farm Bureau raises funds for area booster clubs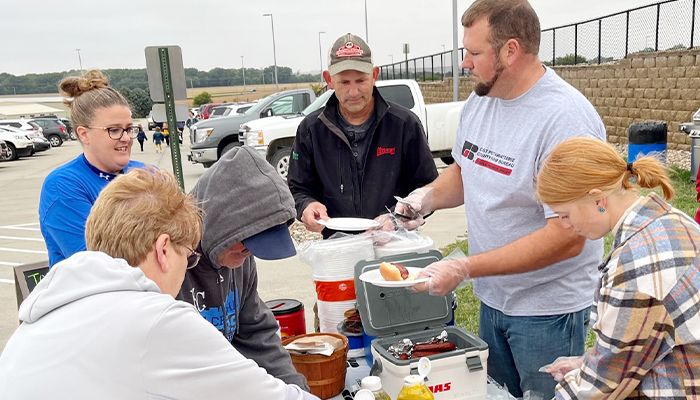 East Pottawattamie Farm Bureau hosted a pre-game tailgate for fans be­fore the AHSTW Vikings vs. Oakland Riverside Bulldogs football game Friday, Sept. 23, an event coordinated to promote agriculture and educate residents about where their food comes from.
Chris Perdue, East Pott Farm Bureau president, said the county Farm Bureau tossed around ideas for a community outreach project and the football tailgate jumped front and center.
"East Pottawattamie County Farm Bureau includes two primary schools, Riverside and AHSTW, and these two schools play each other in a well-attended football game each year," Perdue said. 
Sponsoring the game gave Farm Bureau the opportunity to connect with local residents, while also utilizing the tailgate as a fundraiser with proceeds provided to each school's booster club.
East Pott volunteers provided 200 pork burgers and 100 hot dogs before the football game, with an optional free will donation.
"East Pottawattamie County Farm Bureau sees the need to support our schools," said Perdue. "We wanted to host this event to provide a fun opportunity to interact with community members and highlight an exciting competition among our local youth."
Perdue said such outreach opportunities afford a chance to share who Farm Bureau is and what it does as an organization. "This also provides the opportunity to put a face to East Pottawattamie County Farm Bureau," he said.
Grassroots efforts
At 104 years old, East Pottawattamie County Farm Bureau is unique as one of two Farm Bureau organizations — East and West — representing the county. With 620 members, East Pott takes its efforts seriously as a grassroots organization dedicated to creating a vibrant future for agriculture, farm families and communities.
Jennifer Sellner, East Pott Farm Bureau board treasurer and AHSTW FFA instructor, said Farm Bureau supports communities through everything from youth scholarships and Ag in the Classroom activities to the annual county fair. 
The goal of the East Pottawattamie Farm Bureau board has been to increase its presence in the communities it serves.
"We support the county fair through donations as well as providing a tent for shade during the fair," Sellner said. "The board hosts legislative coffees where our legislators are invited to provide an opportunity for producers to discuss agricultural issues with legislators and be heard."
Sellner said Farm Bureau has been a huge supporter of FFA chapters statewide, including her growing AHSTW FFA program.
"The East Pott Farm Bureau donated towards the construction of our greenhouse, provided T-shirts for the junior high rodeo that we hosted during FFA Week and hosted an ag trivia night for our chapter during national ag week."
East Pott also hosts its annual member appreciation picnic at
the county fair and works on projects such as painting and repairing buildings at the fairgrounds.
Valuing Communities
Agriculture is a staple for rural Iowa and impacts everyone in East Pottawattamie County, said Perdue. 
Working on behalf of agriculture, it's up to the Farm Bureau board to spread the positive message of agriculture.
The tailgate outreach was an opportunity to show Farm Bureau cares about its members and community.
"Serving pork burgers and beef hot dogs, the attendees (got) the opportunity to taste some of the great products our Farm Bureau board and members grow right here in the community," Perdue said.
Beth Bornholdt, Farm Bureau regional manager, praised the East Pott outreach efforts, saying these types of events are both fun and beneficial. 
She highlighted yet another East Pott event held recently – grocery cart races at stores in Avoca and Oakland.
"This year more than $1,500 of product was gathered and donated to the food pantries in Oakland/Avoca/Walnut," she said. 
"(East Pott) is an active county Farm Bureau, promoting agriculture in the classroom, the Pottawattamie County Fair, and hosting outreach activities such as the tailgate event to support the schools and student athletes."
Want more news on this topic? Farm Bureau members may subscribe for a free email news service, featuring the farm and rural topics that interest them most!