Cover crop incentives grow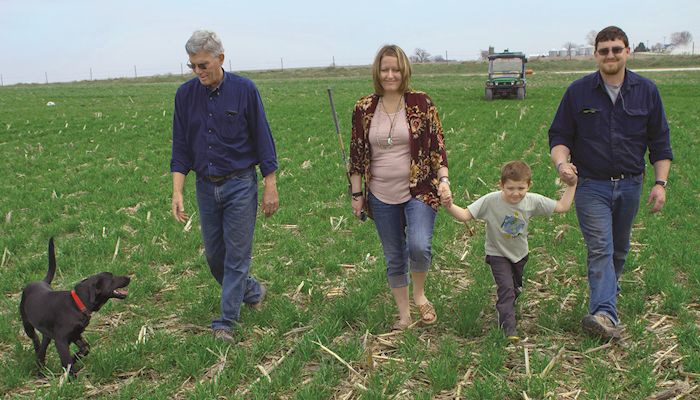 Mike Jackson, a Mahaska County Farm Bur­eau member, believes there's plenty of reasons to plant cover crops each fall. By planting cover crops, farmers can improve weed control, build soil health, reduce the potential for erosion and sequester nutrients to improve water quality.

Now, with two of the country's leading food companies working with grain processors to offer cash incentives for Iowa farmers to adopt cover crops and other sustainable farming practices, Jackson says cover crops make even more sense.
"Every time you can get a little more incentive to do something for conservation, you should take it," said Jackson, who farms with his father near Oskaloosa. "And with the current commodity price situation, you've got to stretch every penny to get where you need to go."
This year, Unilever and PepsiCo are offering Iowa farmers cash incentives for cover crops in programs managed by Practical Farmers of Iowa (PFI), said Sarah Carlson, PFI strategic initiatives director. "They are really starting to put some money in to boost these practices."
Through its Sustainable Soy program for Hellman's mayonnaise, Unilever is offering Iowa soybean growers who are new to cover crops an incentive of $40 per acre on 40 acres, said Carlson. "This higher payment is to get farmers to try cover crops and see how they work on their own fields," she said.
The company also offers farmers experienced with planting cover crops a $10 per acre incentive on 160 acres or on 10 percent of acres farmed, whichever is larger.
Soybeans grown in the Sustainable Soy program are processed at ADM's crushing plant in Des Moines, but farmers are eligible if they can deliver their soybean crop to several elevators, including all locations of Heartland, Key, Landus, Mid-Iowa and more cooperatives.
In a separate program, PepsiCo is now offering similar cover crop incentives to farmers who deliver corn directly to Cargill's corn processing plant in Eddyville, Carlson said. The corn is then processed into high fructose corn syrup, she said.
In addition, a leading cover crop seed supplier, Iowa Cover Crop and its dealer network, is offering discounts on seed and/or application for farmers who sign up to purchase by July 1 and are new customers.
Stacking incentives

A key to these cover crop incentives, Carlson said, is they can be stacked on other incentives offered through state and federal programs. Those incentives include the Iowa Department of Agriculture and Land Stewardship's program offering farmers discounts on crop insurance premiums for planting cover crops and the federal Environmental Quality Incentives Program or EQIP, she said.
"When you can stack the programs up like that, it really adds some good incentives for farmers to plant cover crops and to use other conservation practic es," Carlson said.
Even before the latest round of incentives, cover crops and other conservation practices have caught on quickly in Iowa, according to a recent report by the Iowa Nutrient Research and Education Council (INREC).
The report found that in the fall of 2017 Iowa farmers planted 1.5 million acres of cover crops and that farmers used conservation tillage methods on most of their corn and soybean acres.
For more information on the cover crop incentives through Unilever and PepsiCo, go to https://practicalfarmers.org/programs/cover-crops/cover-crop-cost-share-programs/.

Want more news on this topic? Farm Bureau members may subscribe for a free email news service, featuring the farm and rural topics that interest them most!