Counting on chickens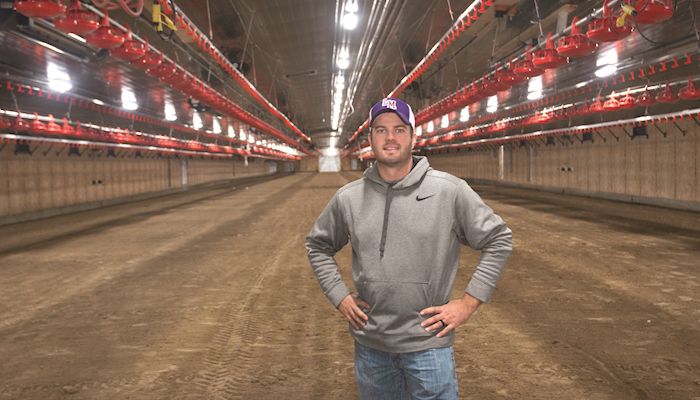 This Friday, if all goes to plan, Harrison County Farm Bureau President Mike Dickinson will fill his four new broiler barns, the culmination of more than a year of planning and a lifetime of hoping.
"I've always been looking for an opportunity to farm full-time and have looked into several different ventures," Dickinson said. "None of them made sense for us until now. This one seemed to be a really good fit."
Dickinson is part of a new animal agriculture project in western Iowa and eastern Nebraska, raising chickens for Costco to sell at its meat counters across the country.
But it is much more than that for Dickinson and his family — the expansion means he will now be able to stay on the farm, rather than making the hour-long drive each way to Omaha for off-farm employment.
"The goal was always to transition to full-time farming," Dickinson said. "I just didn't know if it would take five, 10 or 45 years."
Dickinson grew up on the family farm. Both his father and grandfather raised livestock and tended corn and soybeans.
He knew he wanted to join the operation when he could, but finding a way to support himself and his family — he and his wife, Kara have three kids: Eli, Ella, and Eva — was a challenge. So he chose to go what he called "the opposite direction" from farming in his career, becoming a registered nurse and working at a Nebraska Medicine facility in Omaha.
Though the choice may seem odd, it had one big upside. Nurses are often scheduled for 12-hour shifts, which allows them to work three days a week and have four days off. By working these hours, Dickinson was able to continue working on the family farm while still earning a full-time wage with benefits.
Learning about Lincoln
Then, last year, he attended a meeting on a new poultry plant that was planned in Fremont, Nebraska, located just northwest of Omaha. The company, Lincoln Premium Poultry, a subsidiary of Costco Wholesale, was looking for farmers to partner with.
They would provide the chicks, feed and expertise for raising the animals; it was up to the farmer to provide the building, care and labor. Lincoln Premium would pay the farmer per pound for the birds at time of processing.
"At first, I kind of dismissed the idea," Dickinson said. "But the more I thought about it, talked about it, I began thinking this could be the answer to getting me back on the farm."
Slow to warm up
It took some effort to secure financing for the four new barns Dickinson needed to construct to meet Lincoln Premium's standards. But after explaining the situation to his lender and locking in a 15-year contract, Dickinson set to work on his new buildings.
"Everyone was a little bit slow to warm up to this idea," he said. "There is not a lot of this kind of industry in western Iowa/eastern Nebraska."
Each barn is 600 feet by 63 feet, and together they rest on a 15-acre plot. The buildings will each hold 42,000 birds, which means he'll be raising 168,000 chickens at a time.
In addition to the per-pound payout he receives upon delivery, Dickinson has contracted to sell the chicken litter for fertilizer.
A good partner
Lincoln Premium, for its part, not only built a processing plant but also a hatchery and a feed manufacturing plant. Thanks to this feed mill, Dickinson and others in the area have a new avenue to market their corn.
"One thing I really like is the backing of Costco," he said. "When you learn more about what they're trying to do, they're really dedicated to making this work overall and for the farmers specifically."
Doing right by farmers
According to Jessica Kolterman, spokesperson for Lincoln Premium, the company's interest in doing right by the farmers, the animals they raise and the environment is just part of Costco's philosophy.
"It's a tenet of the Costco model, treating vendors well," she said. "We develop close relationships with these farmers. They are part of our family. Our goal is to have these relationships be more personal and mutually beneficial."
Lincoln Premium contracted with farmers within a 65 mile radius of the plant. In total, Kolterman said, they have 100 sites set up to raise the birds.
The plant opened two months ago. Right now, it processes about 500,000 birds a week. Once it reaches full capacity, that number will swell to 2.16 million a week and provide about 40% of Costco's chicken needs. Kolterman said many of these birds will be cooked as Costco rotisserie chickens, a popular item in the stores.
Support in the community
In July, Dickinson left his nursing job to work full time on the farm. The first big project was making sure the buildings went up on time. He has also spent a lot of time talking to his neighbors and others in the area about the project.
"A lot of people are very interested in learning about it," Dickinson said. "I had great support from my neighbors, they of them have been very supportive."
Kolterman said Dickinson has been great to work with for Lincoln Premium.
"We couldn't ask for a better partner than Mike," she said. "He has been a very strong advocate for this project and really helped to spread the word on the Iowa side."
Want more news on this topic? Farm Bureau members may subscribe for a free email news service, featuring the farm and rural topics that interest them most!