Consider participation in nitrogen trial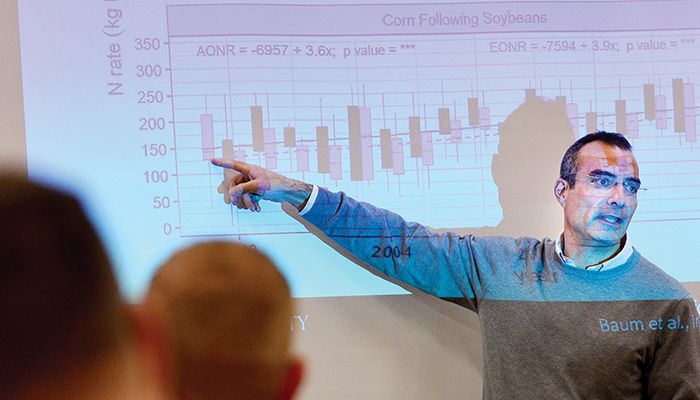 Seventy-three Iowa farmers already have signed on to an Iowa State University (ISU) nitrogen fertilizer project initiative that will gather and provide data to improve nutrient efficiencies.
ISU is partnering with agricultural service providers, farmers and their advisors on the Iowa Nitrogen Initiative, a first-of-its-kind public-private partnership that will deploy hundreds of on-farm, scientifically robust small plot trials annually.
Iowa Nitrogen Initiative Director Melissa Miller said the goal is to recruit 400 to 500 farmers to offer test plots for the 2023 growing season. Applications continue to be accepted daily.
"This is one of the most important issues we have as farmers in Iowa," Miller said. "We want as many trials as possible, and we're well on our way to getting to that 400 to 500 number."
Miller and Michael Castellano, an ISU soil science professor, addressed a group of agribusiness advisors and farmers at the Agribusiness Showcase and Conference sponsored by the Agribusiness Association of Iowa last week in Des Moines.
They encouraged the group to help enlist willing Iowa farmers in the trials and work with ISU on necessary data transfers and nitrogen prescription coding for variable rate nitrogen applications.
Nitrogen efficiency
Nitrogen fertilizer is among the most critical inputs to crop productivity, but also one of the costliest. When applied at an optimum rate, nitrogen boosts productivity and profitability while minimizing losses to the environment.
Castellano said identifying that optimum rate can be difficult, especially across the Iowa landscape due to considerable variability not only on each farm, but across any individual farm's acres from field to field and year to year.
Current nitrogen fertilizer recommendations promote average application rates and don't address other factors that contribute to variability such as residue management, soil management, seed selection or the weather.
"The average is no longer good enough," said Castellano.
Miller said farmers face a lot of uncertainty in applying the right nitrogen rates.
"If you underapply, you sacrifice productivity," she said. "If you overapply, you risk nitrogen loss to the environment. Both scenarios negatively impact profitability.
"With advances in precision ag and cropping systems modeling, we have a responsibility to Iowans to make nitrogen rate recommendations with the best nitrogen science available."
The trials will show the optimum rate for a field in a given year. Participation and collaboration with Iowa farmers through these on-farm trials will make the initiative a success.
"When we compare data across trials, we'll work to identify the underlying mechanisms that ex­plain this variability to better help predict optimum rates in the future," Miller said.
Easy to participate
Participating in the nitrogen trials is simple, said Miller. Willing farmers commit to reserving a small portion of their farm field (from 4 to 7 acres) for a personalized variable rate nitrogen prescription. All other farming decisions, including the nitrogen application for the rest of the field, will remain with the farmer.
The Iowa Nitrogen Initiative will gather all necessary data, develop decision support tools and return information back to farmers about optimum nitrogen rates on their farms.
Miller said the trials will provide a better understanding of the variability caused by weather, management and soils; create a large and up-to-date database of trial outcomes and a system that helps farmers and their advisors better manage nitrogen for their operation; and demonstrate on a national scale leadership in Iowa nitrogen use efficiency.
"The benefit to the trial participant is twofold," said Miller.  "They'll get results of the trials (optimum rate and, in select trials, extensive plant and soil testing), and they'll be contributing to the development of decision support tools that provide transparent and accessible nitrogen rate recommendations."
Interested farmers, certified crop advisors or custom fertilizer applicators should contact Miller at
millerms@iastate.edu
or
515-567-0607
. More information can be found at
agron.iastate.edu/ini
.
"Iowa farmers are the most efficient farmers in the world," said Castellano. "We're doing the research to generate continuous improvements in performance to ensure that Iowa farmers stay the most efficient in the world in terms of nitrogen fertilizer management."
Want more news on this topic? Farm Bureau members may subscribe for a free email news service, featuring the farm and rural topics that interest them most!