Conservation Farmer of the Year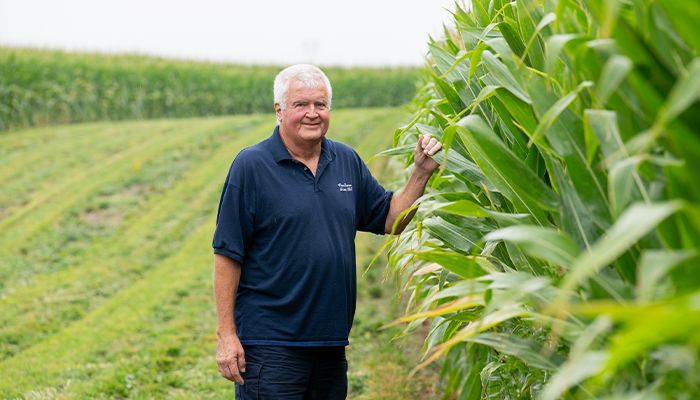 Positioned proudly at the corner of one of Dan Voss' Linn County farm fields near Palo is a symbol that sums up the years of farm operation methodology his family has employed to sustain the land for future generations.
Directly next to the Heritage Farm designation — an honor recognizing more than 150 years of family ownership — is a sign that reads "Conservation in Action," announcing that these acres of corn, soybeans, oats and hay are dedicated to maintaining conservation stewardship, environmental quality and sustainability.
It's no surprise that Voss, a Farm Bureau member, heralds the use of everything from no-till and cover crop practices to bioreactors, saturated buffers and edge-of-field approaches to maintain the land and improve it for the future. 
After all, he was fascinated even back in junior high science classes, when he learned how best to protect the land and soil and how critical conservation was for farm management and sustainability.
"The environment is something I've always been interested in," Voss said during a visit to his 600-acre farm west of Cedar Rapids. "Back in eighth, ninth grade with Earth Day, I knew then it was a big deal.
"It's obvious we have a climate that's acting different than what we're used to. Anything we can do to maintain the land … I think we do make it better with these practices."
Conservation award
Voss institutes a wide array of conservation practices on the farm and was named the 
2023 Iowa Conservation Farmer of the Year for his ongoing efforts to protect water quality and soil.
The conservation award is sponsored by the Iowa Farm Bureau Federation and Iowa Department of Agriculture and Land Stewardship. Voss was recognized this week at the Conservation Districts of Iowa annual meeting in Ames. 
"Because of innovative leaders like Dan Voss who are consistently doing more, we continue to see record engagement in our state's water quality and conservation activity," said Iowa Secretary of Agriculture Mike Naig. "As we accelerate our water quality efforts statewide and pursue the goals in the Nutrient Reduction Strategy in the years ahead, Dan's conservation focus should inspire others to rise to the challenge and add even more conservation practices to their own land." 
Voss and his wife, Susan, have raised three sons on the farm — Daniel, Brian and Matthew. Brian partners with his dad in the row crop operation.
The Voss farm implements waterways, buffer strips, bioreactors and saturated buffers, prairie strips and pollinator habitats, and even contains a wildlife food plot and is a host to honeybee hives. The farm has been in the Conservation Stewardship Program for five years.
He and other farmers in the area have worked closely with the City of Cedar Rapids on water quality and conservation efforts to reduce nitrates.
"About 10 years ago we started cover crops," Voss said. "Started small with cereal rye" and added in a field of oats and radishes while dabbling in other mixes such as camelina. 
Today, most of his fields are covered in green throughout the year.
"Having that living root through most of the year is huge," Voss said. "Cover crops are a tool to mitigate some of these things we're dealing with."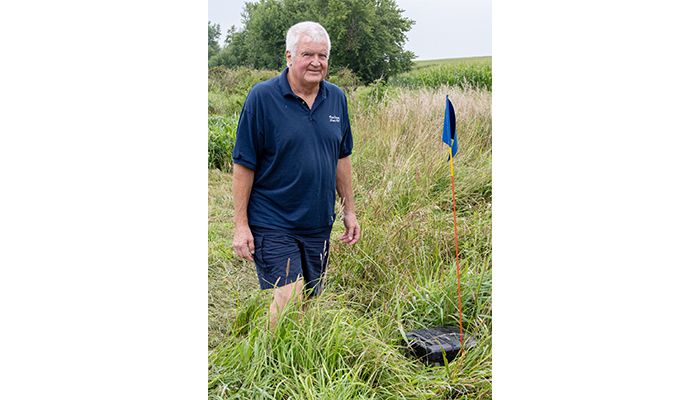 Pictured above: Dan Voss has had one bioreactor installed on his farm and two more are in the design phase. PHOTO / CONRAD SCHMIDT
Conservation benefits
Voss lauds the willingness and enthusiasm of his father to consider initial no-till practices that started them down their conservation path in the late 1980s.
"My dad … I give him a lot of credit," Voss said. "We started small in 1988 with one field (of corn). By 1993, we were all no-till soybeans, and in 1997 we started strip-till, which we continue to do today.
"We do a little contouring where needed, got some headlands seeded down … It works out well with our haying operation."
The benefits of conservation are undeniable, Voss said. 
Strip-tilling allows fieldwork to get started earlier, with warmer and drier conditions for planting, while also limiting soil erosion and compaction.
A bioreactor installed in 2021 is showing reduced nutrient loss in early test results, and two other bioreactors along with three saturated buffers are under design this year. The edge-of-field practices slow, filter and process surface runoff.
Cover crops increase organic matter and hold moisture in the soil. "When you have a heavy spring rain and you've gone cover crops, you're sure glad you have it," Voss said. 
"I really think our crops are more drought resistant. The resiliency from the strip-till (and) the moisture benefits of the cover crops…, they say a tillage pass you'll lose a quarter-inch of moisture.
"A quarter-inch is pretty huge in a year like this year."
Catching on
Drive through Voss' neighborhood and you'll find local farmers implementing similar conservation practices. It's something he and his peers are proud of.
"Everywhere you look around here is no-till," he said. "I think it's pretty cool."
It reminds him of his "aha" moment back in the 1990s, when they first started with no-till practices and a new planter was arriving. The field representative said, "My gosh, look at all these earthworms," Voss recalled. "That was my aha moment. Seeing what happens when you no-till."
He and his neighbors have realized that conservation methods aren't only beneficial to the farming community and farm economics, but to society as well. 
"It's a win/win for everybody," Voss said. "Keeping dirt out of the streams, cover crops, edge-of-field practices, it keeps the nitrates out of the waterways."
He suggests Iowa farmers who haven't adopted a practice yet consider starting small with cover crops in one field. "Might start with one where it's really going to help, like a highly erodible field," Voss said. "Go right to strip till … start with cereal rye after corn. And remember if it doesn't happen right away what you think should be happening. Don't get discouraged."
Continued conservation growth is a goal, he said.  "The benefits are there," he said. "And I think in the future, society's going to demand it."
Regional winners
As this year's winner, Voss will receive free use of a John Deere 6E Series utility tractor for up to 12 months or 200 hours of use. The prize, valued at more than $12,000, is donated by Van Wall Equipment of Perry and John Deere.
In addition to the statewide award, regional winners in the 2023 Iowa Conservation Farmer of the Year program are Roger Bumann, Ida County; Ken Anderson, Webster County; Neher Acres, Grundy County; Tim Daly, Dubuque County; Steve Killpack, Harrison County; Brian Sampson, Story County; Don Williams, Clarke County; and Ralph and Colleen Krogmeier, Lee County.
Want more news on this topic? Farm Bureau members may subscribe for a free email news service, featuring the farm and rural topics that interest them most!