Communication key to protect farmers' access to technology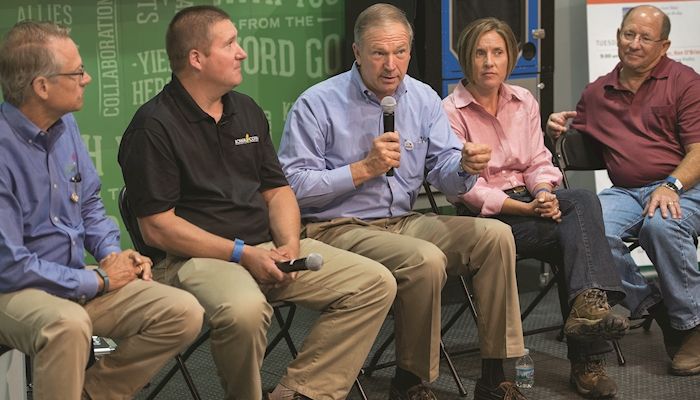 While the long-term future of American agriculture remains bright, farmers face major hurdles to protect and extend their freedom to operate, Iowa ag leaders said last week in a panel discussion on the future of agriculture during the Farm Progress Show. Consumer backlash against technology, overreaching regulations and lawsuits are posing threats to farmers' freedom to operate today and in the future, they said.
"If we don't unite and fight for our ability to operate, we won't be successful in meeting our vision of feeding the world's growing population," said Craig Hill, Iowa Farm Bureau Federation president and a Warren County farmer. "There are a whole host of things that may deny us control of our ability to manage our farms."
To overcome those hurdles, Hill and other panel members urged farmers and others in agriculture to work with their ag organizations to build on efforts to communicate to consumers and others.
Ray Gaesser, who farms in Adams County, said it's important for farmers to work with their farm organizations to amplify the message to consumers and others. "We are all in this together, but it will only work if we work together to communicate," he said.
Hill and Gaesser were joined on the panel by Stephanie Essick, a director of the Iowa Soybean Association; Bob Hemesath, president of the Iowa Corn Growers Association; and Paul Schickler, president of DuPont Pioneer. The discussion, which commemorated Pioneer's 90 anniversary, was moderated by Iowa Agriculture Secretary Bill Northey.
Communication focus
Improved communication, and especially working to help consumers understand and appreciate today's farming, will be the key to protecting farmers' freedom to operate, Hill and other panel members said. They noted that Farm Bureau, along with farm groups in Iowa, have been putting increased emphasis on communicating with consumers and have beefed up efforts to counteract misinformation from activist groups.
Consumers, both in the United States and around the world, welcome more information and are looking for answers about food production, said Essick, a farmer from Clay County. They want to be assured that farmers care about the land, their animals and the environment, she said.
"It's important for us to tell our stories and to connect with consumers on a personal level," Essick said.
That communication, Essick said, could be over social media or creating events to bring consumers to see farms first hand.
Speaking out for ag
It's also important that farmers overcome the reluctance to talk about what they do and to start conversations with consumers and others interested in learning more, said Hemesath, who farms in Winneshiek County. "It really sounds simple, but we need to have the one-on-one conversations with people at the airport, the grocery store and after church about what we do and why," he said. "I know we tend to shy away from those conservations, but we've got to have them."
A key, Schickler said, is working to help consumers become more comfortable with the wide array of technologies that farmers use today. "It's not going to be easy, and it's not going to be quick, but it's very necessary," he said.
Starting in schools
A very good place to start, Schickler suggested, is in schools helping students and teachers understand the importance of food production and an appreciation for what farmers do. "We've got to create a better understanding at a school level about what we do in farming to provide food for the world," he said.
Schickler also urged farmers to work to communicate with consumers on an emotional level. "Instead of communication about science and research, like we tend to do, the dialogue needs to be more about what consumers feel about their food and to reassure them about the safety."
Building consumer acceptance of new technology is vital today and in the future, Hill said. That's because new tools, such as genome-editing system known as CRISPR, will help researchers develop a whole range of technologies that help plants resist disease, insects, drought and other things that hurt yields, he said.
"Farmers have to worry that we could lose access to those new technologies if society does not accept them," Hill said.
Want more news on this topic? Farm Bureau members may subscribe for a free email news service, featuring the farm and rural topics that interest them most!