Cliff's Place in Manning wins 2023 Iowa's Best Breaded Pork Tenderloin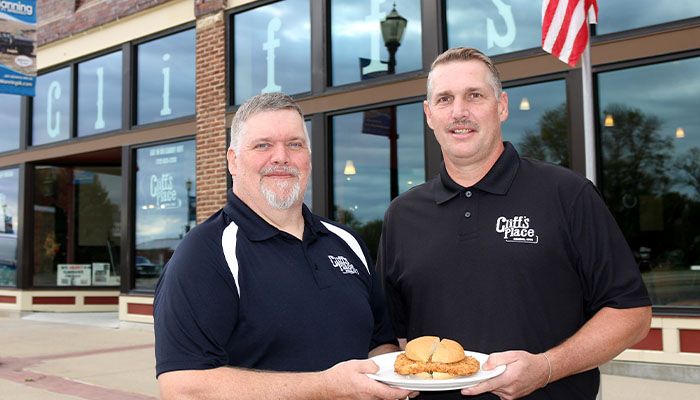 Cliff's Place in Manning received Iowa's Best Breaded Pork Tenderloin Award last week from the Iowa Pork Producers Association (IPPA). The award honors the best example each year of Iowa's signature sandwich.
A Cliff's tenderloin starts with 6 ounces of pork, sliced from a never-frozen boneless loin and tenderized to achieve the desired texture and thickness.
"We don't glorify anything on it," said Jim Waterbury, who owns the nearly 50-year-old restaurant with his brother Jon. "It's all about the pork —that's what we want you to taste."
Hand-breaded to order, the meat is dredged in a mixture of flour and seasoned breading, dipped in buttermilk and coated a second time in the breading before it's deep-fried to a golden brown. 
The $6 sandwich is served with pickles on a toasted Rotella's Italian Bakery bun and halved for easier handling. Lettuce, tomato, onion, bacon and cheese can be added for a slight upcharge.
That's exactly what earned high marks from Chef Phil Carey, a tenderloin finalist judge. "The breading just complemented the pork so well, and the tenderloin didn't overwhelm the bun," Carey said. "It was a perfect combination, juicy to the final bite, and a very enjoyable   sandwich to eat."
Cliff's Place started in 1976 when the Waterburys' parents, Cliff and Vicki, purchased a tavern there. Eight months later, they opened a kitchen in what had been a storage room. And in January 1987, the business expanded into an adjacent storefront, to add a dining area and private space for meetings or parties.
Jim and Jon Waterbury took over in 2008 following the death of their father, but Vicki Waterbury still works daily at the restaurant, preparing food for the salad bar and tending to customers.
Cliff's typically serves about 70 tenderloins a week. When Jon Waterbury learned the restaurant had claimed the title, he joked, "I'll sharpen my knife," in preparation for an uptick in orders. 
Winning restaurants have reported selling five to 10 times more sandwiches for at least a month following the announcement, according to IPPA's Sutter.
This year's runner-up is The Roadhouse in Orange City, in the northwest corner of the state.
As announced earlier this month, other finalists include: Stumpy's Bar & Grill, Duncombe; Spillway Supper Club, Harpers Ferry; and Tojo's Bar & Grille, Jamaica. 
IPPA's Restaurant and Foodservice Committee, which selects the award winner each year, presented the best tenderloin award at the restaurant on Oct. 13. Cliff' received $500, a plaque, and a large weatherproof banner to display. The runner up award comes with a $250 prize and plaque from IPPA. 
IPPA received a record of more than 9,000 nominations for 774 restaurants in 2023. IPPA members and industry affiliates anonymously visited the top 40 locations this summer, scoring each on pork taste and quality, physical characteristics, and eating experience.
The tenderloin contest recognizes Iowa dining establishments that offer hand-breaded or battered pork tenderloins as a regular menu item. To be eligible to win, a business must be open year-round. 
"Thick and juicy or thin and crispy—people travel crazy distances to sink their teeth into different versions of this Midwest staple," says Kelsey Sutter, IPPA's marketing and programs director. "Tenderloins connect people from all over the world, and it just takes one bite to understand why they're such a hit!"
The winners are announced every October as part of National Pork Month, which honors the hard work and dedication of America's pig farmers. Lid's Bar & Grill in Waukon won 
Want more news on this topic? Farm Bureau members may subscribe for a free email news service, featuring the farm and rural topics that interest them most!