Clarke Co. farmers receive Good Neighbor recognition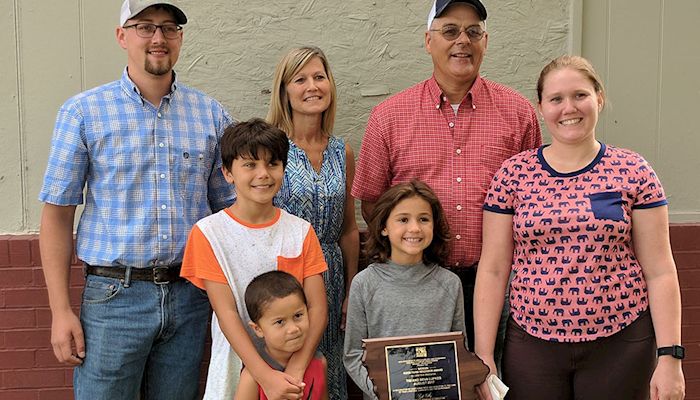 In 2001, fourth-generation farmer Tim Lupkes planted new farm roots near Osceola when he took a job as a lineman with Clarke Electric Cooperative. Relocating to a new community with different farming terrain presented challenges for the Lupkes family, but thanks to the support of their rural neighborhood, Tim and his wife, Beva, gradually grew their farm into a diversified crop and livestock operation.
Tim and Beva's friend and neighbor, Dale Mastarone, was impressed by their dedication to grow the farm responsibly. That's why he nominated them for the Wergin Good Farm Neighbor Award, an honor that celebrates Iowa farm families who go above and beyond as environmental stewards, livestock caretakers and com­munity leaders.
"When we first moved here, I didn't know anybody in the area, but I had good neighbors who would pull me out of the field when I was stuck or help me out when I needed to borrow a tool," Tim said. "They never asked for anything in return. That's just the way people were."  
Dale says he recognized the same neighborly qualities in the Lupkes family.
"I can't imagine any better neighbors," said Dale. "They take care of the land, they are a good influence in the community, and you can see that leadership in how they raised their kids."
A special ceremony, sponsored by the Coalition to Support Iowa's Farmers (CSIF), was held last month in the Lupkes' honor at the Truro Community Center. Iowa Secretary of Agriculture Bill Northey presented the Good Farm Neighbor Award to the family during the event.
A New Beginning
Tim Lupkes has always been a farm boy. He grew up on a hog, cattle, corn and soybean farm near Ackely. After a couple of turbulent years in northern Iowa caused him to hang up his farmer hat for a while, he and Beva were determined to make a fresh start when they moved south and bought a farm from Clarke County farmer Chuck Emmack.
"I think Chuck was looking to give a young farmer a start," said Beva. "He actually did some background on Tim to make sure we were on the up and up and going to be good enough farmers to take over his ground. He believed in us, and it worked out."
Since then, Tim and Beva have grown their farm to include 450 acres of corn, soybeans and hay, a small farrow-to-finish hog operation and feeder cattle, all while balancing full-time jobs.
Tim continues to work at Clarke Electric Cooperative and manages the day-to-day responsibilities on the farm. Beva teaches third-grade at Interstate 35 School, runs the combine in the fall and delivers seed to Tim during the planting season.
"It's been a learning process because it's a lot different farming here than in northern Iowa," said Tim. "The ground washes easier here and the soil types are different, so it can be a little less forgiving."
To overcome these challenges, Tim has looked to other area farmers and his seed salesman for advice. He has implemented a variety of conservation practices on his acres by utilizing no-till, split-applying fertilizer and maintaining grassed water­ways. Tim has also installed nearly 10,000 feet of terraces on his acres and has experimented with cereal rye as a cover crop for the past five years.
The Wergin Good Farm Neighbor Award, presented by the Iowa Department of Agriculture and Land Stewardship and Iowa Ag Radio Network in partnership with CSIF, is awarded to Iowa farm families who raise livestock. It's given in honor of distinguished late WHO radio farm broadcaster Gary Wergin and recognizes families who take pride in being good neighbors and stewards of the land.
 To nominate a deserving livestock farmer or farm family, visit www.supportfarmers.com/goodfarmneighbor or contact Haley Banwart at 515-225-5526 or hbanwart@supportfarmers.com.
Want more news on this topic? Farm Bureau members may subscribe for a free email news service, featuring the farm and rural topics that interest them most!