Celebrate Iowa Farm Bureau's centennial by sharing your Farm Bureau story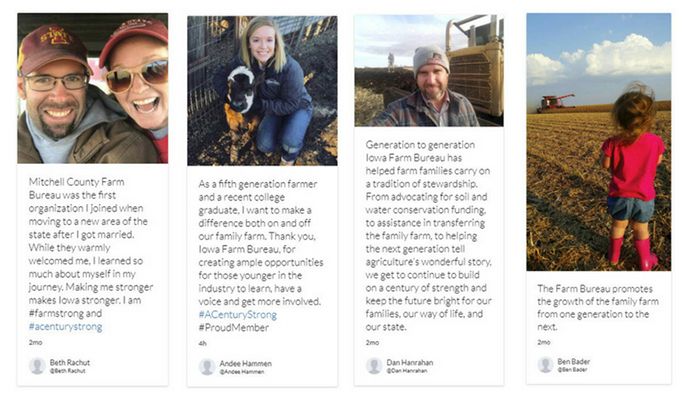 The Iowa Farm Bureau is celebrating its centennial in 2018, and I'm proud to say I've been a Farm Bureau member and employee for 19 of those 100 years.
When I say Farm Bureau took my career to great heights, I literally mean it. In my first year at Farm Bureau, I traveled across the country and stood at the top of the Washington monument in D.C., the Space Needle in Seattle and the formerly named Sears Tower in Chicago.
Yet even more incredible than the travel opportunities are the people I've met through Farm Bureau over the years.
On my first trip to Washington, D.C., I traveled with Farm Bureau leader and cattle farmer Dee Ann Paulsrud. She insisted on taking me to see the D.C. landmarks, even though it meant walking for miles in the dark after our meetings wrapped up for the day.
We still talk over the phone or see each other at Farm Bureau meetings a couple times a year, catching up on what's new in our lives and on Paulsrud's farm. It's amazing to think that our friendship has lasted almost 20 years now.
Truly, I think of several Farm Bureau members as my extended family. To me, that's an added value of being a member. And I'm sure many Farm Bureau members would agree.
Indeed, you learn a lot about a fellow Farm Bureau member when you sit together for hours in a meeting, on a plane or on a bus traveling for a lobbying trip, a trade mission or an educational tour.
My Farm Bureau family taught me the importance of working hard, giving back to your community, speaking out for what you believe in and putting your own family first, above everything else.
I encourage you to join Farm Bureau's centennial celebration by sharing your Farm Bureau story. Click here to add your story directly to Iowa Farm Bureau's centennial website. Or you can share your story on Instagram or Twitter with the hashtag #ACenturyStrong or by texting 619-350-2191.
Let's show how Iowa Farm Bureau is A Century Strong and remains committed to a vibrant future for agriculture, farm families and their communities.