Celebrate Farmers Market Week! Meet the farmers who grow your food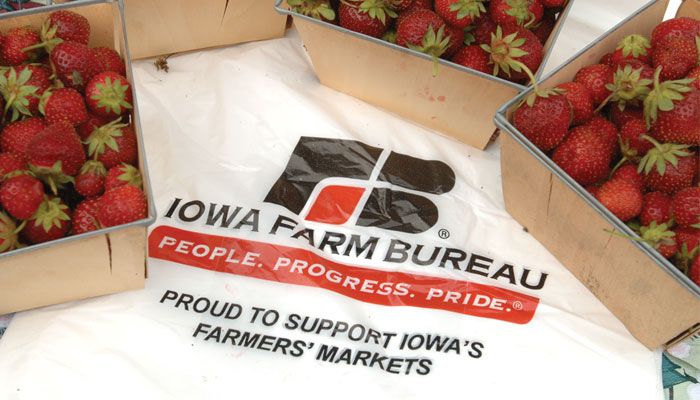 My daughter and I started a new Saturday morning routine this summer. Whenever we have a free weekend and beautiful weather, we make a stop at the downtown Ames farmers market for a "second breakfast" (the best part of toddlerhood, if you ask me) before heading to the nearby kiddie pool.
She is fascinated – literally, mouth agape – at the musicians strumming guitars, the people standing in line for mini donuts and all the dogs. So many dogs! She hasn't quite figured out how to say the word "dog" yet, but she goes "woof, woof" whenever she sees one.
While she's happy to look at dogs, I'm giddy over the kettle corn, fresh cucumbers, cherry pie and sunflowers the vendors and farmers are offering. And as a mom who likes choices, I love that I can find grass-fed beef only a couple booths down from corn-fed beef. If you want it, Iowa farmers will grow it.
National Farmers Market Week runs from Aug. 6 to 12, and Iowans are encouraged to take advantage of the fresh fruits and vegetables available at more than 220 farmers markets throughout the state.
The Iowa Farm Bureau is proud to support the state's farmers markets and the farmers who work hard to provide Iowans with locally grown, nutritious meats, poultry, eggs and produce.
This year, the Iowa Farm Bureau donated 1.2 million recyclable plastic bags to more than 1,700 farmers market vendors throughout the state. The market bags help Iowa farmers save the extra cost of buying their own bags, while also making it more convenient for customers to safely transport the locally grown produce home. This was the ninth year that Iowa Farm Bureau has donated the bags.
In addition, the Iowa Farm Bureau helped launch a successful pilot project that expanded the availability of wireless EBT equipment at farmers markets statewide. The EBT equipment allows farmers to accept debit and credit cards, as well as SNAP cards, which helps increase access to fresh fruits and vegetables for all Iowans.
Plus, farmers markets are terrific places to meet face-to-face with the Iowa farmers who grow our food. On my last trip to the downtown Ames farmers market, I stopped by the Deal's Orchard booth for a bag of early-season Paula Red apples.
Farm Bureau members Gerald and Cindy Deal, along with their sons Chris and Benji, will receive a Century Farm award at the Iowa State Fair this month. The family started the orchard back in 1917, but their orchard was nearly wiped out from the infamous 1940 Armistice Day freeze.
The Deal family replanted and continued to expand the orchard over the generations. Today, Deal's Orchard offers a pumpkin patch, a corn maze and Christmas trees, in addition to the apples.
The Deal family also presses and bottles their own apple cider. At the farmers market, Benji Deal was promoting the orchard's new hard ciders, tapping into the craft beverage trend.
That's what I love about farmers markets. Discovering a new-to-me food and asking the farmers how their growing season is going.
And don't hesitate to ask your own questions. Farmers also enjoy meeting their customers face-to-face, talking about their home-grown tomatoes or beef, and sharing the story of Iowa's ag diversity.