Carving their own path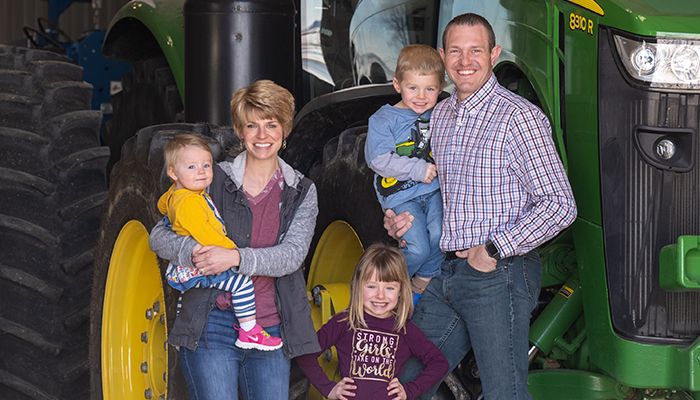 Michael Gallagher loves implementing precision planting technology into his farming operation, not only to be more sustainable and efficient but also because it can be fun as well.

Consider multi-hybrid planting, which Gallagher says allows a cornfield to come alive with "painted" designs that could include an Iowa State University or local high school logo or different messages of inspiration.

Precision planting is a fascinating tool that the Holly Springs farmer and Farm Bureau member researched and began im­plementing on the farm he operates with his father, Dennis, in 2019. It affords him the opportunity to share with others how and why growing crops or raising livestock is so important today.

"It's easy for the general public to see a design in a field of corn and be in awe," said Gallagher.

They ask how it's done, is that real or you really did that on the farm. "These types of questions allow an open door to explain to them how farmers today are implementing precision practices to help us be more efficient with seed, chemical and fertilizer products," he continued.

"It gives a platform to preach sustainability and how much we as farmers care about sustainability as much as we do profitability."

Michael and his wife, Maria, were able to share their ideas, and learn from others, at the annual Young Farmer Conference sponsored by Iowa Farm Bureau Jan. 27-28 in Des Moines. The first-year attendees said the conference was excellent.

"The great educational information provided within the many breakout sessions gave us a lot that we will bring back to the farm," said Michael. "Specific takeaways include new information with food preservation, farm financial planning with rising interest rates and small business tips we can use within our small business.

"(And) we loved networking. The amount of time that was provided to communicate and interact with fellow young farmers from Iowa was tremendous."
Holly View Acres
The Gallaghers are fifth-generation farmers who manage more than 2,500 row crop acres in Woodbury and Monona counties in west central Iowa. "It's a blessing to carry on the rich tradition of farming as a family," said Maria.
Michael has farmed with his dad since high school and always had a passion to return to the family farm. Maria grew up on a farm near Sioux Center, where her father raised pigs and her mom raised puppies. Michael and Maria both graduated from Dordt College — he with an ag business degree and Maria with an administrative assistant degree. It's where they met, and after roughly five years in the private sector, the couple returned to the farm where they built their home and are raising three children — Kaida, 5; Aaron, 3; and Audrey, 1.
The implementation of precision farming designs has since developed into other efforts to expand the Gallaghers' business model to include a corn maze and pumpkin patch and the unveiling of Holly View Acres LLC (www.hollyviewacres.com) to encourage harvest fun for the community.
"We look forward to growing this new business in the upcoming year," said Maria. "We see the business as a great benefit to get to know our neighbors, create an opportunity for our children to learn business skills and work ethic, and create an avenue for people who do not have farm experiences to be on the farm during the greatest season of the year."
Piecing it back together
Like the Gallaghers, Chris and Marla Brown, Farm Bureau members from Davenport in Scott County, brimmed with pride and respect for the ag industry while attending the conference.
They have enjoyed sessions on succession planning, financial growth strategies and marketing tools that have helped their operation succeed.
Networking has been exceptional as the Browns "see that we are not alone in our struggles and challenges, and that it is all worth it in the end for the lifestyle we love," said Marla.
Living on a 160-acre row crop farm where they grow corn and soybeans, the Browns raise 80 head of feeder cattle annually and help their family's operation, consisting of 2,700 row crop acres, 1,000 head of feeder cattle and a 1,000-sow farrow-to-finish operation during the busy seasons.
"The farm we purchased was a multigenerational dairy farm, and unfortunately throughout the years, it had been sold off and split apart," Marla explained. "We first purchased the farmland, without expectation of the homestead coming available.
"But we now take great pride that we have purchased all the original land and put the farm back together. We have brought it back to life with cattle grazing in the same pasture they once were, and our kids (Brenna, 7; Adalie, 5; Lane, 3; and Raylee, 1) growing up with the same lifestyle."
Conservation minded
Joe Roberts, a third-generation farmer and Farm Bureau member from Belmond in Wright County, says there's always much to learn at the Young Farmer Conference. "I don't think there's another conference out there that brings together individuals of like age from all parts of the state to gather," Roberts said.
A year ago, a presentation on beginning farmer loans and programs was extremely beneficial, he said. "As an individual who fit that mold, it helped to identify areas where I could work with landlords and establish leases that gave them the opportunity for tax credits and created a stronger relationship," Roberts said.
This year, farm succession stuck with him. "It's such an important conversation to have," Roberts said.
"Dr. (Ron) Hanson often referenced he wasn't only saving a farm and its legacy, but more importantly, a family and family gatherings.
"The farm succession breakout contained the most information I can bring back to not only my operation, but others as well."
Roberts said the conference has afforded him a greater network to lean on across the industry. "It felt like I already knew an expert in that field that better understood my current situation," he said.
Roberts grew up on the farm and has helped his family's row crop operation, which features a conservation-focused approach from strip-till/no-till practices to cover crops, pollinator habitats and buffer strips.
He returned to the farm after earning an ag business/agronomy/seed science degree from Iowa State University (ISU).
"I really love farming because it gives me the opportunity to be hands on, always waking up every morning with something that needs to be taken care of, and a new challenge every day," he said.
He also enjoys having a platform to share with individuals who might not know what agriculture does for their lives.
50 years at the Iowa State Fair
This was the third year attending the conference for Brandon and Demi Franck, De Witt farmers and Farm Bureau members from Clinton County, who said they learned more about cover crops and tillage practices, interest rates/budgeting, meals in the field and preserving garden produce at this year's conference.
"We always enjoy getting to connect with other couples who are having similar experiences within their operations, and getting to see old friends from previous conferences and Ag Leaders," said Demi.
As fourth-generation farmers, the Francks' operation includes milking 80 registered Brown Swiss cows and growing 250 acres of corn, soybeans and alfalfa alongside Brandon's parents, Randy and Elaine. They also are buying out Elaine's parents to become full partners in the operation.
Brandon has a dairy science degree from ISU and Demi an elementary education degree from Mount Mercy. She also holds a masters degree in education. Brandon's family has been exhibiting at the Iowa State Fair in the Brown Swiss show for 50 consecutive years.
Brandon said after this year's conference, he's committed to incorporating cover crops on the farm. As a family, which includes daughters Rosalie, 4 in March, and Cora, 2 in May, Brandon and Demi enjoy spending time outdoors and knowing that they are raising their children in the roots and values in which they were raised themselves.
Want more news on this topic? Farm Bureau members may subscribe for a free email news service, featuring the farm and rural topics that interest them most!