Californian finds opportunity in Iowa dairy farming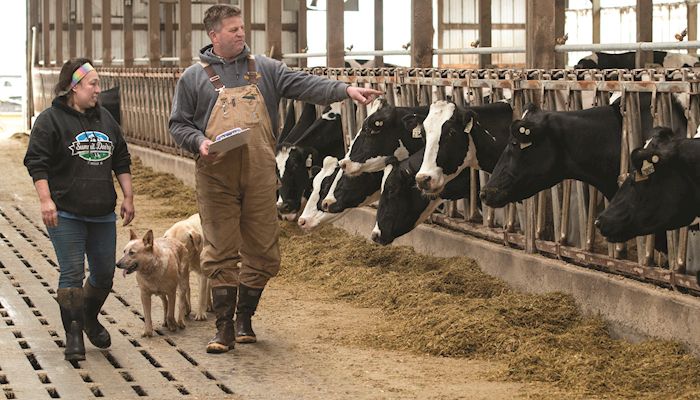 When John Westra first attended Dordt College in Sioux Center, the Californian didn't know that he would be returning to northwest Iowa years later with his dairy herd.
But challenges with regulations on his family's dairy farm in California forced him to either exit the industry he loved or find a new opportunity elsewhere.
In April 2012, John and his wife, Rachelle, and their children exited the dairy industry without a clear path. They continued raising their heifers and farming, but it wasn't the same.
"We had sold the dairy and got out of business and raised our heifers and farmed; it was good, but my wife told me I wasn't happy. And I wasn't. I like cows," Westra said.
While they had heard about opportunities through his brother-in-law, Darin Dykstra, who has a dairy farm near Maurice, they weren't familiar with what was available here. So they made phone calls and talked to a cousin who bought a dairy that had previously gone through bankruptcy. He was willing to sell.
"We flew out here on July 31st, and we left California on Aug. 16," Westra said. "In 17 days, we left California."
John and Rachelle, with their five children Stephanie, Maranda, Johnny, Andrea and Elizabeth, settled in the Primghar area and soon realized they would need some help both on the dairy and learning how to farm in an unfamiliar landscape and climate.
"The community and neighbors help with farming and transitioning me with learning how to deal with Iowa winters," Westra said. "And they've helped me to figure things out. They were very helpful with that; we've built a great relationship in that way."
The Westras grew their 400-cow dairy, Summit Dairy, in 2014, expanding to 750 cows. During the expansion, they remodeled their milking parlor to a double-14 parallel setup and added another barn. They also grew their workforce from eight to 11 full-time employees.
While technology is important to the family's farm in identifying herd health challenges, close contact and care is the best way to identify cows that might require extra care, Westra said.
Using radio fre­­quency identification (RFID) tags, which are in the cows' ears, the farm's employees are able to track milk production. But before that, employees handle the cows and prepare them for milking.
Employees and family members milk cows three times per day on the farm at 6 a.m., 2 p.m. and 10 p.m. Cows on Summit Dairy farm produce 30 pounds of milk per cow during each milking, Westra said. The milk is sold to Associated Milk Producers Inc. (AMPI) and is largely processed as fluid milk under the Dean Foods label or into cheddar cheese made at AMPI's cheese plant in Sanborn.
Production has risen since the family got started dairying in Iowa in 2012, he said.
"It's genetics, technique. It's harvesting milk. It's also animal health," Westra said.
California cows
He says working with his veterinarian and nutritionist has been key in determining how to adjust his cows — some of which he brought with him from California — to Iowa's changing seasons.
Working with Dykstra, Westra learned that Iowans lose between 3 and 15 percent of feed due to rain, wind, etc. That much waste meant Westra would lose the equivalent to one load of canola per year.
So, he added a commodity storage building to the farm to have a readily available supply of the feedstuffs which his nutritionist has recommended for his cows. Inside the shed, he stores canola, cottonseed, hay, ground corn, corn gluten pellets, molasses and whey.
"You formulate rations and work with the nutritionists and veterinarian. There are so many different aspects, and it's a challenge," he said. "All of these different feeds affect the cow differently."
Westra credits his employees, AMPI and neighbors for helping the family continue their passion for the industry in Iowa. He's grateful to still be a part of an industry he grew up with and one that he loves.
"I'm thankful to be able to dairy again," he said. "I want people to drive up on the dairy and know that we are caretakers, that we are stewards, because that's what God calls us to do."
Want more news on this topic? Farm Bureau members may subscribe for a free email news service, featuring the farm and rural topics that interest them most!