Buggin' out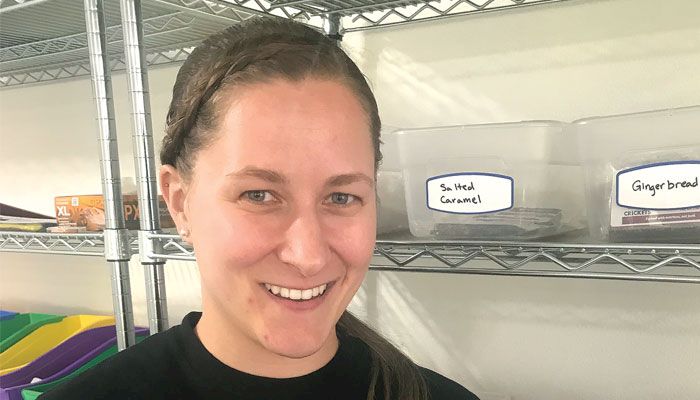 Gym-N-Eat Crickets is one of 10 finalists in the inaugural Iowa Farm Bureau's Grow Your Future Award.
For many, eating crickets may not sound appealing, but the human palate is simultaneously diverse, complex, interesting and picky. And what people enjoy eating, either for pleasure or out of necessity, can vary greatly depending on a host of factors.
For many Iowans, the idea of eating insects may be hard to swallow (both literally and figuratively). Shelby Smith, though, is trying to change perceptions and palates — millions of crickets at a time —through her Ames-based company, Gym-N-Eat Crickets, which is a finalist for the Iowa Farm Bureau's Grow Your Future Award.
A native Iowan who grew up on a family farm, Smith originally got the idea for her business after listening to podcasts about edible insects while living in Ireland, where she worked in the banking industry. Unsatisfied with her career, Smith moved back to Iowa in October 2017 and ended up helping her dad with the fall harvest.

She found herself drawn to agriculture as a possible career path. Her dad, though, encouraged her to explore niche ag markets.

In January 2018, Smith received her first order of crickets and a business — which is the only one of its kind in Iowa — was born. Since then, she has significantly grown her operation and is continually looking for ways to market the merits of eating crickets.

"When I stop and consider how far I have come on raising the crickets, it is a bit mind-boggling," said Smith, who started with a breeding stock of 10,000 crickets. "In just two years, I have been able to grow that to a steady 2 million crickets every growth cycle, which is around 54 days. From the outside, it seems super simple, but it certainly hasn't been easy."
For Smith, the raising of crickets has become pretty straightforward, but she admits this came after quite a bit of trial and error. She has now developed a system that works for her and said rearing crickets is not unlike raising other livestock, as you need to make sure they are sheltered, nourished and cared for to maximize production.


Like any good livestock producer, Smith "walks the barn" daily to make sure things are going well. In her case, the barn is a climate-controlled trailer in Ames filled with 50-gallon totes, each of which can hold 8,000 to 10,000 crickets at a time. Every tote also contains empty egg cartons, which act as apartments; and the crickets are nourished with chicken feed.

Needless to say, Smith can talk about "inputs" and "production levels" just like any livestock producer. Her focus just happens to be on raising millions and millions of common house crickets (Acheta domesticus), which are native to Southwestern Asia. Not surprisingly, the real challenge is convincing people to give cricket-based products a try.

"There are a number of selling points when it comes to the benefits provided by crickets. For example, crickets are 60 to 70 percent protein by dry weight. They also offer beneficial levels of iron, calcium, B-complexes, including B12, as well as omega-6, omega-3, and all nine essential amino acids," offered Smith, who has developed her initial customer base by selling at a number of different farmers markets around Iowa.
Smith received a commercial kitchen license last November and became a licensed food processor, so she can now sell her products online and through retail outlets. Today, Gym-N-Eat Crickets offers six different flavors of roasted crickets, three flavors of energy bars, packets of cricket powder, and cricket frass, which is a great fertilizer for plants. All of these products are available online at
www.gymneatcrickets.com
.

"With a bit of education, I have been able to convince thousands of people to try crickets. Not everyone can be persuaded, but crickets aren't for everyone," explained Smith.


"I have also created products with skeptics in mind. For example, my energy bars are much more approachable to those who are hung up on the eyes and legs of roasted crickets . . . so out of sight, out of mind is much better."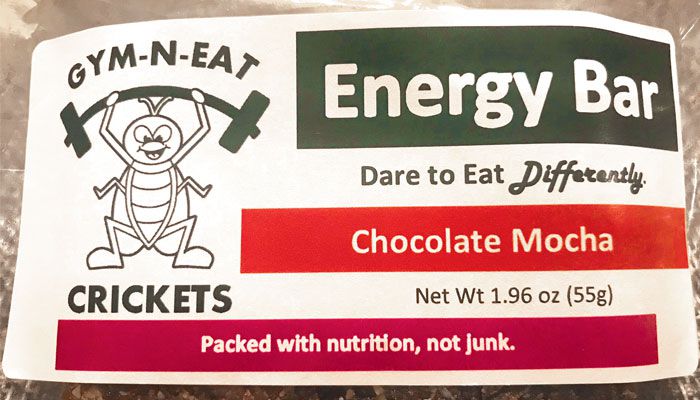 Smith is always on the lookout for new product ideas that fit well with her current mix. In particular, she said cricket powder is an incredibly versatile ingredient that can be incorporated into all sorts of products.
"I am also really excited by the prospect of insect protein in pet food. Believe it or not, there is more regulatory red tape around feeding insects to animals than people. One day, I am hoping to have a line of dog and cat treats," said Smith.

Smith recently entered into an agreement with two individuals to become contract growers so she could spend more time on the product development and marketing aspects of the business.

Ambitious? Absolutely, but after meeting Smith and seeing her passion, you cannot help but root for her.
"The growth potential is large," Smith said. "The worldwide insect protein market is projected to be $7.9 billion by 2030. To put that in perspective, the worldwide market was $426 million in 2018, so I think there is a fantastic opportunity for Iowa to lead the way in U.S. cricket production."

Yontz is a freelance writer from Urbandale.

Want more news on this topic? Farm Bureau members may subscribe for a free email news service, featuring the farm and rural topics that interest them most!