Buena Vista County farmer's commitment to protecting soil and water spans decades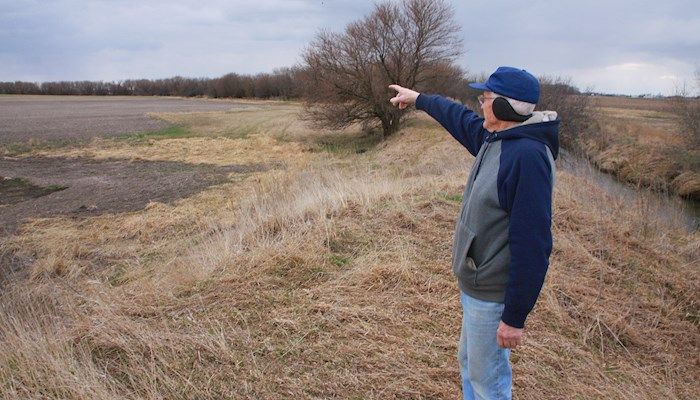 Call him the farmer who embraced conservation when conservation wasn't cool. Orlando "Olie" Leimer (pictured above) knew there had to be a better way when he saw dust storms blacken the Iowa sky decades ago.
"I remember some huge dust storms that occurred in my area in the 1960s," said Leimer, 83, who started farming in the 1950s and continues to raise corn and soybeans near Albert City. "That told me we had to do something different to protect the soil."
A local conservation specialist for Buena Vista County encouraged Leimer to consider no-till. While Leimer had started hearing about no-till in the early 1970s, he didn't pay much attention at first. The more he learned about it, though, the more he was willing to try it. He also sold his plow. "When I first started no-tilling and ridge-tilling in the 1970s, people thought I'd had one too many," joked Leimer, who farms with his wife, Lois, and runs a Titan Pro dealership. "I took some teasing from the neighbors. One said no-till would never work."
Leimer himself wasn't sure if conservation tillage would work, since this was a new farming practice in his area. Others saw merit in Leimer's new venture, however, including Art Dierwechter, a local farmer who became one of Leimer's landlords. "Art was one of the original members of the conservation board in Buena Vista County," Leimer said. "When I started using conservation tillage, he thought that was a good thing."
Ridge-till hall of fame
Learning about conservation farming wasn't easy in those days. Conservation tillage was a new concept, and educational meetings that focused on conservation farming practices weren't widely offered. Leimer read as much as he could in the farm press and was inspired by articles featuring Ernie Behn, a ridge-till farmer from Boone.
"Ernie was one of the originators of ridge till in Iowa, and I learned a lot from him," said Leimer, who attended farm meetings where Behn was a guest speaker.
Leimer's early adoption and successful use of ridge-till earned him a spot in the Ridge-Till Hall of Fame. A plaque that was presented to Leimer at the 1994 National Ridge-Till Conference in Omaha honored his efforts to educate other farmers and the public about ridge-till, "a low-cost system, with equal or better yields, that preserves soil and water, improves the quality of the air, enhances sound land stewardship and benefits the total environment for present and future generations of mankind."
Learning from the land
Leimer continues to favor ridge-till, because seeds are planted on the ridge that's warmer and drier than the surrounding soil. Side-dressing the crop with nitrogen is also easy, added Leimer, who noted that the number of no-till and ridge-till farmers in his area started to grow by the 1980s.
While some farmers were reluctant to switch from traditional farming practices followed by their fathers and grandfathers, the transition to conservation farming was easier for Leimer, a first-generation farmer. Born in Texas, Leimer spent part of his childhood in northern Kansas. When his father accepted a teaching job at a parochial school at Zion Lutheran Church near Albert City, a 13-year-old Leimer enjoyed growing up with farm kids in the area.
After graduating from Albert City High School in 1950, Leimer joined the U.S. Army and served in Korea, earning the rank of sergeant first class before being honorably discharged. While Leimer's parents had moved to Indiana by then, Leimer wanted to return to northwest Iowa. "My dad wanted me to become a school teacher like him, but agriculture interested me," said Leimer, who had worked on farms in the Albert City area as a teenager.
In 1956, Leimer married his wife, Lois, who had grown up on a Lincoln Township farm southwest of Albert City. He worked as a hired man for local farmers before he had the chance to rent some farmland. He farmed conventionally for about 10 years before he started considering more conservation practices in the late 1960s and early 1970s.
Protecting water quality
One of his first improvements was a grass buffer strip that runs between his Lincoln Township farm and the nearby Raccoon River. He installed the 99-foot-wide buffer strip in the early 1970s. "This is along low ground that tends to flood," Leimer said. "I added the buffer strip, because it makes sense for my farm and helps protect water quality."
Conservation practices like this have taken on added importance in recent years, especially as water quality has become a hot-button topic in Iowa and beyond. Leimer, who is keeping a close eye on the Des Moines Water Works' lawsuit and the U.S. Environmental Protection Agency's Waters of the U.S. proposed rule, knows his farming practices have implications far beyond his fields. "I have children and grandchildren who live in central Iowa, and I care about the water quality that's coming from our area and flowing to that area," said Leimer, who believes conservation efforts should be voluntary, rather than mandated by the government.
While the benefits of conservation tillage and other conservation practices don't happen overnight, they do pay dividends over time, from water quality enhancements to improved soil health. "I can definitely see the benefits in my soil organic matter," said Leimer, who received an Iowa Farm Environmental Leader award in 2015. "When I started farming this land, the organic matter in the soil was 1 to 2 percent. Now it's 3 to 5.5 percent."
Continuous improvement
Leimer, who has been a Farm Bureau member for more than 50 years, focuses on continuous improvement. Not only does he have nearly 10 acres of filter strips on his land, but 2016 marks his second year using cover crops. Last fall, he had cereal rye and radish seeds flown onto 132 acres. "If I see an advantage to something, I'll take a look at it," said Leimer. "When it comes to conservation, I encourage other farmers to just do it."
There is no cookie-cutter approach to effective conservation, however, Leimer said. Solutions need to be tailored to each farm's unique situation. "Also, there are advantages and disadvantages to every conservation system," he said. "The main thing is to be willing to try more conservation tillage and other conservation practices to make your soil better each year."
This spirit of continuous improvement helped Leimer and his wife earn the Buena Vista Conservation Farmer of the Year award from the Buena Vista Soil & Water Conservation District earlier this year. A focus on the future defines the Leimers, who are young at heart. That's just the way Olie likes it. "As long as the good Lord lets us keep doing what we're doing, we'll keep on going."
Maulsby is a freelance writer from Lake City.
Want more news on this topic? Farm Bureau members may subscribe for a free email news service, featuring the farm and rural topics that interest them most!